9:1 run leads Spain to big win against Germany
21 Jan. 2021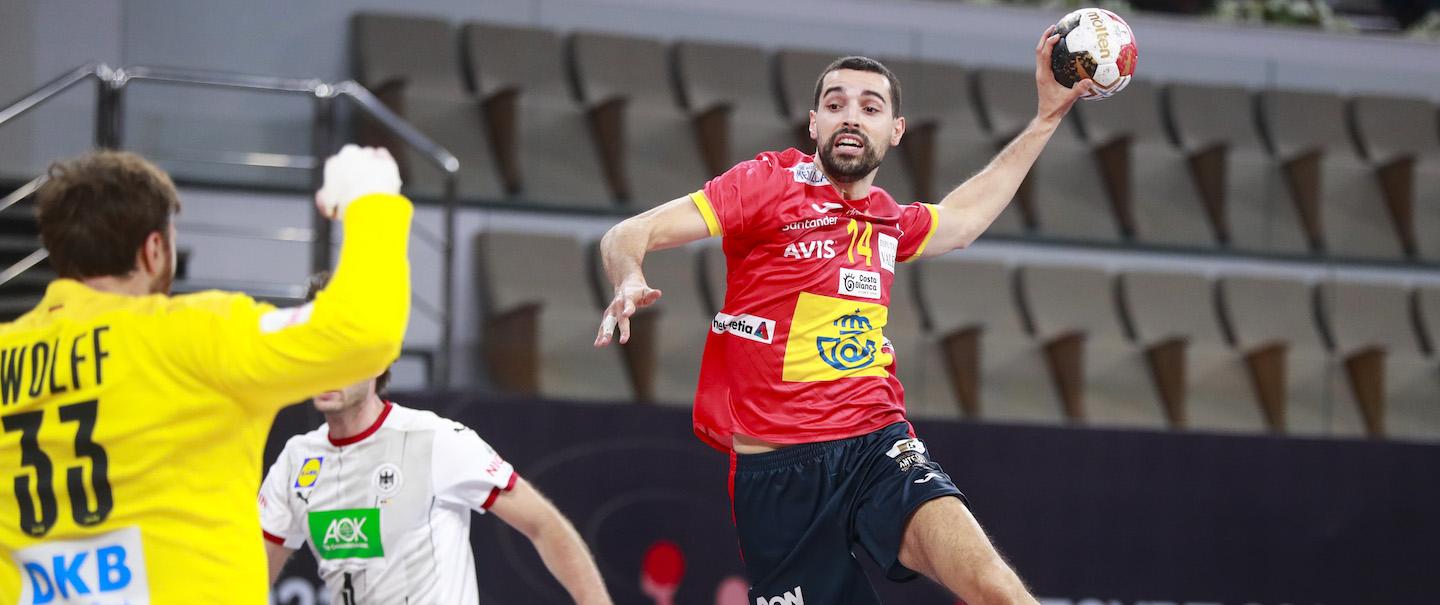 The clash of the titans, the teams that have won three of the last eight IHF Men's World Championship titles, improved Spain's chances to secure a quarter-finals spot at Egypt 2021, after "Los Hispanos" cruised to a 32:28 win against Germany.
Meanwhile, Germany are facing the prospect of their worst-ever finish in the competition, 11th place ten years ago at Sweden 2011.
MAIN ROUND GROUP I
Spain vs Germany 32:28 (16:13)
A loss in this game against Spain would quash Germany's hopes for a quarter-final berth, as Alfred Gislason's side lost against Hungary in the preliminary round.
But if the first four minutes were serving as motivation, then Germany were definitely in the game, as Spain failed to score with their three shots.
Slowly, but surely, the reigning European champions started to fire from all cylinders in attack and got another special performance from their goalkeepers.
This time, it was Rodrigo Coralles' turn to impress, as the Veszprém goalkeeper stopped eight shots in the first half, for a superb 40 percent save efficiency.
But his role was also crucial in attack, with two of his saves starting converted fast breaks by Spain's top scorer in the first half, right wing Ferran Sole.
Spain had already opened a crucial 12:9 gap, with Germany left reeling to try and mount a comeback. But with the German defence failing to get stops, especially against the Dujshebaev brothers, who combined for five goals in the first half, Spain were comfortably in the lead, 16:13.
The tables turned completely in the first eight minutes of the second half when Germany used a 8:2 run to take back the lead, 21:19, after right wing Timo Kastening scored four goals in less than six minutes.
It got from bad to worse for Spain when veteran goalkeeper Johannes Bitter got into gear and started saving shots left and right, boasting a 50 percent efficiency after 45 minutes, when Germany had a 25:22 lead.
If it looked like Germany had a good chance after scoring 12 goals in the first 14 minutes of the second half, the rest of the game was a nightmare for Gislason's side.
It was the perfect storm: easy one-on-one misses, a collapsing defence and a great goalkeeper for Spain in Gonzalo Perez de Vargas.
A 9:1 run for Spain between the 43th and 55th minutes saw hummel Player of the Match, Raul Entrerrios, score twice and left wing Angel Fernandez Perez add four more goals to bring Spain their third consecutive win at Egypt 2021, 32:28.
With the second loss is as many games, Germany will need a miracle to progress to the quarter-finals, as they are heading for their worst-ever finish at the IHF Men's World Championship.
On the other side, Spain can progress to the knockout round of the competition, providing they win their next game against Uruguay and Hungary beat Poland.
hummel Player of the Match: Raul Entrerrios, Spain