Reigning World and European champions Portugal seal two wins in two games against Spain
25 Aug. 2023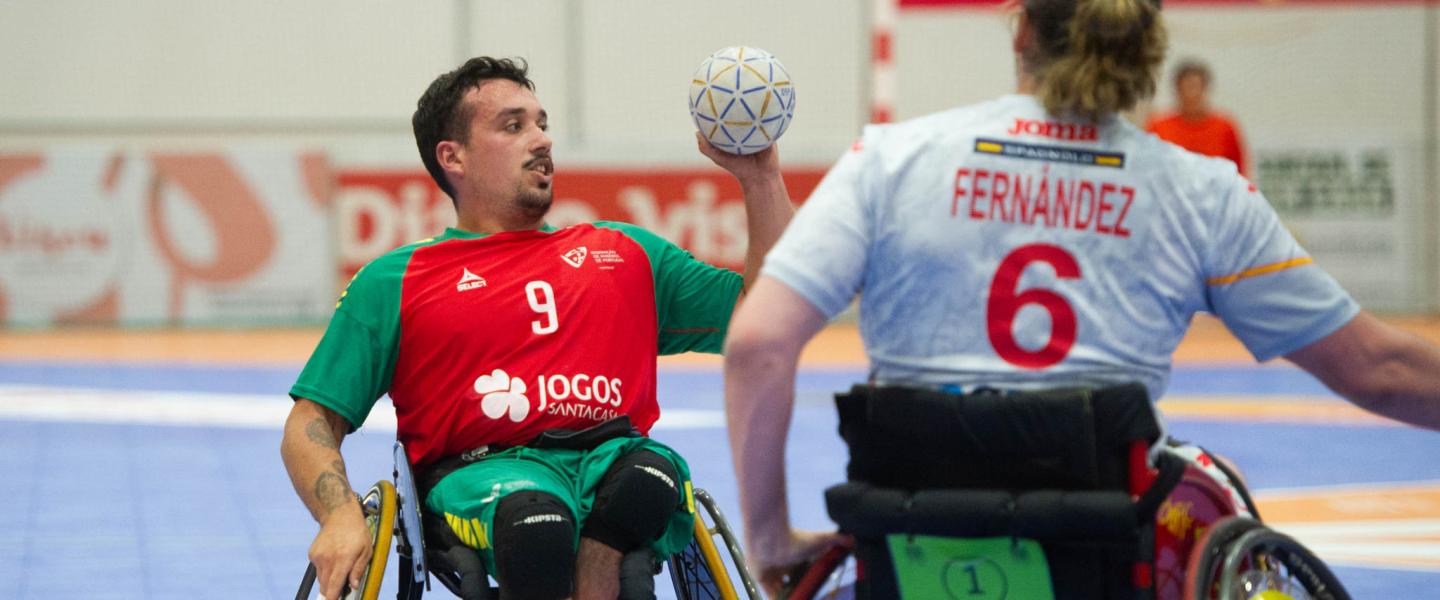 Another interesting doubleheader, between the reigning champions of the 2022 World and European Wheelchair Handball Championship (Six-a-Side), Portugal, and the fifth side in the final standings of the competition, Spain, took place last weekend, at the Vida International Trophy in Viseu, Portugal.
In the first game, Portugal's wheelchair handball national team, captained once again by Joao Jeronimo, took an early lead in the first half (11:7) and never looked back, accelerating in the second half, when they clinched the last part of the game by a 12:7 score line, to take a clear 23:14 win.
Iderlindo Gomes scored 10 points for Portugal, followed by the excellent captain Joao Jeronimo, with nine points, while Spain's Pablo and Oscar each had four points in the game.
In the second day of competition, the two sides faced off once again in Viseu, with a closer game this time around, as Spain applied some pressure throughout the whole game, while Portugal tested some new players, as Rolando Vieira and Etelvina Silva made their debuts. 
Portugal took the lead once again in the first half, 10:6, with the second half ending in a stalemate, 7:7, as the reigning World and European champions clinched the second win, 17:13, and also the title at the Vida International Trophy.
In the second game, Joao Jeronimo was the best scorer, with eight points, followed by Iderlindo Gomes, with five points, while Spain's Lorenzo had four points for his team.
"We wanted to win the two games against Spain, while also helping some players who did not feature as prominently in the past to gain some invaluable playing time. We made some mistakes, but now I think we got what we wanted, with two wins against Spain, therefore the preparation continues and we want to play even better," says Portugal's coach, Danilo Ferreira, according to the official website of the Portugal Handball Federation.
With the two games taking place in conjunction with a larger friendly competition in Viseu, the two sides were also greeted with a guard of honour after the games by Portuguese powerhouse FC Porto and Hungarian champions Telekom Veszprem HC, an excellent gesture of respect from the two handball powerhouses.

Photo credit: Rui da Cruz / Portugal Handball Federation