Sublime Spain seal maiden trophy at the IHF Men's Youth World Championship
13 Aug. 2023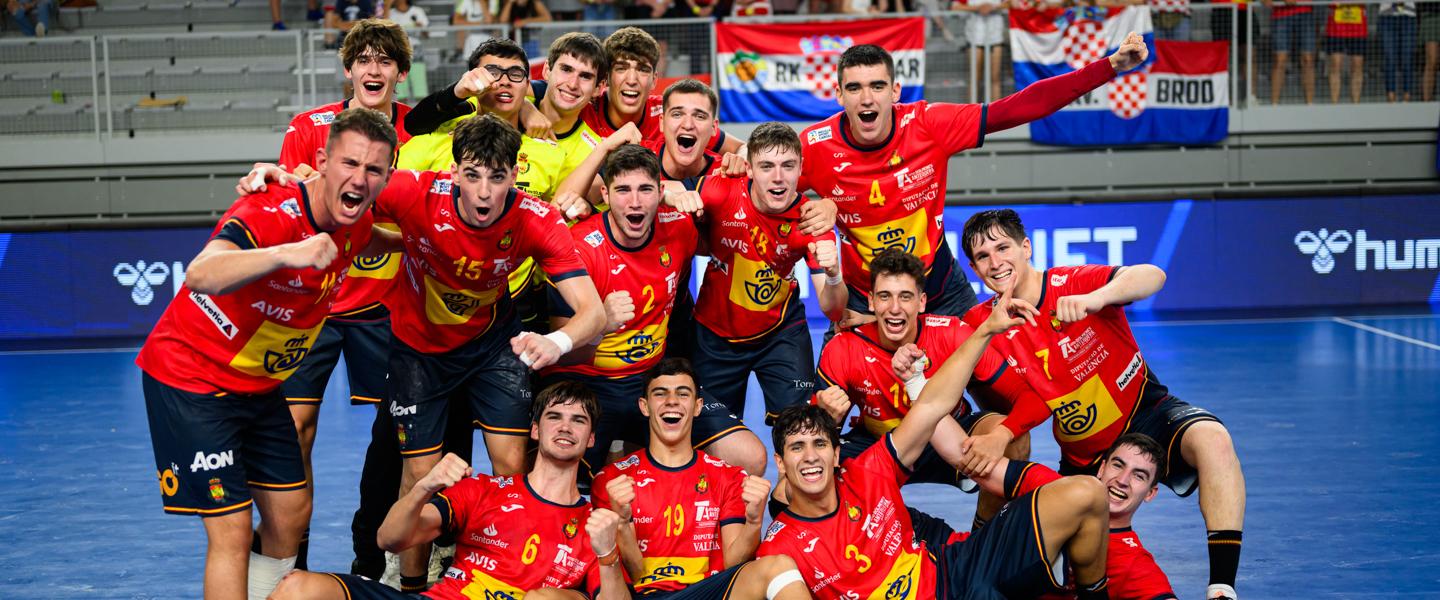 In a final full of twists and turns, Spain emerged victorious to clinch their maiden title at the IHF Men's Youth World Championship, securing their eighth win in a row at Croatia 2023, 28:23 against Denmark.
 
It was a superb collective effort for Spain, the reigning European champions, who conceded only twice in the last 12 minutes of the game, limiting the second-best attack at the 2023 IHF Men's Youth World Championship to only 23 goals, 15 less than their average until the final.
 
Spain are now only the sixth team in history to lift the trophy, after Denmark (three times), France (two times), Croatia, Egypt and Serbia and Montenegro (one each). 
 
Final
Spain vs Denmark 28:23 (13:14)
Two teams, 60 minutes, and two seven-game winning streaks. What could possibly be better than a winner-take-all scenario in the big final of the 2023 IHF Men's Youth World Championship? It would have been difficult to pinpoint any other scenario than a tight match between two powerhouses – reigning European champions Spain and challengers Denmark – for the big trophy.
 
Both sides have been truly impressed so far at Croatia 2023, but nobody was prepared for what would ensue, with Spain taking an early 4:0 lead, which looked to lay out the future of the final, a dominating performance on both sides of the ball. That would have surely broken the spirit of any other opponent, but Denmark were right there and never backed down.
 
It did not take a team time-out or some major changes, rather than returning to basics and creating some momentum for the Scandinavian side. That came almost instantly after goalkeeper Simon Meinby Lundorf started to get in the groove with four consecutive saves.
 
Immediately, Spain looked to be stopped in their tracks. That well-oiled machine which truly dominated their opponents until the final, started to produce turnovers, with Denmark cancelling Spain's excellent start to tie the game (7:7) as the final well and truly got underway.
 
Meinby Lundorf continued his excellent performance, finishing the first half with a 47% saving efficiency, stopping 10 shots, and an outstanding display against one of the best attacks of the competition. But on the other side, Alvaro Perez Mendez handed Denmark a tough challenge, too, with eight saves.
 
There was no surprise, therefore, that neither side managed to open a bigger gap other than Spain's start, with Denmark taking the slightest of leads into the break (14:13), as two of their best players, the pair of backs Lasse Sunesen Vilhelmsen and Frederik Emil Pedersen combined for seven goals, truly putting Spain under real pressure for the first time at the 2023 IHF Men's Youth World Championship.
 
Spain's main issue in the first half was their shooting efficiency, with the 52% displayed by the reigning European champions being too little, too less for a true challenger for the trophy. But neither did Denmark excel in that respect, with centre back Pedersen, who had 51 goals from 59 shots before the final, missing back-to-back one-on-one shots with Spain's Perez Mendez, ushering Spain back into the game.
 
It took a 4:0 Spain run for the reigning European champions to wrestle back the lead, as they finally found a rhythm to create a two-goal lead (19:17), with 18 minutes to go in the final, with Denmark looking seriously out of their depth, after Spain deployed a 4-2 defence, which totally stopped their opponent.
 
That eight-minute and 14 seconds barren run for Denmark looked to be decisive. Still, another well-taken team time-out pulled the Scandinavian side from the hole they dug into with a change in defence, a 5-1 system, which derailed Spain's attack, forcing high-risk shots, which either missed the goal entirely or hit the posts.
 
But the final blow for Denmark came with another 5:0 superb Spain run, which proved to be decisive, coming between the 51st and the final second, with Perez Mendez stopping all the shots he faced and Spain's attack firing from all cylinders, as Denmark did not score in the last nine minutes.
 
Pressed by the lack of time, Denmark failed to take the best decisions, as Spain pulled out a masterclass in defence throughout the whole game, limiting their opponents to 23 goals after Denmark had previously delivered an average of 38.5 goals scored per game.
 
With an outstanding team effort which led to a 28:23 win, Spain sealed their maiden trophy at the IHF Men's Youth World Championship in their third try after losing the previous two finals, including one against Denmark in 2011. Moreover, this generation of Spain have completed an incredible double, securing both the M18 EHF EURO trophy in 2022 and at the 2023 IHF Men's Youth World Championship without dropping a single game.
 
For Denmark, this is the sixth medal in nine editions at the IHF Men's Youth World Championship and the first silver one, having previously won the gold three out of three times.
hummel Player of the Match: Alvaro Perez Mendez (Spain)
Photo: Croatia 2023/Kolektiff images