Denmark writing the history books again
27 Jan. 2023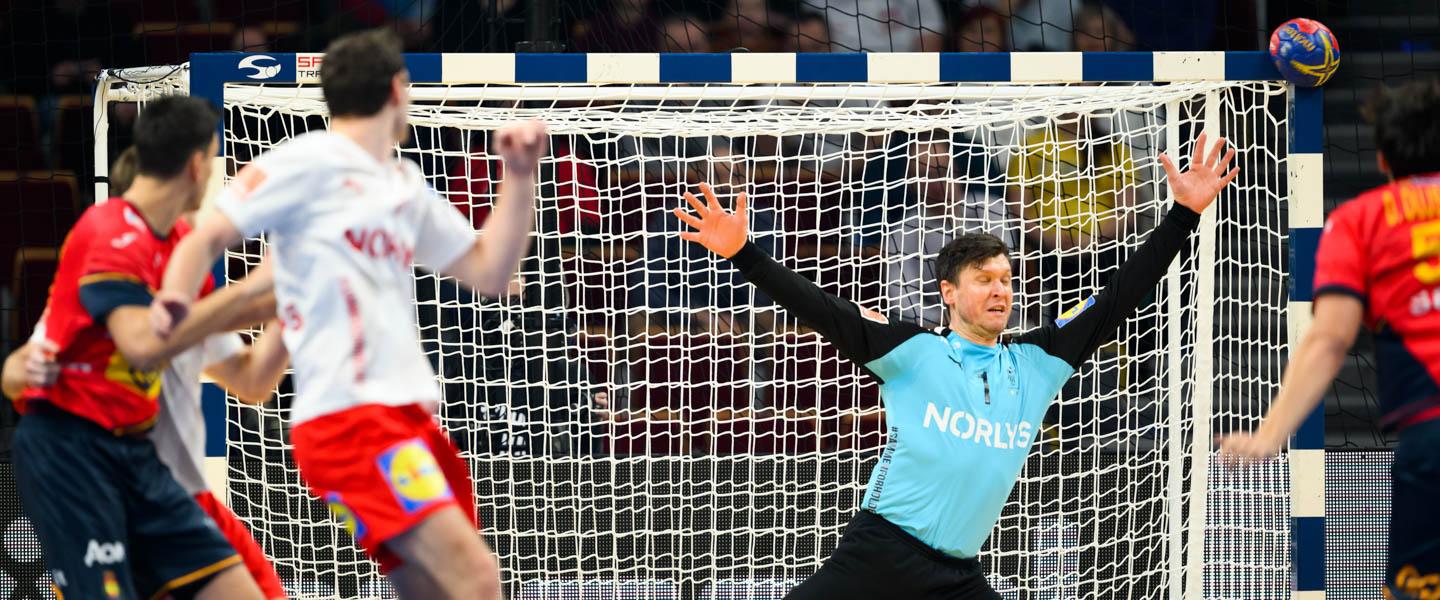 The 2023 IHF Men's World Championship said goodbye to co-host nation Poland as Denmark defeated Spain 26:23 in their semi-final clash.
Later tonight, both teams will get on the same charter flight to Stockholm for their final match of Poland/Sweden 2023, with both in exactly the same matches they played at this stage at Egypt 2021 – Denmark playing for gold and Spain for bronze.
Things could go even better for the Danes later tonight. If France were to beat Sweden in the second semi-final, it would mean that Nikolaj Jacobsen's men automatically qualify for the Paris 2024 Olympic Games.
The 2023 final is Denmark's fifth in the past seven editions of the IHF Men's World Championships, with silver gained in 2011 and 2013 and gold in 2019 and 2021. They could become the first-ever team to win three consecutive world titles.
Semi-final
Spain vs Denmark 23:26 (10:15)
A 10-goal first half proved too much for Jordi Ribera's Spain to come back from as they went up against one of the greatest-ever IHF Men's World Championship teams.
The saying 'attack wins games, defence wins championships' was never truer after the first 30 minutes, with Denmark's captain Niklas Landin sitting on a 53% save rate at the break thanks to his 10 stops from 19 shots.
Even with Landin's performance, the Spanish attack was misfiring, sitting on 40% success at the break, with Denmark operating at nearly double (71%).
By the 21st minute, the Scandinavian side were four ahead (11:7) and it appeared to be a long way back for Ribera's men.
However, the next four minutes let Spain back in, with Denmark providing a double turnover, serving a two-minute suspension and Gonzalo Pérez de Vargas in goal doing his job.
It was an important period for Spain, with the influential Jorge Maqueda sitting on his second two-minute suspension and on the brink of ending the match early.
Spain were just one behind (10:11), aggressively playing two on the line, with Gedeón Guardiola and Alex Dujshebaev part of 4-2 offence. The catch-up fell short though, as Denmark went up a gear again, with Landin making his 10th save at the end and sending Spain into the break five behind.
Cañellas made it a one-goal match (19:20, 48th minute), as Denmark wobbled, looking to push ahead with their own aggression, utilising 7 vs 6.
And in the style of all the true champions, Denmark extended their advantage again to five (25:20, 57th minute).
But Spain never gave up. Calling on extreme reserves following their gruelling 80-minute additional time victory against Norway two days ago, they came back again and were looking to go just one behind (23:25 59th minute). 
And in a match-up which was widely expected before the match, the two key goalkeepers in the match both had something to say in a frantic final few minutes.
First, Pérez de Vargas spectacularly saved Mikkel Hansen's penalty shot and after the switch of play, Ferran Solé Sala had his own penalty to take with just 40 seconds left.
But Landin stood in his way, his save paving the way for Emil Jakobsen to float down court, sink home his goal and seal the victory.
These two teams leave a crowd at the ERGO Arena in Gdansk having witnessed further history recorded by Denmark – the result tonight was their 27th unbeaten IHF Men's World Championship match, extending the record they broke earlier this week.
As they go for an unprecedented third title in a row, can anyone stop them?
hummel Player of the Match: Niklas Landin (Denmark)