Drama in Gdansk as Spain edge Norway in extra time
25 Jan. 2023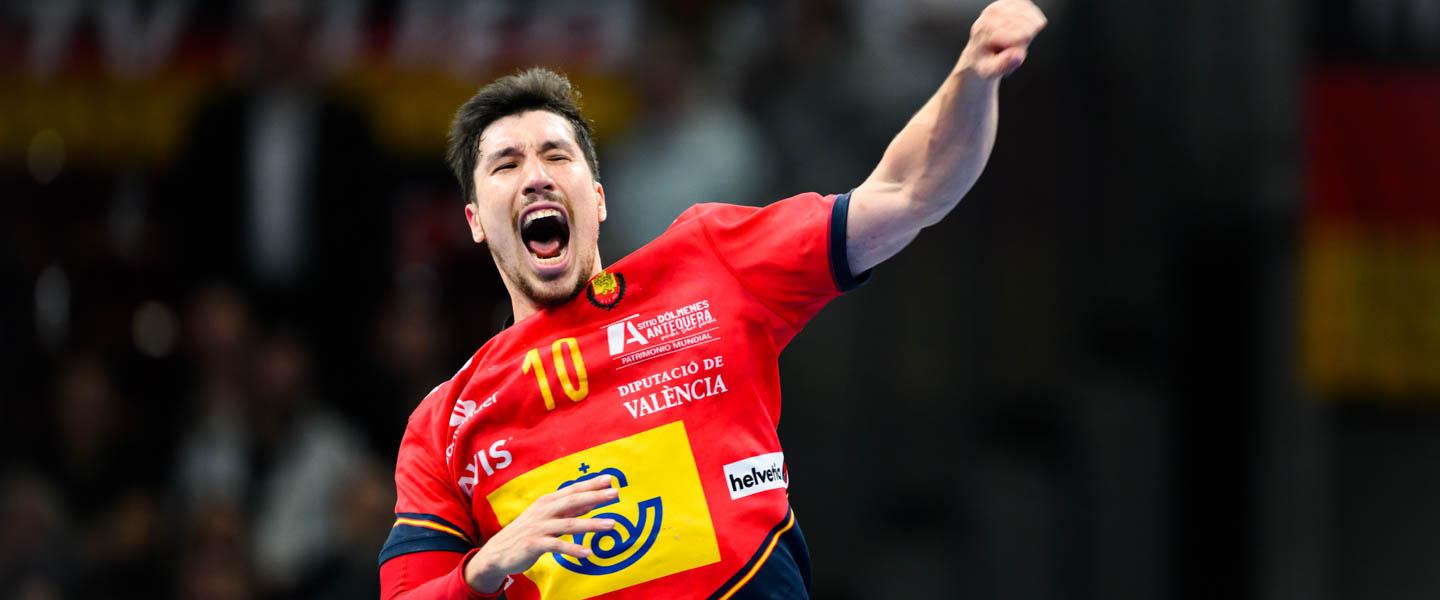 After a fascinating 80-minute double additional time at the ERGO Arena in Gdansk, Spain overcame Norway by a single goal (35:34) to move through to the 2023 IHF Men's World Championship semi-finals.
"Again, Spain are in the semi-finals and for us as a sport in Spain, this is important. All the matches are very hard, but what is important now is the rest and preparation," said Spain coach Jordi Ribera to ihf.info
His side will now face Denmark in the semi-finals after the Danes saw off Hungary in their quarter-final in Stockholm.
Quarter-final
Norway vs Spain 34:35 after extra time (25:25, 13:12)
Even Spain coach Jordi Ribera was out of breath at the end of this match. Such was the intense drama and effort put in by all involved.
With France and Germany looking on as the match extended its time on court, the ERGO Arena crowd were treated to a world championship classic.
What is it about IHF Men's World Championship quarter-finals in recent years? Last time, at Egypt 2021, Denmark and Egypt played out their final-eight match, which went to penalty shots. The Danes won that and went on to win the title – they now face Spain in the last four. Could Ribera's men go one match better than in 2021 when they took bronze?
Ahead of this match, both teams had played out 28:26 clashes, with Norway defeating Germany, the same score by which Spain lost to France. There was little to split the two teams, and so it proved.
Spain, with an extra day rest compared to Norway due to the playing schedule, made two tactical changes with right back Imanol Garciandia and left wing Daniel Fernandez making way for line player Iñaki Peciña and centre back Agustin Casado, while Norway coach Jonas Wille brought in centre back Tobias Grøndahl for left Erik Toft.
It has been Wille's first major competition as Norway head coach and he has impressed, but he will surely look back at the final 16 seconds of normal time and wonder what might have been.
With his right wing Kristian Bjørnsen in possession and his side 25:24 ahead, he could have gone for the shot but passed it back as the Norwegians tried to kill the game.
Passive play was signalled by the Slovenian referees and Spain grabbed the turnover. Daniel Dujshebaev, already well-placed downcourt and unimpeded, received the ball, slotting away with just a second remaining.
His strike was confirmed after the video proof system was used to confirm that it had crossed the line before the buzzer sounded.
These were the small margins.
At the beginning of the 60 minutes, Norway took the early initiative through Bjørnsen. 
He made the most of Spain's transitions and helped his side to an early four-goal lead (6:2). This led to an early Spain timeout (8th minute), as Ribera and the 2021 IHF Men's World Championship bronze medallists looked to address the slump.
As the northern Europeans maintained their lead, all was going well until key man Sander Sagosen recorded his second two-minute suspension with just 14 minutes on the clock and his side 7:4 ahead. This had followed his first suspension after just six minutes.
This seemed to unsettle Wille's side and Spain came back, catching their opponents up (7:7) before 16 minutes were on the clock. The emotion was raw as Angel Fernandez marked his equaliser at 104km/h with a massive roar.
As half-time arrived, Norway were leading by one (13:12), but were maybe left wondering if it could have been more. Spain themselves must have thought the same, with Norway's goalkeeper Torbjørn Bergerud making nine saves in the opening 30 minutes (45%).
With just one goal from their backcourt in the first half, Norway needed to do better in the second and right back Magnus Rød obliged as soon as it started, putting his side back in front 15:14.
The match stayed tight throughout the second half, with Norway's goalkeepers looking like they might help dump Spain out. With 10 minutes remaining, Joan Cañellas' penalty was saved by Kristian Sæverås – his second stop in just 54 seconds of gameplay at that point.
With 38 seconds left and his side 24:25 behind, Ribera took a time out to focus on their next attacking passage of play and when it finally came to shoot, Alex Dujshebaev saw his weak shot saved by Bergerud, his 14th of the match. Spain had appealed at him being impeded.
But Bjørnsen and Norway threw that chance away and Daniel Dujshebaev equalised.
So it came to the first additional time. With the first period equal, the second was more eventful. 
Spain were now 29:28 ahead with 21 seconds left and Norway were defending for their lives. But they got a break. A misplaced pass caused Adrià Figueras to juggle the ball slightly, Norway captain Christian O'Sullivan managed to knock the ball clear and then Sagosen picked up the loose ball and passed it to Bjørnsen.
A quick one-two down court with Harald Reinkind then followed, and Bjørnsen slotted it home with 12 seconds on the clock. Spain had one last chance to take the victory but Daniel Dujshebaev was impeded by O'Sullivan, who was given his two-minute walking orders.
A free throw followed and, after a long discussion on court between Cañellas and the Dujshebaev brothers, Cañellas took the shot, almost horizontally, but well-defended. 
So, into the second additional period of 10 minutes. The first part ended 3:3. Nothing could separate the two gladiators in their arena. All of a sudden it was 33:33. Figueras. Rød. 34:34. 
At this point, Bergerud had made 17 stops and Pérez de Vargas 16. Phew. Spain were in attack going into the final 60 seconds and such was the intensity on show. The match paused for the sweat to be cleaned off the stage. 
The entire Norwegian defence was moving as a block, so focused, but Daniel Dujshebaev, who plays his club handball for Kielce in Poland, rose as high as the famous shipbuilding cranes in Gdansk and slotted home.
This was to prove to be the last goal of the match as Rød, from Sagosen, tried to repeat the move from earlier. It was no good. Their second phase of attack saw Bjørnsen in on goal again, but his shot was smothered by Pérez de Vargas.
The end? No. Video proof came in again, just to ensure there was no red card offence. There was not, and that was it. Norway players hung their heads, distraught on court, as did Bjørnsen stunned at his own goalpost.
"At the end, you could have flipped a coin [for the result]; it could have ended both ways," said Spain goalkeeper Gonzalo Pérez de Vargas to ihf.info. "Respect to Norway, respect to the game we played because it makes a lot of good for our sport." 
"Absolutely, I'm proud of my team," said Norway captain Christian O'Sullivan when asked by ihf.info.
"We did our job well today and had a really good chance to go through to the semi-finals. We just kept fighting and that showed in both the first and second extra time."
hummel Player of the Match: Daniel Dujshebaev (Spain)