EC Pinheiros seal second title in a row at the 2023 South and Central American Women's Club Handball Championship
13 Jun. 2023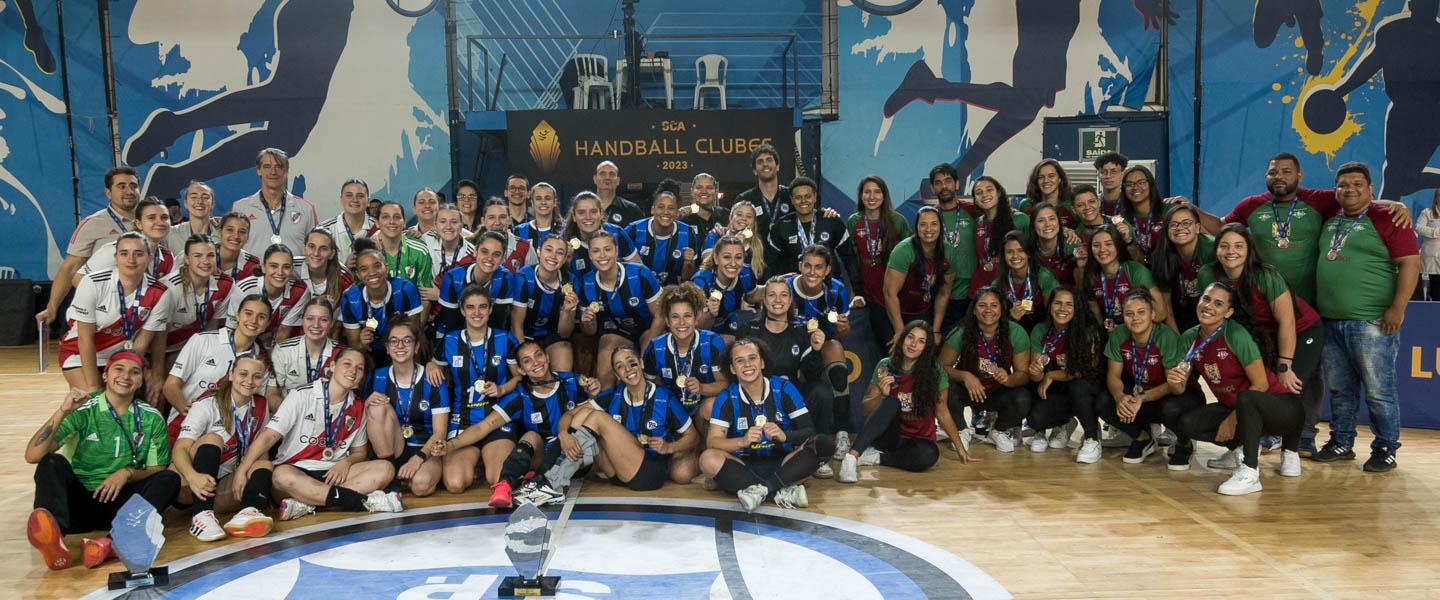 Brazilian side EC Pinheiros used a four-game winning streak to win back-to-back titles at the 2023 South and Central American Women's Club Handball Championship after a dramatic finish to the competition, which took place in Sao Paulo, Brazil, and which saw the Brazilian powerhouse take a 29:26 extra-time win against Argentinian rivals River Plate in the final.
The third edition of the South and Central American Women's Club Handball Championship saw 12 teams from four different countries – four each from Argentina and Brazil and two each from Chile and Uruguay – fight for the coveted trophy, which had been previously won by two Brazilian sides – UnC Concórdia and EC Pinheiros.
The 12 sides were divided into four groups of three teams each, with the winners of each group progressing to the semi-finals. Two groups had one Argentinian and one Brazilian team, with another having one Brazilian side and two Argentinian teams, while the last one saw one Brazilian team face off with one team from Chile and another from Uruguay.
Favourites and title holders EC Pinheiros had the second-best attack of the competition and the top defence in the preliminary round, taking clear wins against Chilean side Leonas Balonmano (47:16) and Uruguayan side Scuola Italiana di Montevideo (26:20) to progress to the semi-finals.
They were joined by fellow Brazilian sides Clube Português and Nacional Handebol Clube and Argentinian side River Plate, which had several players who featured at the 2021 IHF Women's World Championship for Argentina.
River Plate totally outplayed Brazilian side Nacional in the first semi-final (30:17) with a 10-goal outing from Maira Carletti, while EC Pinheiros secured a 21:15 win over Clube Português, thanks to a seven-goal outing from Maryanna Ferreira.
In the final, Pinheiros were the big favourites after securing a clear 30:19 win in the semi-finals of the 2022 South and Central American Women's Club Handball Championship against River Plate, but the game was a true roller-coaster.
Pinheiros took a 13:10 lead at the break, only to find themselves tied after the regular 60 minutes, 24:24. The game went to extra time, where Pinheiros' superior experience was decisive, as the Brazilian side took their second title in a row with a 29:26 win.
Delfina Ojea, Maira Carletti and Sofia Manzano each scored seven goals for River, totalling 21 of their team's 26 goals, while Barbarah Monteiro, Maryanna Ferreira and Mayara Moura each scored five goals for Pinheiros.
Pinheiros became the most decorated team in the history of the South and Central American Women's Club Handball Championship with two titles, while River won their second medal in a row after the bronze in 2022.
Clube Português, the runners-up from the 2022 edition, finished on the third place with a 30:23 win over Nacional in the bronze medal game.
Ovalle Balonmano's Gabriela Muller was the competition's top scorer with 35 goals, followed by River's Maira Carletti, who had 31 goals.
Photo: German Paez