Skanderborg take title at first German International Youth Championship
01 Sep. 2019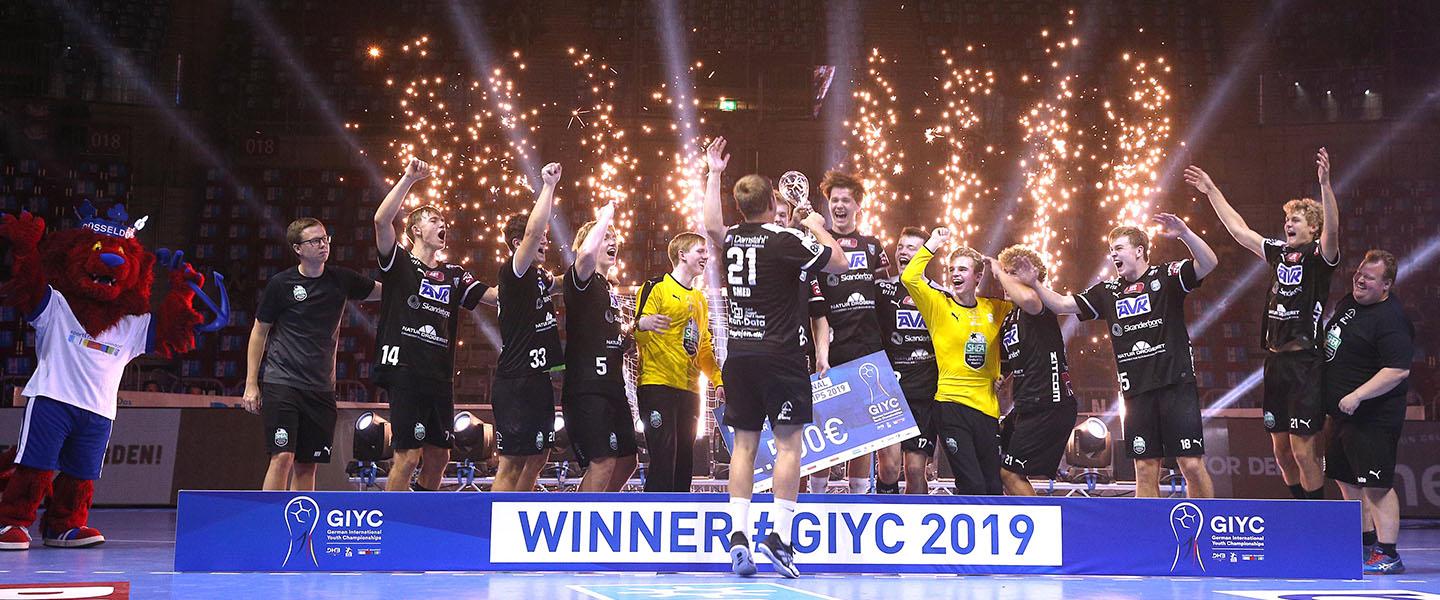 In August, the city of Düsseldorf welcomed 16 junior club teams from across Europe for the first German International Youth Championship (GIYC), which ended on the 21st with truly international representation on the podium. Danish side Skanderborg Handbold collected the title ahead Füchse Berlin in second, while Slovenian club RK Celje took the bronze medal. 
Skanderborg had an impressive showing, defeating Berlin with a clear 30:23 result in the final. They reached the trophy match with an even more emphatic win over Celje, 24:12, while Füchse took a semi-final victory in a low-scoring clash versus MT Melsungen, 16:14. 
Celje recovered from their semi-final loss to win the bronze medal with exactly the same score line as Skanderborg had against Berlin in the match for gold – 30:23 versus German club MT Melsungen. 
Following a preliminary group phase, the top two teams in each of the four groups proceeded to the quarter-finals – and in the end, all four of the semi-finalists came from Groups A and C. 
From Group A, Skanderborg and Melsungen topped their table ahead of SG Flensburg-Handewitt and Bergischer HC. In Group C, Berlin ranked first and Celje placed second in front of Germany's THW Kiel and Austria's HC Fivers. 
From Group B, Hungary's Telekom Veszprém and Germany's TSV Bayer Dormagen qualified for the knock-out round, after finishing first and second, respectively, ahead of Frisch auf Göppingen, also from Germany, and Bækkelagets SK from Norway. Group D was won by Hungarian team MOL-Pick Szeged, who placed first ahead of three German teams in the following order: SC Magdeburg, TSB Burgdorf and Rhein-Neckar Löwen. 
In the quarter-final stage, Berlin defeated Göppingen 21:15 in the only all-German clash. Melsungen proceeded to the semi-finals thanks to a 24:18 victory over Szeged, while Celje also enjoyed a clear win of 26:13 versus Veszprém. Like Berlin, Skanderborg finished with a six-goal advantage in their quarter-final, beating Magdeburg 29:23. It was the closest first half of any quarter-final, with a one-goal difference at the break, 14:13. 
About the German International Youth Championship
The GIYC was organised as a joint project between the German Handball Federation, the LIQUI MOLY Bundesliga and the city of Düsseldorf. 
"The German International Youth Championships are another important step in Düsseldorf's strategic development in handball. Having the 10 best German teams and six international top clubs here is a strong statement in the youth field," said City Director of the city of Düsseldorf, Burkhard Hintzsche, at the opening press conference. 
More information on the GIYC can be found on the Bundesliga website. 
Photo: Anke Hesse