Faroe Islands claim historic quarter-finals berth, Portugal seal amazing comeback against Slovenia
08 Aug. 2023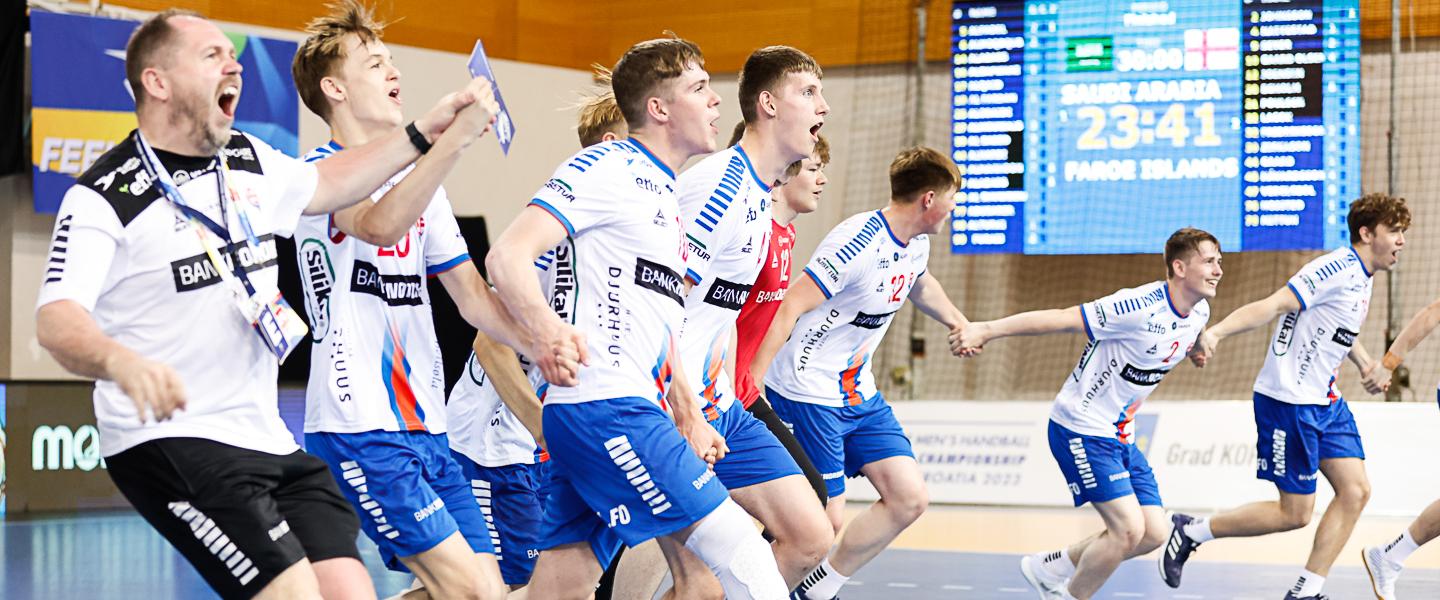 The Faroe Islands wrote history once again in their maiden appearance at the IHF Men's Youth World Championship, claiming a quarter-finals berth after their second consecutive win in the main round (41:23) against Saudi Arabia in Group IV.
 
In Group I, Portugal provided another superb comeback to keep their dream alive, erasing a four-goal deficit to claim a 28:26 win and will wait for the game between Croatia and Hungary to see if they progress to the quarter-finals.
 
Czechia also ensured they will feature in the Placement Matches 9-12 in their first appearance in the world handball flagship competition with a win against Brazil. North Macedonia followed in their footsteps with a 29:22 win over Austria.
 
Main Round
Portugal vs Slovenia 28:26 (10:9)
 
It was all or nothing for both sides, which both had previously conceded losses. Therefore only the winner would stand a fighting chance for a place in the quarter-finals. It was all but guaranteed that this would be a tight game, with the outcome decided by a hard-fought battle.
 
It proved to be exactly that type of game, an old-school defensive fight, where the two defences cancelled any chances for the opponent's attack, as Portugal and Slovenia both traded blows before one of them emerged as the winner.
 
For most of the first half, it was Portugal dictating the rhythm, thanks to the otherworldly performance from their goalkeeper, Vasco Teixeira, who boasted a 63% saving efficiency after saving seven shots in the first 20 minutes, including four one-on-one situations, which definitely boosted his team's chances.
 
In attack, though, Portugal failed to deliver the goods, even as one of the key Slovenia defenders, David Smolič, saw the red card after a tough foul against Joao Lourenco. Therefore, after 30 minutes, it was hard to pinpoint exactly who was going to win the game, with Portugal leading by the skin of their teeth (10:9).
 
The rhythm definitely accelerated in the second half, with the two sides starting to trade goals, as Slovenia tied their output from the first 30 minutes in only 13 minutes in the second half. A 4:0 run spurred by Nejc Hriberšek and Mlivic Malik helped turn the game on its head, with Slovenia wrestling back the lead after Portugal had their own 17:15 lead.
 
That scoreless five-minute and 55 seconds run looked to be decisive for Portugal, which looked down and dusted, failing to get any meaningful momentum instilled into their attack, which looked all over the place, forcing two team time-outs in only six minutes.
 
By that time, Slovenia were already four goals ahead, 22:18, and continued to press, as they needed a higher win, by at least seven goals in this low-scoring scenario, to still stay in the hunt for a quarter-finals berth. 
 
But all the maths and the hopes were turned on their hand by an otherworldly Portugal comeback. Down four goals with five minutes and a half to go (21:25), Portugal took full advantage of Slovenia's mistakes -two faulty substitutions which left them temporarily with two players less on the court.
 
On the back of those mistakes, Portugal ended the game with a 7:2 run, which not only eliminated Slovenia but brought Portugal a huge chance to progress to the next phase, needing Croatia not to lose their last game against Hungary to confirm the berth.
 
Slovenia will now head to the Placement Matches 13-16, as they conceded three losses in a row now, including two in the main round, letting leads slip against Hungary, Croatia and Portugal.
 
hummel Player of the Match: António Machado (Portugal)
Czechia vs Brazil 33:20 (17:11)
 
With an attacking efficiency that dropped under 40% over the first 20 minutes of the game, Brazil couldn't challenge for the win against Czechia and that was clearly to be seen from the start when the European side jumped to an excellent 5:1 lead, which was the building block for the success of their game.
 
Wing Filip Matouš and back Jonáš Josef were excellent for Czechia, scoring four goals each, half of their team's goals until the 26th minute, as the European side carefully managed their lead, with Brazil failing to shred anything of the lead.
 
Goalkeeper Vojtěch Košťálek also added a 33% saving efficiency, stopping four shots, and also scored an open goal to help Czechia preserve their lead, as Brazil's struggles were clearly on display, their top scorer, Mikael Lopes Candido, failing to score more than three goals.
 
Matouš and Josef continued to play flawlessly in the second half, combining for 12 goals, as Czechia even improved on their lead, creating a nine-goal gap, 25:16, after 40 minutes, one which proved to be unassailable, as Brazil simply did not have the attacking firepower to deliver a comeback.
Ensuring third place in the group, thanks to their pivotal win against Iceland in the preliminary round, but also with this win against Brazil, 33:20, Czechia will feature in the Placement Matches 9-12, a huge success for a rookie at the IHF Men's Youth World Championship.
 
On the other hand, Brazil now head to the Placement Matches 13-16, having lost both matches in the main round against Egypt and Czechia, yet they still can hold their heads up high with a very good performance in the competition.
 
hummel Player of the Match: Vojtěch Košťálek (Czechia)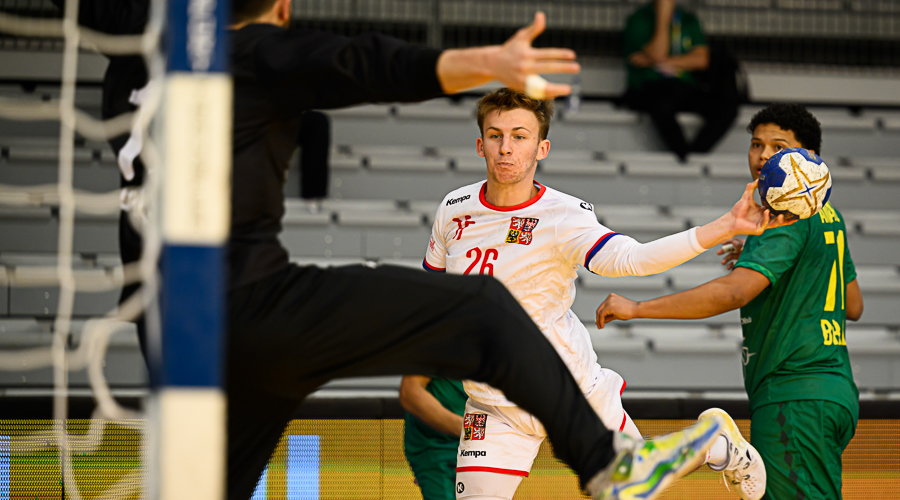 Austria vs North Macedonia 22:29 (8:14)
Last year, both teams qualified for Croatia 2023 after winning their respective M18 EHF Championship 2022 tournaments. Now they faced off as direct rivals for the third place in Group III, and North Macedonia secured that position so that they will move to the Placement Matches 9-12. In turn, Austria lost their third game in a row and will fight for the positions from the 13th to the 16th.
The fight was very tight for much of the first half, and despite a slight advantage, North Macedonia led by just 9:8 in the 20th minute. But then the Austrians started to make many mistakes – in fact, they had 13 turnovers before the break. As Austria failed to score for nearly 11 minutes, their Balkan rivals used a 5:0 run to open a six-goal lead at the interval.
Austria's goalkeeper Leon Bergmann had done well in many previous games of the competition, and now he had his impact again, ending the match with 10 saves. It helped his team to slash the gap to four goals midway through the second half (16:20), so the Austrians were still in the game.
However, North Macedonia stayed calm and enjoyed a 5:0 run, which basically removed all questions about the winner. Like in previous matches, Nenad Belistojanovski and Mirche Kalajdijeski led their attack, scoring six goals each, but it was mainly solid defence that secured the Balkan side's third win at the competition.
hummel Player of the Match: Mirche Kalajdjieski (North Macedonia)
Group IV
Saudi Arabia vs Faroe Islands 23:41 (11:22)
Debutants Faroe Islands are through to the quarter-finals after an easy win against Saudi Arabia in a decisive main round match. Faroe Islands were determined to prove defeat against the Islamic Republic of Iran was just a bad day, and after winning against Sweden and Germany, they have further extended their streak. Saudi Arabia now look towards placement matches, but it is still to be seen whether they will end as a third-placed or fourth-placed team in the group.
The Faroe Islands imposed the rhythm right from the start, giving Saudi Arabia a sign they will not have a chance to produce a surprise in Opatija. Faroese's 7-0 goal run made the Asian side call for a time-out already in the 12th minute, but new tactics were working only for a short period of time.
Left wing Jákup Egholm netted four out of four while the scoreboard was showing 10:3 as the Faroese fans were singing and having a great time at the stands in Hall Marino Cvetković. Saudi Arabia responded with their unanswered run, but compared to their opponents' run, they managed to connect only three goals.
As half-time was approaching, Saudi Arabia's attack efficiency had a little boost, coming up to the 46%. Still, the Faroe Islands and their fulcrum Egholm kept delivering and set 22:11 before the break. Faroe Islands were given just enough until the end of the game, passing the 40-goal mark for the second time at the flagship competition.
Saudi Arabia can be proud of Abdullah Almarhoon's performance, who was pulling their attack even when everything was going downhill, closing the day with seven goals. ''hummel Player of the Match'' Jákup Egholm was impeccable with eight goals scored in the first half. At the same time, Ísak Vedelsbol counted to nine by the end of the match, joining ten other players who scored at least once.
hummel Player of the Match: Jákup Egholm (Faroe Islands)