Slovenian Handball Federation celebrates 70 years
25 Oct. 2019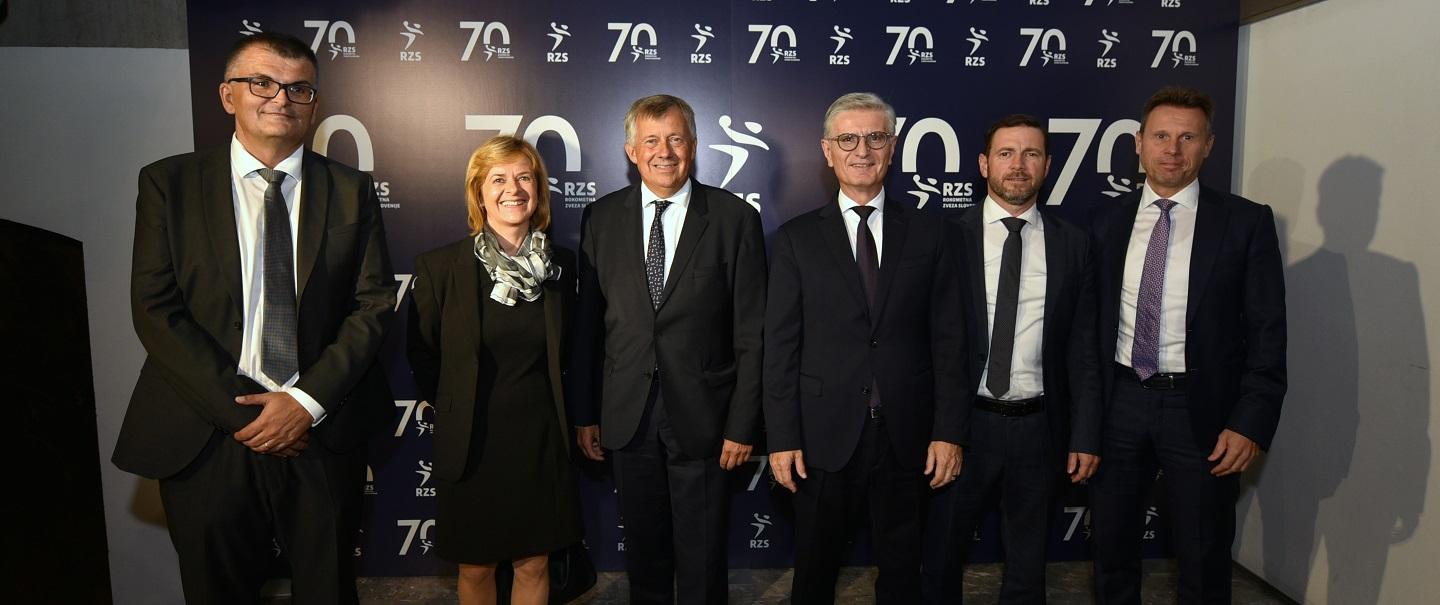 The Slovenian Handball Federation celebrated their 70th anniversary with an event at Ljubljana Castle in the nation's capital on Wednesday night, 23 October. A number of notable guests were present to mark the occasion, including President of the Slovenian Olympic Committee Bogdan Gabrovec; Minister of Education, Science and Sport Jernej Pikalo; and EHF President Michael Wiederer. 
"Among all collective sports, only the [men's] handball team has a medal from the European and World Championships, and have made three appearances at the Summer Olympics. We try to continue to compete with the best in the world," said President of the Handball Federation of Slovenia Franjo Bobinac, addressing the attendees, which included a number of former international players from both Slovenia and beyond, as well as former and current coaches. The men's national team were present, as they are currently in camp and will play friendly matches later this week, versus the Netherlands and Serbia. 
Bobinac commended the clubs within Slovenia for training the top players and thereby contributing to the achievements of the national teams. EHF President Wiederer spoke about Slovenia's contribution to the development of handball in Europe, and presented Bobinac with a 44-year-old document from Slovenia's first independent appearance, at the 'Alpe Adria' tournament in 1975. 
Minister Pikalo spoke on behalf of the Slovenian government, congratulating the thousands involved in handball who have always acted within the values of respect and fair play, while SOC President Gabrovec focused on the impressive results against nations with much larger populations and greater budgets.  
"In handball, I admire the enthusiasm, results achieved and the organisation of the union," said Gabrovec. "Because of true national enthusiasm, our national team is completely at odds with other stronger national teams." 
The biggest successes for Slovenian handball since the nation became independent in 1991 are the bronze medal won at the 2017 World Championship and the silver from the EHF EURO 2004, both for the men's side. On a club level, Slovenian teams RK Celje Pivovarna Lasko and RK Krim Mercator were acknowledged for their respective Champions League wins, with Celje celebrating the men's title in 2003/04, and Krim taking the women's trophy in 2000/01 and 2002/03.
PHOTO: Slovenian Handball Federation