Qatar down Bahrain again for continental men's glory
01 Feb. 2022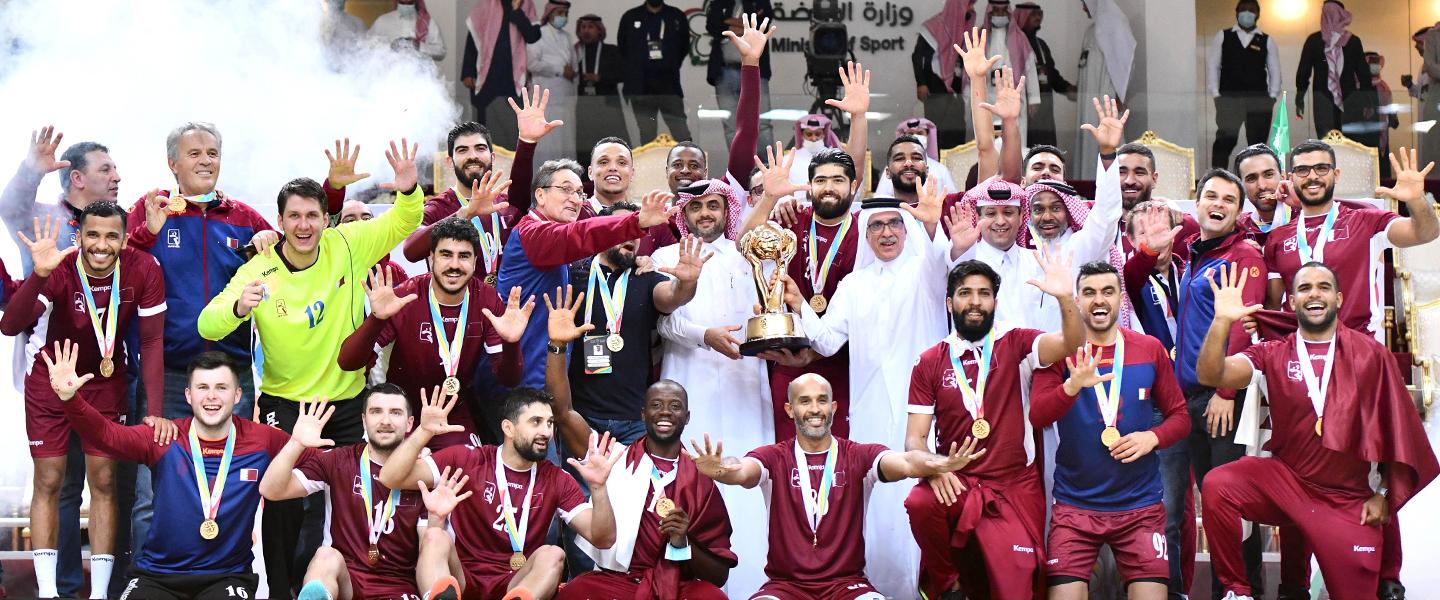 Valero Rivera's Qatar defeated Aron Kristjansson's Bahrain again in a continental final as the Spanish technician saw his side beat that of the Icelander 29:24 to win the 2022 AHF Men's Asian Championship in Dammam, Saudi Arabia on Monday (31 January).
Unlike previous editions, the final was nearly all Qatar. Bahrain led just four times in the match (5:4, 6:5, 7:6, 8:7) and after Mahmoud Hassab Alla made it 8:8 in the 17th minute, followed swiftly by a Frankis Marzo strike to make it 9:8 a minute later, Qatar were never behind again.
A two-goal Qatar lead came shortly after (11:9, 22nd minute), thanks to a left wing strike from Ahmad Madadi and by the half-time break it was three (14:11), extending to four (15:11) shortly after the start of the second half (32nd minute).
A 3:0 unanswered scoring run from Bahrain closed the gap to one again (15:14) but that was as close as they would come as Qatar powered forward, going ahead by as much as eight goals (26:18, 52nd minute), before eventually taking a 29:24 victory. Marko top-scored in the game with eight goals.
The IHF referee couple of Adam Biro and Oliver Kiss (Hungary) whistled the final, which was the fourth time in the past five championships that Qatar and Bahrain have faced each other, with Qatar winning all four – in 2014 (27:26), 2016 (27:22), 2018 (33:31) and now, 2022. Under Rivera, Qatar have claimed the last five continental titles, retaining the title they last won in 2020 when they easily defeated Republic of Korea 33:21 in Kuwait.
They were presented the trophy by IHF President Dr Hassan Moustafa, who was in Saudi Arabia for the final few days of competition, with centre back Wajdi Sinen, who got injured in the preliminary round and missed the rest of the championship, lifting it high in front of his teammates.
 

Five-time IHF Men's World Championship winner as a player, assistant coach and coach, Didier Dinart saw his Saudi Arabia side win bronze after they withstood a late comeback against Islamic Republic of Iran, winning 26:23 (15:12). 
They led the whole game, as much as five in front (14:9, 26th minute, 22:17, 47th), but Iran mounted a surge inside the final 10 minutes, coming close, but ultimately missing the opportunity to come within one (21:23) inside the final five minutes as Dinart's side hung on.
Both Iran and Saudi Arabia had lost their semi-finals comprehensively, against Qatar (19:34) and Bahrain (20:29), respectively.
With the top five teams in Saudi Arabia sealing their place at the 2023 IHF Men's World Championship in Poland and Sweden, the four teams involved in the medal matches had already confirmed their spot, but one ticket was left unclaimed.
That ticket was up for grabs in the 5/6 Placement Match between Korea and Iraq. In the days leading up to the game there was talk about if the COVID-19-depleted Koreans would have enough players to fulfil the contest, but after 15 players were cleared to play in the 24 hour period leading up to it, they took to the court.
Iraq were hoping to secure their first-ever IHF Men's World Championship qualification but Korea took an early 2:0 lead (3rd minute) and the Iraqis could only come within one (11:12, 29th minute) as Korea did enough to confirm their ticket. 
Both Australia and Vietnam fulfilled their final matches, despite earlier championship forfeits due to COVID-19, with the Australians losing to India (21:25) in the 15/16 Placement Match and Vietnam winning the battle of the championship debutants, 33:22 against Singapore, to take their second victory of the event.
Hong Kong overcame Jordan 27:26 in the 11/12 Placement Match, with United Arab Emirates taking down Oman for ninth spot and Kuwait beating Uzbekistan (32:30) for seventh. 
To read about earlier games click here.
FINAL RANKING
1. Qatar*
2. Bahrain*
3. Saudi Arabia*
4. Islamic Republic of Iran*
5. Republic of Korea*
6. Iraq
7. Kuwait
8. Uzbekistan
9. United Arab Emirates
10. Oman
11. Hong Kong
12. Jordan
13. Vietnam
14. Singapore
15. India
16. Australia
*Qualified for the 2023 IHF Men's World Championship in Poland and Sweden
For the full schedule visit 'Schedule' at asianhandball2022.com and for more information on the event, visit asianhandball.org.
Photo: Saudi Arabian Handball Federation