Egypt win continental women's youth crown
07 Mar. 2022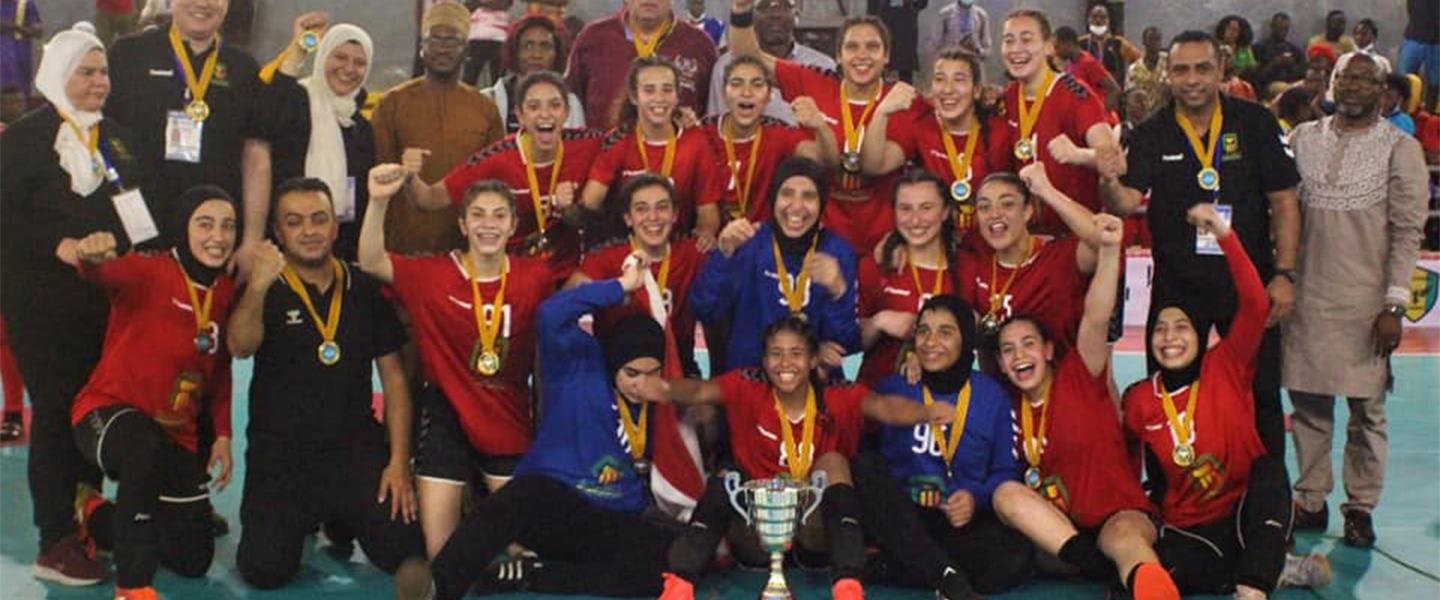 Egypt have won the African Handball Confederation (CAHB) Women's Youth African Championship. The North African nation finished top of the six-team, round-robin competition held in Guinea. It is their fourth youth continental title in a row following their 2015, 2017 and 2019 gold medals.
Along with hosts Guinea, Egypt, Algeria and championship debutants Sierra Leone, Guinea-Bissau and Gambia took part in the championship, which was postponed from 2021 and played in Guinea's capital city, Conakry.
All teams played five matches, with Egypt winning all of theirs. They started with comprehensive wins over first-timers Sierra Leone, Guinea-Bissau and Gambia, scoring over 200 goals in the process and conceding just 30. 
A penultimate match day win over Gambia for the Egyptians set up a final day clash with the hosts for the title, with Guinea also winning all four of their previous games. Egypt went into the last match top of the standings, having scored 258 goals and conceded just 50, while Guinea were on 251 and 60.
The final was one of the tightest games of the 15 played in Conakry, Egypt taking just a one-goal lead into the half-time break. However, they eventually ran out 35:31 (14:13) winners to confirm their fourth, successive continental women's youth title.
The championship was also a qualification event for the 2022 IHF Women's Youth (U18) World Championship, which will be played in Georgia from 3 to 14 August. The top three teams in Guinea automatically booked their tickets, with Egypt, Guinea and Algeria sealing their place in the global event. It will be just the third time that Egypt will appear in the World Championship, with Guinea and Algeria set to make their debut appearances.
The championship will also hold special memories for both Sierra Leone and Gambia who grabbed their first-ever wins at this level. Sierra Leone defeated Guinea Bissau early on to register their sole victory of the championship, while Gambia got their first victory coming from behind to win against Sierra Leone in the tightest of matches in the championship – 37:34 (14:16). They then backed it up with a second victory, against Guinea-Bissau, on the final day.
Final Ranking
1. Egypt (EGY)*
2. Guinea (GUI)*
3. Algeria (ALG)*
4. Gambia (GAM)
5. Sierra Leone (SLE)
6. Guinea-Bissau (GBS)
*qualified for the 2022 IHF Women's Youth (U18) World Championship
Photo: African Handball Confederation