Madagascar and Zambia share honours
02 May. 2018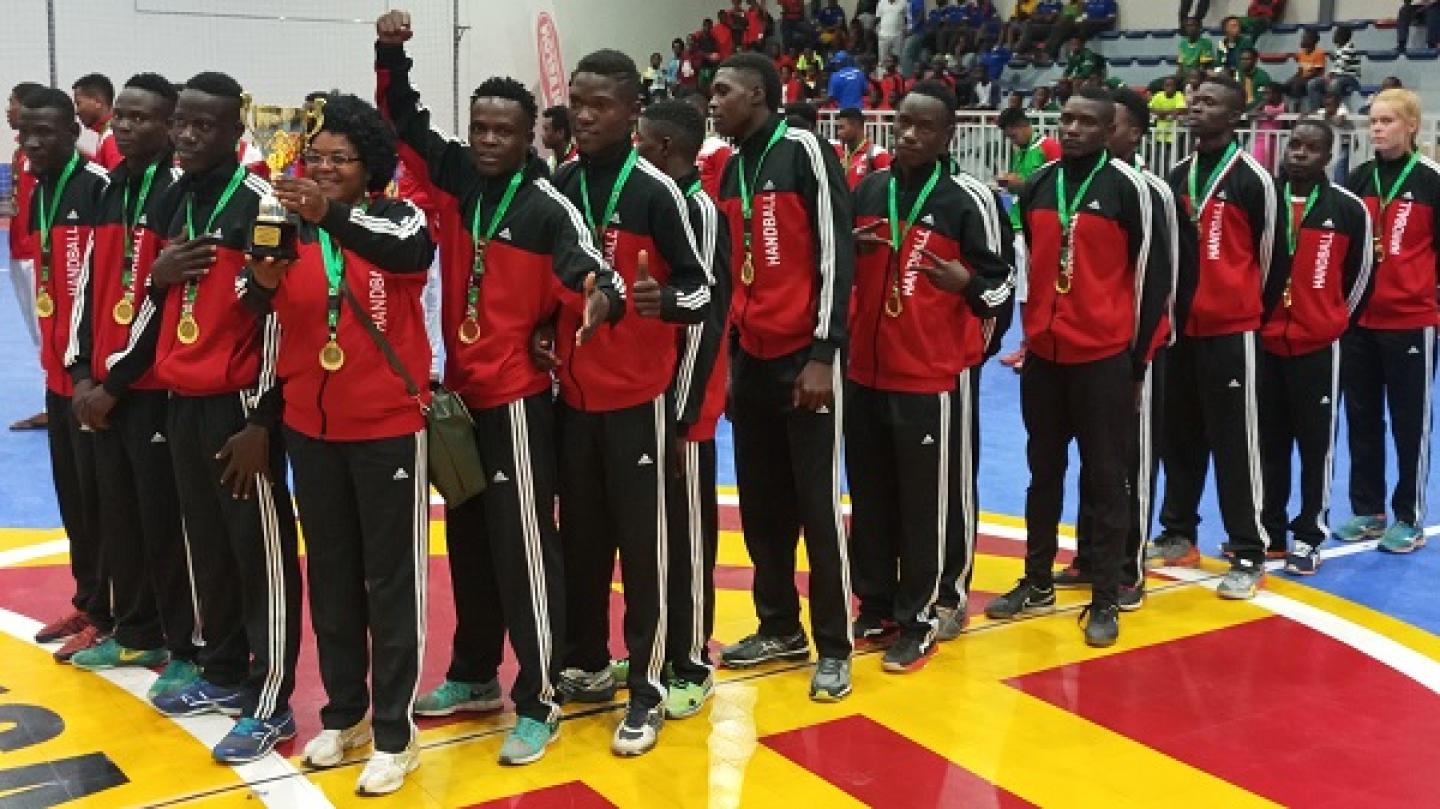 The IHF Trophy Africa Zone VI and VII combined tournament in Lusaka, Zambia finished last weekend with both the junior and youth Madagascar and Zambia teams sharing the glory in their respective tournaments.
In the youth competition for those born on, or after, January 1, 2000, hosts Zambia (ZAM) came from being three goals down at half-time to beat Madagascar (MAD) 26:23 (12:15). Zambia reached the final after squeezing past Zimbabwe (ZIM) in a nervous semi-final which had seen the sides deadlocked at the break, 13:13 before the home team did enough to come away with an eventual six-goal victory. Zimbabwe won the bronze medal, easily beating South Africa (RSA), 41:14.
For those born on, or after, January 1, 1998, the junior competition final saw Madagascar, who had won all their previous games, get some revenge as they beat Zambia 34:21 (17:8) in a one-sided final. There was also revenge in the bronze-medal match as South Africa beat Zimbabwe 37:33, despite being two goals down at the break (18:16).
The Zambian youth team and Madagascar junior team will now advance to the IHF Trophy - Africa Continental Phase to be held on the continent later in 2018.
 
FINAL RANKING
Youth Competition
1 – Zambia
2 – Madagascar
3 – South Africa
4 – Zimbabwe
5 – Malawi
6 – Seychelles
7 – Swaziland
8 – Lesotho

Junior Competition
1 – Madagascar
2 – Zambia
3 – South Africa
4 – Zimbabwe
5 – Seychelles
6 – Swaziland
7 – Lesotho
COMPLETE RESULTS
Tuesday 24 April
 
Youth Competition
RSA vs SWZ 33:17 (15:8)
MAD vs ZIM 31:29 (17:14)
MAW vs SEY  "not played"
ZAM vs LES 50:7 (25:2)

Junior Competition
LES vs SEY 7:51 (2:21)
MAD vs ZIM 36:23 (15:9)
SWZ vs ZAM 5:41 (3:23)
Wednesday 25 April
Youth Competition
SWZ vs MAD 5:41 (1:19)
ZIM vs RSA 40:23 (18:12)
SEY vs ZAM 8:38 (2:19)
LES vs MAW 17:32 (7:15)
Junior Competition
SEY vs MAD 28:31 (14:16)
ZIM vs LES 56:7 (24:3)
RSA vs SWZ 36:21 (16:10)
Thursday 26 April
Youth Competition
ZIM vs SWZ 36:9 (19:5)
MAD vs RSA 26:15 (11:6)
LES vs SEY 20:23 (8:12)
ZAM vs MAW 33:18 (19:11)
Junior Competition
ZIM vs SEY 29:28 (15:12)
MAD vs LES 38:8 (17:2)
ZAM vs RSA 35:17 (18:7)

ZAM vs MAW 40:17 (17:7)
SWZ vs MAW 20:26 (8:12)
MAW vs RSA "not played"
Friday 27 April
Youth Competition
Placement Match 7/8: SWZ vs LES 19:12 (10:7)
Semi-Final 1: MAD vs RSA 32:12 (18:4)
Semi-Final 2: ZAM vs ZIM 32:26 (13:13)
Junior Competition
Placement Match 7/8: SWZ vs LES 21:11 (10:5)
Semi-Final 1: MAD vs RSA 47:20 (28:18)
Semi-Final 2: ZAM vs ZIM 37:16 (17:8)
Saturday 28 April
Youth Competition
Placement Match 5/6: SEY vs MAW 17:27 (9:9)
Bronze Medal: RSA vs ZIM 14:41 (4:22)
Final: MAD vs ZAM 23:26 (15:12)
Junior Competition
Placement Match 5/6: SEY vs MAW 32:29 (15:14)
Bronze Medal: RSA vs ZIM 37:33 (16:18)
Final: MAD vs ZAM 34:21 (17:8)