A natural born scorer: Furaij completes the IHF World Championship senior-junior-youth triple with Saudi Arabia
11 Aug. 2023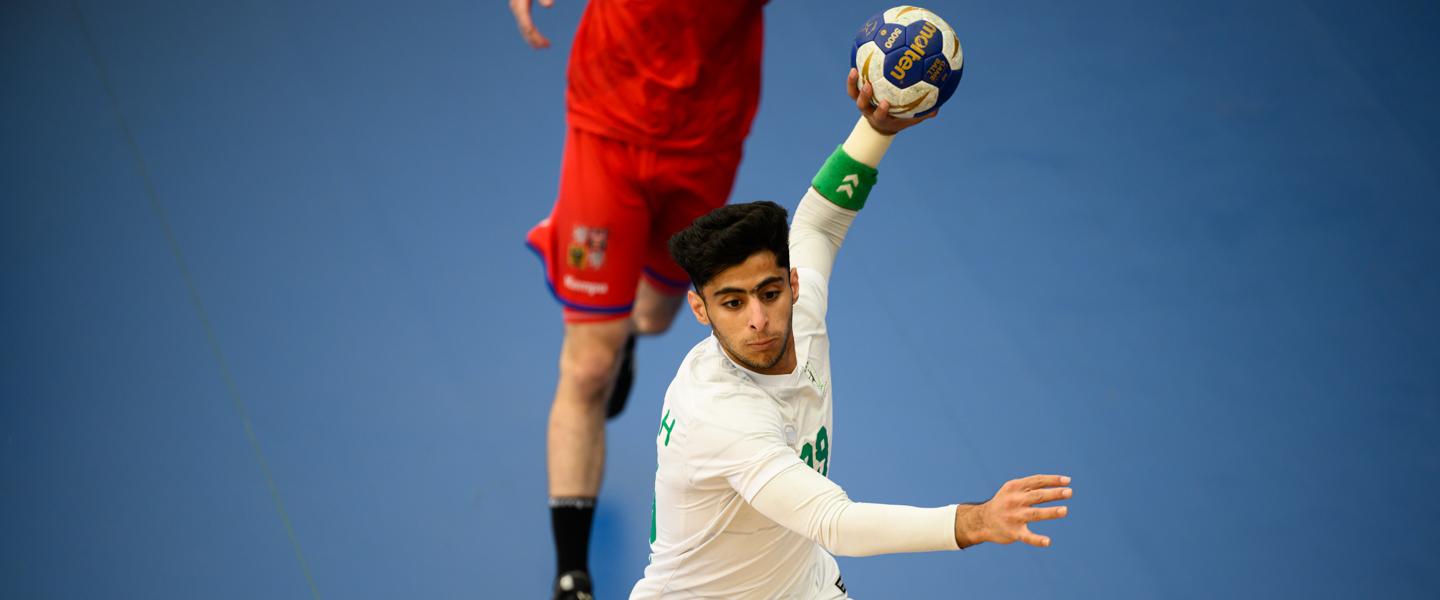 With a hard-fought draw against Argentina in the preliminary round and a spectacular win against the Islamic Republic of Iran in the main round, Saudi Arabia became one of the dark horses of the 2023 IHF Men's Youth World Championship, one of the sides which definitely surprised and delivered a better result than expected before the start of the competition.
In only their second participation in the world handball flagship competition at this age category, Saudi Arabia will now finish just outside of the top 10 after their loss against Czechia on Thursday (33:36), yet this is still their best finish in the competition, a sign of the things to come.
There has been a particular emphasis put on handball in Saudi Arabia, the hosts of the past four editions of the IHF Men's Super Globe, with the sport becoming more and more popular, with big names being attracted in the league, but also a system to develop and promote young players being in the works.
The first results are here, though, and it looks better than expected, with plenty of players with a big upside. The most likely name to impress is right wing Hussain Furaij, the fourth-best scorer at Croatia 2023 so far, with 47 goals, only two goals shy of the second place, Iran's Amirhossein Karami.
In fact, Furaij is undoubtedly one of the biggest talents produced by Saudi Arabia in the past years, and 2023 has been a true whirlwind for the right wing, who has represented his country in three major competitions so far – the IHF Men's World Championship in Poland/Sweden, the IHF Men's Junior World Championship in Germany/Greece and now the IHF Men's Youth World Championship in Croatia.
"Most of the people in my home town are in love with handball, so I decided to start playing it myself, and it was an excellent decision. I started at Noor Club in Qatif when I was only nine years old, and my Serbian coach, Bosko Jolovic, was the one who inspired me and took care of me and taught me a lot," says Furaij.
The time has passed, Furaij has developed excellently, thanks to his native qualities and great coaching and now he is preparing to be one of the top players in Saudi Arabia, a team which was coached at Poland/Sweden 2023 by an experienced pair of coaches, head coach Jan Pytlick and assistant Morten Soubak.
At only 18 years old, Furaij made his debut in the Placement Match 29/30, in a 32:30 win against Morocco, being the second youngest and only the seventh teenager to feature in the competition at Poland/Sweden 2023, after fellow Saudi Arabia player Hassan Al-Turaiki.
"This was an extraordinary achievement for me. It is a moment I will never forget; it is something that will be embedded in me all my life. It was a true honour and I was very happy, something truly motivational, which I will always be proud of," adds the Saudi Arabia right wing.
But Furaij did not stop there. His talent was immediately recognised in Saudi Arabia, and he has been featuring more and more prominently, being a key cog in the junior team at Germany/Greece 2023 and now here, at Croatia 2023, where he has unleashed his full potential, including a 12-goal outing against the Islamic Republic of Iran, in the main round, a crucial 29:26 win for Saudi Arabia, which set the Asian side excellently on their path to the best finish ever.
"I am very proud of our result; this just gives me and my teammates more motivation. It shows that good results are possible. I just want to help my team become better and better," says Furaij.
"I am just getting the taste of representing Saudi Arabia in major international competitions. I just hope that this is just the start, and I wish to be able to take part in many, many more other competitions."
Of course, being just 19 years old, this is just the start for Furaij in handball, with his potential making him an attractive proposition for many teams and for the Saudi Arabia senior national team in the future.
The right wing aims to improve and, why not, feature in a major European league.
"I just want to focus on myself, to become a better player. Why not, to feature in Germany or France in the future? This might be an excellent step for me? Of course, I am also thinking about the national team and winning the Asian Championship is a big objective of mine, too," concludes Furaij.
Photos: Croatia 2023/Kolektiff images