Dramatic finish sees Morocco stay alive in the President's Cup, as Czechia seal top 10 spot
10 Aug. 2023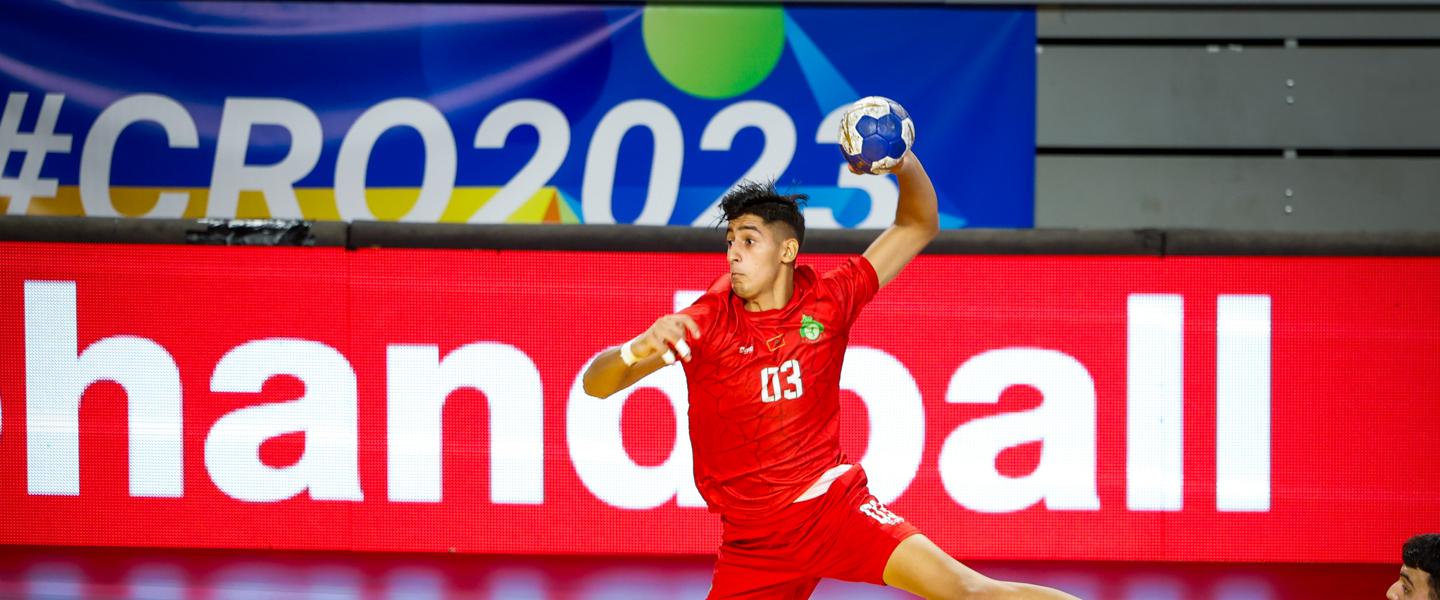 Morocco beat Montenegro (30:28) and have a chance to win the President's Cup tomorrow. Czechia win 36:33 against Saudi Arabia in a tight game. And Rwanda are lost to Georgia 33:41.
Placement Match 9-12
Czechia vs Saudi Arabia 36:33 (19:15)
A total of 44 turnovers highlighted just how scrappy this placement match 9-12 was, but it made for an exciting encounter.
Despite leading for most of the 60 minutes, the European side did not really ever have total control of the match as the Asian bronze medallists pushed their opponents throughout.
In fact, for the first 10 minutes, Saudi Arabia were ahead before being pulled back and then overtaken for a four-goal half-time deficit (15:19).
But the Saudis came back numerous times in the second period to draw level before finally being left behind inside the last 10 minutes when the Czechs went on a 4:0 scoring run to ease to a five-goal (34:29) lead going into the last five minutes and sealing the game win in the process.
With his 11 goals from 12 strikes, Czechia's Philip Matouš was named the "hummel player of the match", but an honourable mention must go to Saudi Arabia's Hussain Furaij, who registered nine strikes.
If his goalkeepers had registered more than just seven saves in the whole 60 minutes and both Hassan Alfadel and Maitham Abusarer had not picked up disqualifications (one direct red, one three two-minutes) – as part of seven suspensions in total – then it may have been a different story.
Whatever their results in their 9/10 and 11/12 placement matches coming up, both teams have already recorded their best-ever ranking in this event, with Saudi Arabia beating 20th, gained in 2019 and debutants Czechia recording a top 10 spot in their maiden tournament appearance.
hummel Player of the Match: Philip Matouš (Czechia)
Placement Match 17-20
Morocco vs Montenegro 30:28 (17:12, 26:26) 
Morocco, the only non-European side in the Placement Matches 17-20, continues fighting for the President's Cup. The Africans needed a 7m shootout to defeat Montenegro, so they will meet either Iceland or Sweden in the final of the consolation trophy on Friday.
It was a tough match for both teams and an entertaining game for the spectators. Led by Abdellah Razgui and Lbachir Mansouri, who became their joint-best scorers with seven goals, the Moroccans were dominant for much of the game. At half-time, their advantage reached five goals, and in minute 47, they continued to lead 24:20.
Both sides did not boast high shot efficiency, as Montenegro had 58% in the end and Morocco 55%. The European team's goalkeepers did better, as Lazar Sredanovic made 15 saves, and Savo Vujovic added three more. In turn, Morocco used all their three goalkeepers, but they combined for only nine saves.
Better goalkeeping played a role in the last quarter of the match when Montenegro tried to hit back. Propelled by Andrija Radovanovic, their best scorer with nine goals, the Balkan side used a 6:1 run to grab a 26:25 lead before Adam Faddal's goal sent the game into a shootout.
Morocco had a poor start, as Razgui's shot was saved, but his teammates did not make any mistakes, while Montenegro's Milorad Bakic and Andrija Radovanovic failed to score. In a crucial moment, Amine Bilghoul converted his attempt and secured an African team's win. 
hummel Player of the Match: Abdellah Razgui (Morocco)
Placement Matches 25-28
17:30 CEST Rwanda vs Georgia 33:41 (13:16)
Georgia secured their second win in a row at the competition by beating Rwanda and securing themselves a match for the 25th place at Croatia 2023. After trailing at the start, Georgia made a turnaround and widened the gap with each passing minute.
Rwanda had a fairly good start to the game, being in front for almost 20 minutes. Despite Georgia's goalkeeper Gigi Rukhadze having five saves out of 10 attempts, his team didn't build on that and were trailing for a good amount of time. Having 17 turnovers in just 30 minutes was the key to Georgia's poor display in the first 20 minutes.
However, their most experienced player Sandro Darsania stepped up a gear and was instrumental in a comeback. Georgia connected a couple of goal runs as Rwanda's attack slowly faltered. By the end of the first half, the African side converted only 39% of shots.
Yves Kajiyama and Samuel Mbesutunguwe tried to keep Rwanda in the game and were the main reason why the efficiency of their attack had a better ending with 47%. Their 24 goals couldn't compete with Georgia's amazing trio. Sandro Darsania netted 12, ''hummel Player of the Match'' Vakhtang Khelisupali the same number, while goalkeeper Gigi Rukhadze closed the game with 20 saves.
The first double-digit lead was hit in the 50th minute as Nikolozi Shervashidze set 34:24. With the last moments of the game were approaching, both teams took the foot from the pedal, slowing down the pace before Georgia closed the game with a nice fast break.
hummel Player of the Match: Vakhtang Khelisupali (Georgia)
Photo: Croatia2023/Kolektiff images