Beach fun and development in St Kitts and Nevis
29 Apr. 2021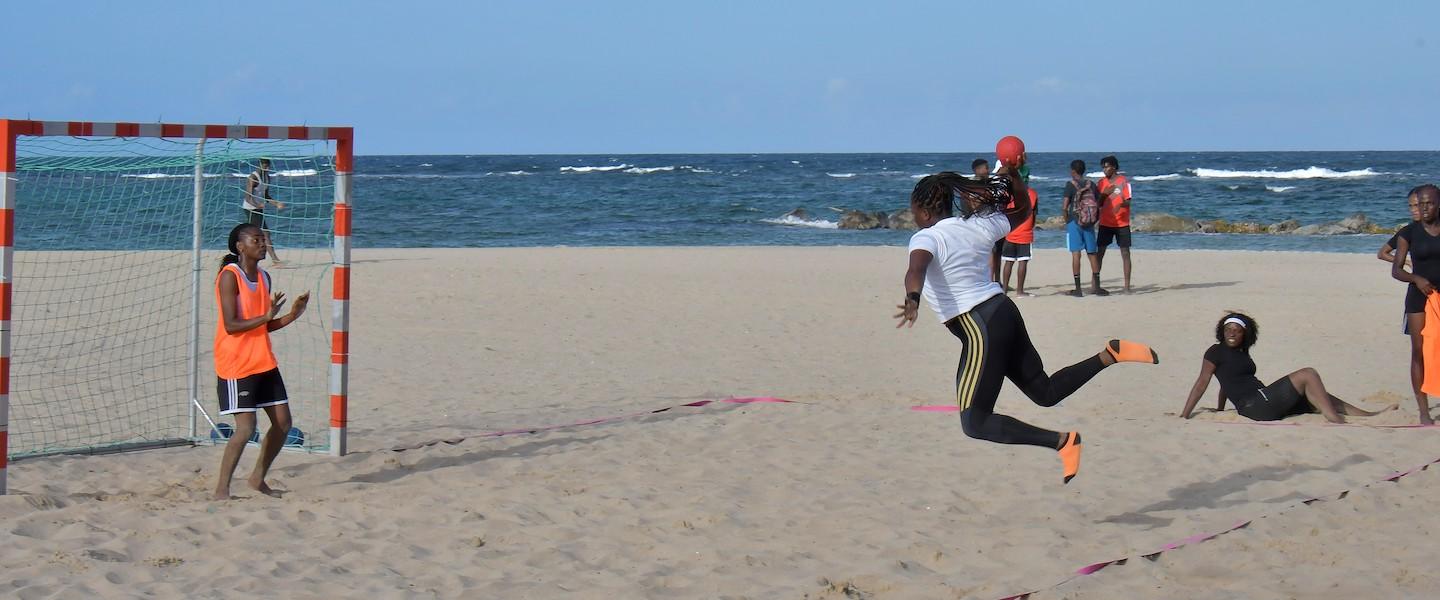 The St Kitts and Nevis Handball Association (SKNHBA) 2021 Men's and Women's National Beach Handball Leagues concluded last Saturday (24 April) on North Frigate Bay's Marriott Beach.
Both reigning champions retained their titles with Nothing But Net taking the women's crown and Wild Side Government confirming their number one spot in the country, with their second consecutive title.
League matches were played over seven consecutive weekends of action, starting on 13 March and were open to players aged 15 to 30 years old.
Women's competition
Eight teams participated in the 2021 SKNHBA Women's National Beach Handball League, with reigning champions Nothing But Net joined by Drips, Net Navigator, All-Stars, CEMSS (Charles E Mill Secondary School), DSC Fireball and Hornets joined by U-20 National Select.
U-20 National Select was the St Kitts and Nevis Women's Junior (U20) national team under, a team who gained international experience back in 2019, when they were the Youth (U18) national team, who participated in the 2019/20 IHF Women's Trophy – North America and Caribbean Continental Phase in Canada.
The final eventually came down to Nothing But Net vs All-Stars, with the challengers starting stronger against the title-holders, dominating the play to win the first period 10:6. However, Nothing But Net showed their class in the second period, taking a 12:3 victory thanks to an intense defensive performance and strong two-point scoring.
A tense shoot-out followed with the 2019 winners winning the coin toss to open the scoring – and they were ruthless, preventing their opponents from scoring to take a 3:0 victory and overall 2-1 (6:10, 12:3, 3:0 SO) win to keep their 100% championship-winning record.
Ranking
1 – Nothing But Net
2 – All-Stars
3 – Net Navigator
Most Valuable Player (MVP) – Latonia Demming (All-Stars)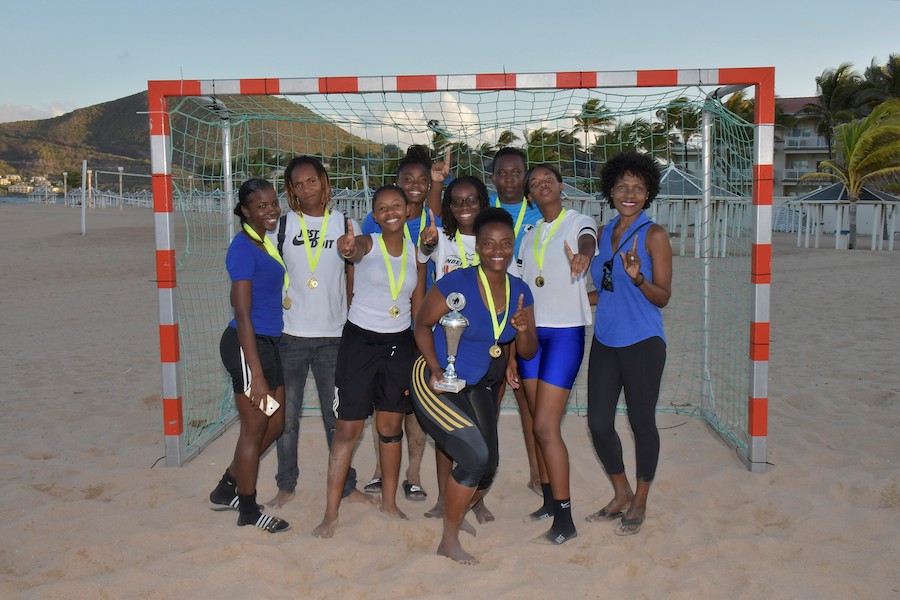 Men's competition
The male competition saw seven teams compete against each other with title-holders Wild Side Government joined by Achievers Sports Club, CEMSS, DSC Fireball, Uprising Ballers, Unstoppable Squad and Wolfpack with the final ending up between Wild Side and the newcomers, Achievers.
But, unlike the women's final previously, the men's final was one-side with the experience and quality of the defending champions shining through. The first period ended clearly, 24:4 in favour of Wild Side but with four lead changes in the second period, it was a much closer affair, but the 2019 winners were not prepared to let slip any chance of repeating their efforts from two years ago, scoring 24 points again, to win 24:19 and take the match 2-0.
However, Achievers Sports Club displayed moments of brilliance highlighting not only that a challenge lies not too far down the road for Wild Side but prompting watching national men's beach handball coach Alexis Morris to make contact with a number of players from the fledgling team.

Ranking
1 – Wild Side Government
2 – Achievers Sports Club
3 – Uprising Ballers
Most Valuable Player (MVP) – George Gaton (Wild Side Government)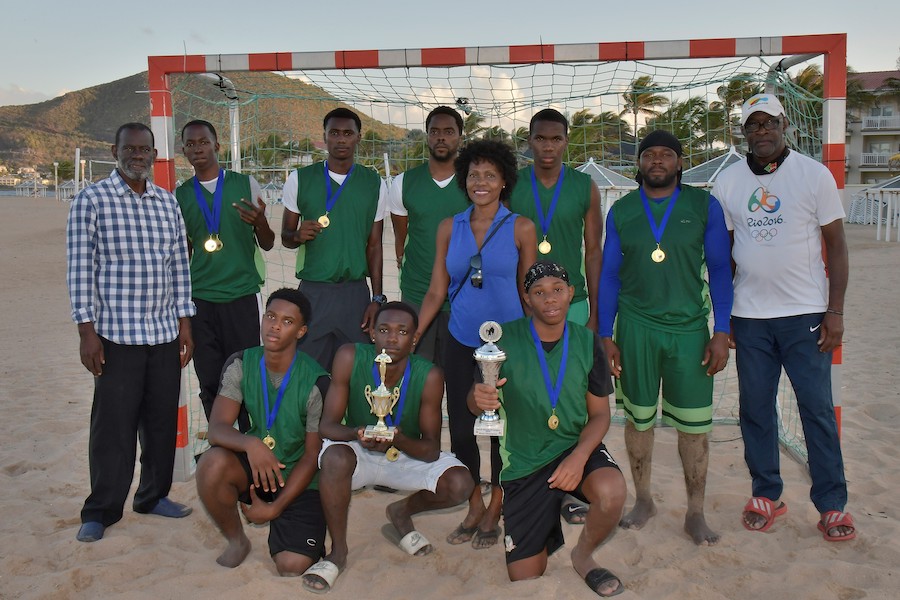 Celebrations and presentations
Following the conclusion of both finals on the sand, SKNBHA Vice President Jennifer Byron-Nero chaired the presentation and closing ceremony.
In addition to the league winners and MVP awards handed out, Stivecia Dorsette of U-20 National Select was awarded 'Best Young Talent' overall. Dorsette, a student at Saddlers High School, was introduced to the sport in 2019.
Trophies and medals were handed out by President of the St. Kitts and Nevis Olympic Committee, Alphonso Bridgewater who congratulated all the teams for coming out and playing in difficult times with the world going through a pandemic and praised those in the nation in overcoming hardship and their ability to persevere. 
SKNHBA Leroy Greene offered his gratitude to those who made the leagues possible, thanking, amongst others, the St. Kitts and Nevis COVID-19 Task Force and the ST. Kitts and Nevis Olympic Committee, alongside a number of sponsors.
The next generation
Ahead of the beach handball leagues, beach handball workshops aimed at new and promising high school student players were conducted by the SKNBHA in association with senior clubs across three weekends in January (16, 23, 30) with many of those who had participated in the workshops featuring in the leagues.
These workshops followed a development day held late last year and reported on by ihf.info.
A new league, providing opportunities
The league first took place in 2019 after the Caribbean nation was inspired by their experience at the debut edition of the North America and the Caribbean (NACHC) Men's and Women's Beach Handball Championship held in Trinidad and Tobago in July of that year where they fielded teams in both gender competitions.
"The players were so excited after competing in Trinidad and Tobago that they asked me to do the same at home for them to continue playing, so I did and we set up the league," said SKNHBA Secretary General and Competition Chairman Fitzroy Clarke to ihf.info.
"Of course, last year we were not able to do anything because of the COVID-19 pandemic but as it stands right now we intend to host another one just after this summer if we can find funding.
"2021 is the signal of a new era with four new teams and over 20 new players, impressive for such a young league in only its second year," he added. "I urge everyone, especially the young players to continue to support this striving new sport as the opportunities here in St Kitts and Nevis are endless."
For more information on handball in St. Kitts and Nevis visit the federation's Facebook page.
Photos: SKNHBA