Group IV: Sweden to meet Slovenia in crucial match
22 Jan. 2021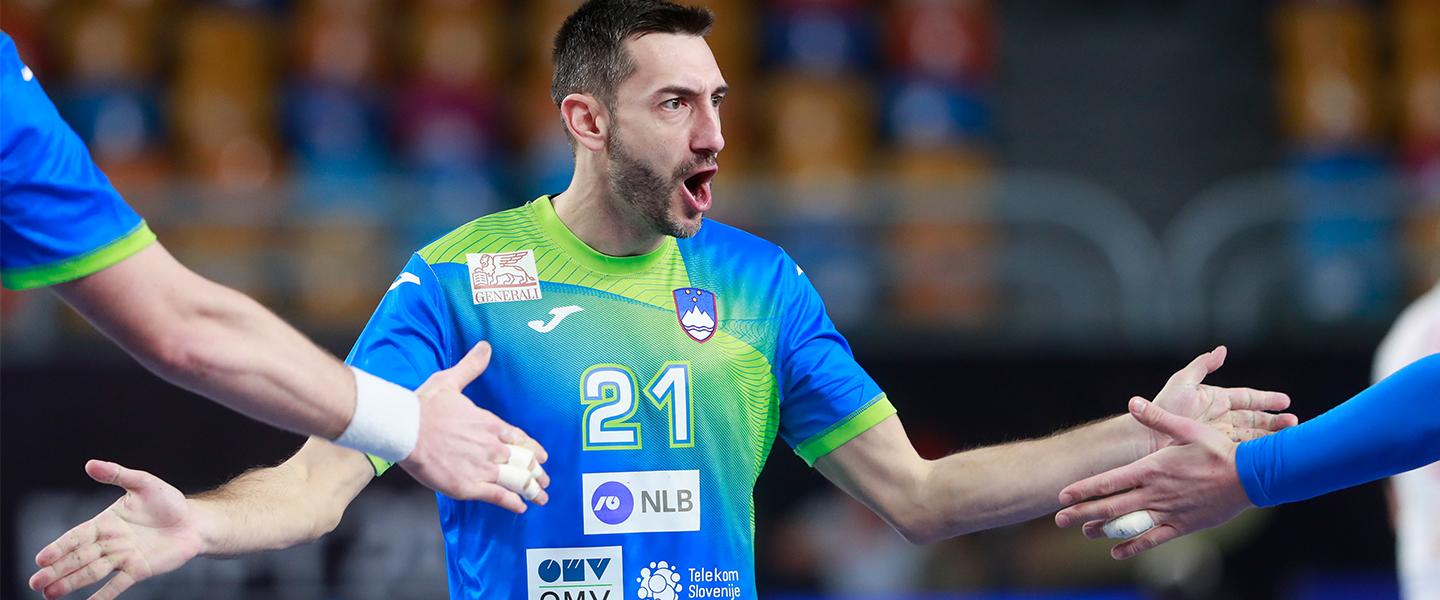 Main round Group IV leaders Sweden, who split points with Belarus in a nerve-wrecking match on Wednesday, will now face another challenge against third-placed Slovenia, who are coached by Swede Ljubomir Vranjes. 
Meanwhile, hosts Egypt, who opened the main round with a win over the Russian Handball Federation Team, will be tested by the tenacious Belarusians, while the Russian Handball Federation Team hope to bounce back in the game against outsiders North Macedonia. 
North Macedonia vs Russian Handball Federation 16:30 CAT
Both teams lost their opening matches in the main round and following a 21:31 defeat in the Balkan derby against Slovenia, North Macedonia can no longer dream to reach the quarter-finals.
With zero points, they sit at the bottom of the group but hope to please their fans in the two remaining matches of the tournament, against the Russian Handball Federation Team and Belarus.
"These games will be hard, but we will give our 100 per cent as we want to make some surprises," said North Macedonia's goalkeeper Martin Tomovski.
For the Russian Handball Federation Team, a win on Friday is a must if they want to reach the quarter-finals, as now they are ranked fourth in the group with three points.
The opening game in the main round turned into a frustration for the team, who suffered their first defeat at the event, 23:28 against hosts Egypt.
"We will fight for the victory in every game. We will thoroughly study the match with Egypt, take our mistakes into account and move on," said Velimir Petkovic, the coach of the Russian Handball Federation team.
In the past, the Russians faced North Macedonia three times at the World Championships, and the balance is level as the Balkan side won 36:30 in 2009, Russia took a 30:28 revenge in 2019 and in between, the teams shared spoils in 2013, 29:29. 
Egypt vs Belarus 19:00 CAT
So far, the only encounter between these two teams at the World Championship took place in 1995, when Egypt claimed a 27:26 victory. 
26 years later, both sides have the same goal of advancing to the quarter-finals, but the World Championship hosts now are in a better position.
Following a victory against the Russian Handball Federation Team, they have four points and are just one point behind the leaders Sweden.
In the match against Belarus, the 'Pharaohs' hope to build on their success and get another positive result. 
"We will take each game step by step. We are doing well, and the team has gelled together," said their Spanish coach Roberto Garcia Parrondo.
However, they should be wary of the Belarusians, who put on a strong performance in their first main round match against Sweden.
In the first half, Iouri Shevtsov's men were leading by eight goals, and although Sweden staged a strong comeback, Andrei Yurynok's last-gasp goal saved Belarus a point.
Ranked fifth in the group with two points, they know that beating Egypt will increase their chance to get a quarter-final spot, but realising that it is not a simple task. 
"Egypt play at home, and it's always difficult to compete with a host team. They have many players who can decide the match, but we will continue to fight," coach Shevtsov said.
Slovenia vs Sweden 21:30 CAT
After progressing to the main round with two points, Slovenia added just as many to their tally in the match against North Macedonia.
The comfortable 10-goal victory meant that the Balkan side had a chance to save some power for the next encounter against Sweden.
The game on Friday may prove pivotal for both sides, as Slovenia is only one point – and two positions – away from Sweden in the table.
The Scandinavians, who top the group with five points, will take a big step towards the quarter-final if they win on Friday. Yet, it will not be easy as unlike Slovenia, Sweden lost a lot of energy in their 26:26 match against Belarus.
Although Sweden missed a chance to win in the dying seconds and dropped their first point in the championship, their coach Glenn Solberg was overall satisfied with the draw.
"This point can be important, it can help us to reach the quarter-final," he said.
For Slovenia's coach Ljubomir Vranjes, it will be a special match as he will face the national team of his home country.
"We'll do what we can do. We have a good team with a good spirit, and we believe in ourselves," he stated.
Slovenia and Sweden faced each other twice at IHF Men's World Championships, exchanging victories in 2003 and 2005.
More recently, they met in the EHF EURO 2020 group stage, where Slovenia celebrated a 21:19 victory. Now, though, it is very hard to predict the outcome of this mouth-watering duel.