Croatia display excellent strength to win gold at the 2023 Men's Mediterranean Handball Confederation (MHC) Championship (U17)
03 May. 2023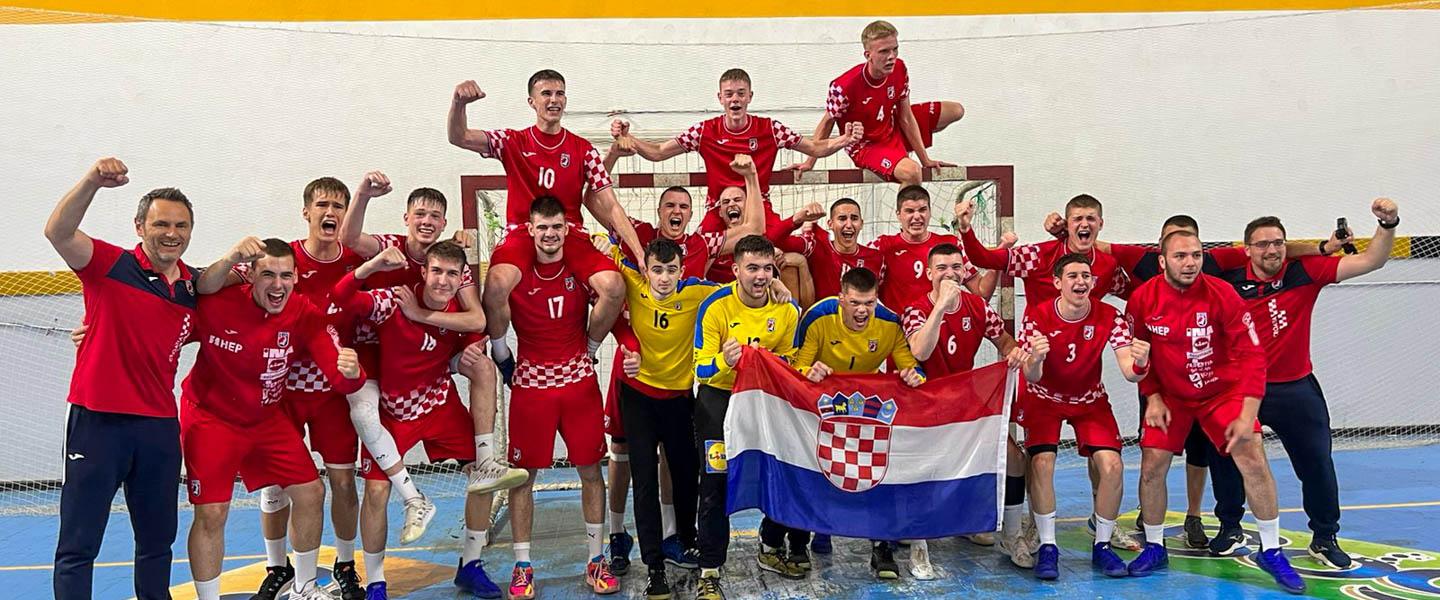 Croatia are the new champions at the Men's Mediterranean Handball Confederation (MHC) Championship (U17) after 13 teams entered the fray in Hammamet, Tunisia, over the last week to fight for the trophy.
The 13 sides entering the competition were divided into two groups, one of seven teams and the other one having six teams, with the top two sides in each group progressing to the semi-finals.
For the group phase, each match was divided into three periods, each with 15 minutes. The team that scored the most goals in each period received one point. In case of a draw in a period, each team received 0.5 points. 
Surprisingly, Croatia were not the winners of their group, finishing on the second place, tied at points with France, but with an inferior goal difference (+20) than France's +27. In the other group, hosts Tunisia took the cream of the crop, finishing on the first place with 25.5 points, with a large gap to the second place, which was sealed by Montenegro with 21.5 points.
In the first semi-final, group winners France totally outplayed Montenegro, winning their game 32:12 (8:4; 12:4; 12:4) and sealing their place in the final with class. But a big surprise was thrown into the works in the second semi-final.
Tunisia, which were excellent in the group phase, failed to bring the goods against Croatia and did not win any of the periods played, conceding a painful loss, 22:28 (8:10; 8:8; 6:10).
Therefore, a rematch between France and Croatia was on in the final, and it provided huge excitement, as the first period ended in a stalemate, 15:15. From that moment on, Croatia piled on the pressure and won the next two periods, 12:8 and 12:3, delivering an excellent result to seal the gold medal.
Three of Croatia's players made it into the All-Star team of the 2023 Men's Mediterranean Handball Confederation (MHC) Championship (U17), MVP Berislav Antonio Tokic and wings Petar Šprem and Luka Bakula.
"We showed exceptional strength and character, even in moments when we might not have played the best, and I think that in the end, the depth of our bench, or better rotation compared to France, got us through. We are very happy because it is not at all easy to beat Spain, France, Tunisia and Egypt in one competition", said Ivan Dragić, Croatia's coach.
The bronze medal was sealed by home side Tunisia, which bounced back after losing the first period against Montenegro (6:7) to tie the second one (8:8) and win the last one (9:4) onto a 23:19 hard-fought win.
Final standings 
1. Croatia
2. France
3. Tunisia
4. Montenegro, 5. Egypt, 6. Romania, 7. Saudi Arabia, 8. Italy, 9. Spain, 10. Greece, 11. Türkiye, 12. Algeria, 13. Kuwait
Photo: Handball Federation Croatia