Hungary win historic U19 European title
22 Jul. 2019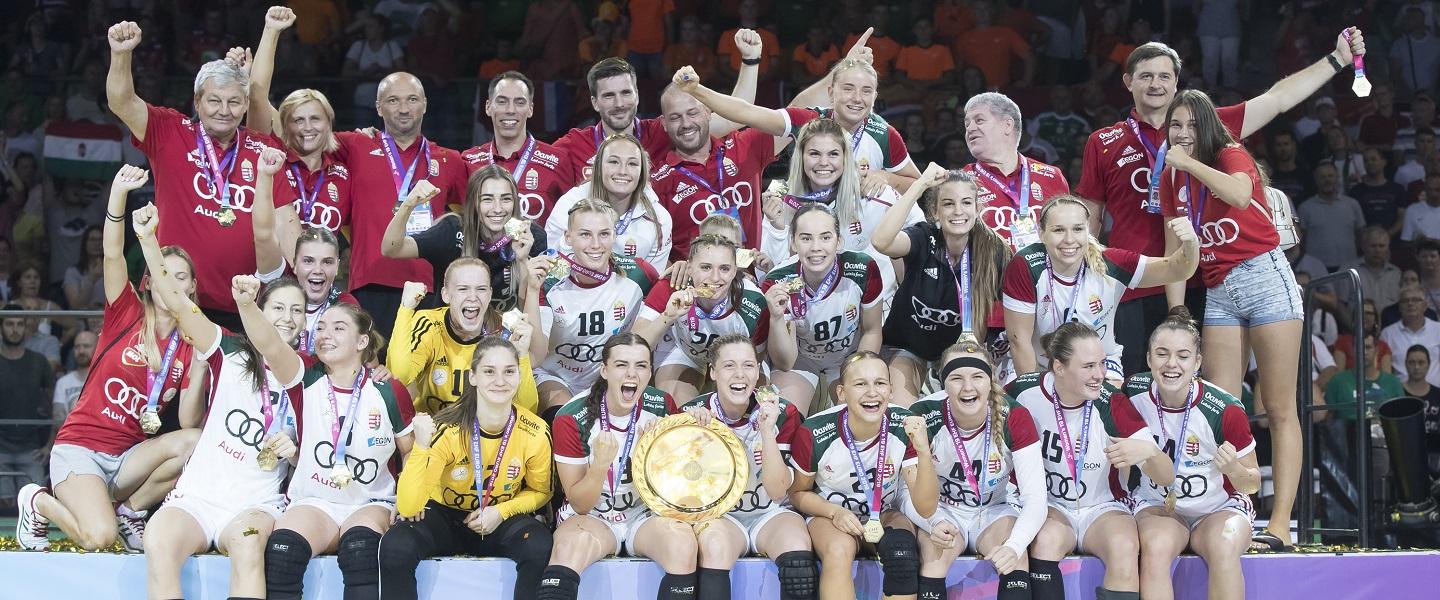 One year after the generation above them claimed their maiden U21 world title on their home court in Debrecen, the Hungary team that ranked second at the 2018 IHF Women's Youth World Championship won their nation's first ever U19 European title in Györ. The Women's U19 EHF EURO 2019 concluded on Sunday 21 July in Hungary, and it was once again a perfect event for the host country, who were unbeaten on their path to the trophy. 
Hungary defeated the Netherlands 27:20 in the final. It was the second time the Netherlands finished with the silver medal, after 2011. For Hungary, it was the first success after playing the final three times previously and always finishing as runners-up. 
The bronze medal went to Norway, who beat Russia 29:26 in the 3/4 match. In the semi-final, Hungary completely dominated the first half against Russia, 19:12, and survived a comeback from their opponents to finish with a 29:27 win. The Netherlands won their semi-final versus Norway 31:29, also after a commanding half-time advantage, 16:11. 
Hungary topped their preliminary round group ahead of Spain, Austria and Montenegro, defeating all three nations clearly at the championship which began on July 11. In the main round, they recorded victories over Norway and Romania, earning first place on the Group II table. 
Their final opponents, the Netherlands, also won their preliminary group with a perfect record, taking wins over Denmark, Germany and Croatia. The Netherlands stumbled for the first time in the main round, losing to France in their last match after a victory against the squad that won the 2018 Women's Youth World Championship, Russia. Nevertheless, the Netherlands ranked first in main round Group I. 
The top scorers of the tournament came from Portugal, with Joanna Resende reaching 55 and her teammate Beatriz Fabiana Sousa tallying 49 alongside Germany's Dana Bleckmann. 
After she was named MVP at the 2018 Youth World Championship last summer, Russia's Elena Mikhaylichenko earned the award again at the 2019 EURO. 
The final ranking of the U19 EURO was as follows: 
1. Hungary
2. Netherlands
3. Norway
4. Russia
5. Romania
6. Denmark
7. Spain
8. France
9. Germany
10. Croatia
11. Austria
12. Montenegro
13. Sweden
14. Portugal
15. Slovenia
16. Slovakia
More information on the U19 EHF EURO can be found on the official website of the EHF. 
Photos: Aniko Kovacs