France or Germany: Who will win the classic clash?
27 Jul. 2021
When the Tokyo 2020 men's handball competition continues on Wednesday with round 3, one of the biggest matches of the day will be the classic powerhouse encounter between France and Germany. 
Alongside Sweden and Romania, France and Germany share the record for most medals won in the men's handball competition at the Olympic Games, with four apiece. France have won the gold twice, in 2008 and 2012, as well as silver in 2016 and bronze in 1992. Counting East and West Germany, East Germany took the title in 1980, West Germany secured silver in 1984, then modern Germany won silver in 2004 and bronze in 2016. 
Both teams rank among the top for most matches won in the Olympic men's competition, with Germany* now counting 49 victories to France's 42. 
Across official global competitions – World Championships and Olympic Games – France and Germany* have played each other 21 times, with 13 wins for Germany*, one draw and seven victories for France. Germany have not won against France in either of these competitions since 2013 – and two of those were big encounters: France won the Rio 2016 semi-final by one goal and then beat Germany again by one in the bronze-medal match at the 2019 World Championship. 
At European championships, France and Germany met 10 times, with six victories for France, three draws and one win for Germany recorded. 
In total, the nations have met 72 times, with 36 victories for Germany, 28 for France and eight draws. All the historical standings are therefore in favour of Germany, but France have emerged on top in the recent encounters. 
 

France enter the round 3 match with two wins behind them, against Argentina and Brazil, while Germany lost to Spain in their opener then took their first two points versus Argentina. 
"It was a very good game – very good start to the Olympics," said France back Nikola Karabatic following the round 1 victory against Argentina, while wing Michael Guigou said: "We knew it wouldn't be easy against a team who play with a lot of energy and a lot of heart, but for the first game it went very well."
Karabatic only recently returned from injury and, despite the three-time World Player of the Year now being 37 years of age, his presence on court is instrumental for France. 
"It's been a long wait to be here. Normally we should have played last year and everything should have gone fine for me, but then I injured myself and I had a time clock for this Olympics in 2021. I had to beat the injury, so it was a big challenge for me. I'm really proud to be here, to be standing and to be able to play with my team," said Karabatic after France's opener.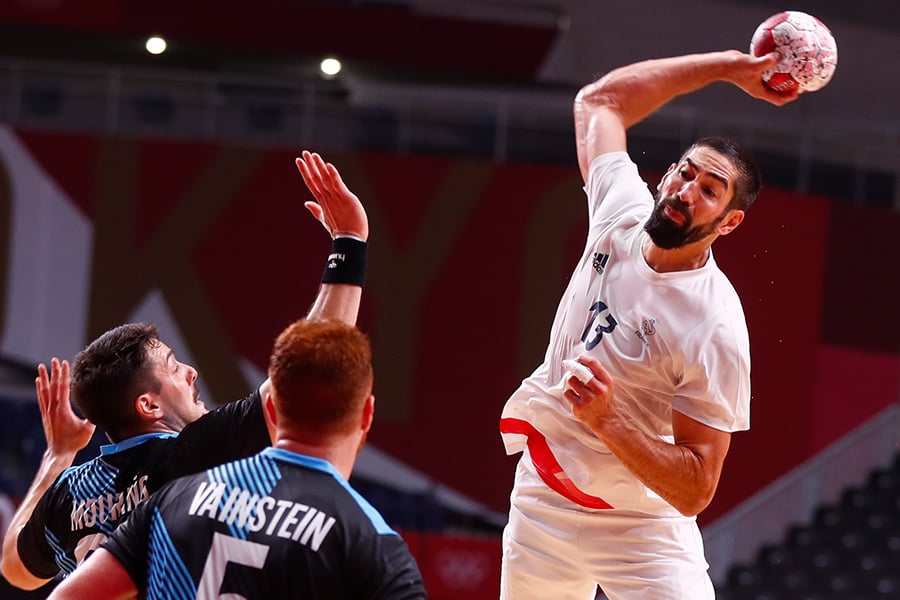 As Karabatic highlighted, France started with a strong performance that made it clear they are in top form. With their second win, against Brazil, which looked very comfortable, France certainly caught attention. Now, they will face a formidable test as they meet Germany. 
"We have played two tough games and France will be no different. Every game at this Olympics is the same. There are only really good teams here," said Germany wing Marcel Schiller following their round 2 victory against Argentina. 
"We know they have a lot of older players with a lot of experience. They only have good players. But we have good players too, so I think we have a good chance to win."
*including East and West Germany
World Championship medallists aim for third wins
Wednesday's men's handball action will open with three Group B games. First up, the defending Olympic and world champions Denmark target their third win following victories over Japan and Egypt. The Scandinavian side will meet Bahrain, who have had two difficult losses of one goal. 
Next, the 2021 World Championship silver medallists Sweden will take on Portugal. While Sweden have won both their games so far, versus Bahrain and Japan, Portugal collected their first victory against Bahrain in the last round after a tough defeat to Egypt. Looking for their first win at the Tokyo 2020 Olympic Games, Japan will play Egypt in the final Group B match of the day.
Group A will then take the court, with Norway targeting their second win as they meet Argentina, who hope for their first points at Tokyo 2020. While Argentina lost to both Germany and France, Norway were defeated by Spain but beat Brazil. 
Like their neighbours, Brazil will take the court with the goal of a first victory at the Games, meeting Spain in what will surely be a tough encounter. Finally, France versus Germany will wrap up the day. 
Full schedule Wednesday 28 July 
All times local
09:00 Denmark vs Bahrain – Group B
11:00 Sweden vs Portugal – Group B
14:15 Japan vs Egypt – Group B
16:15 Norway vs Argentina – Group A
19:30 Brazil vs Spain – Group A
21:30 France vs Germany – Group A