Crunch matches to seal the future in Group B
26 Jul. 2021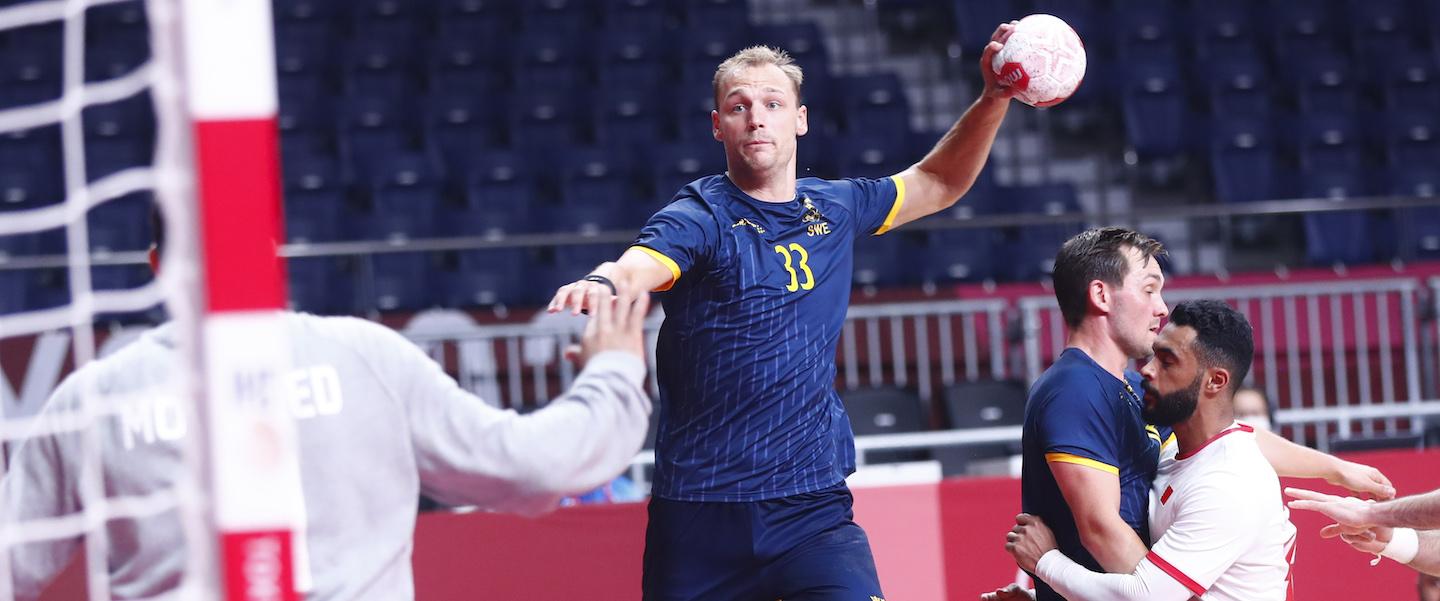 Running updates of Tokyo 2020 men's Group B – follow the action of the Olympic handball tournament live and stay always up-to-date. In a rematch of the 2021 Men's World Championship quarter-final, Denmark defeated Egypt once again, in the first match of the group. Olympic debutants Portugal scored in the final minutes to secure a comeback win against fellow Olympic debutants Bahrain. The last match of the day saw Japan almost shock the reigning world championship silver medallists Sweden, but the hosts came up short in the final minutes.

It's round two of Group B at the Olympic Games Tokyo 2020 men's handball tournament, with three exciting matches scheduled.
Today's matches:
14:15 JST: Egypt vs Denmark (27:32)
19:30 JST: Bahrain vs Portugal (25:26)
21:30 JST: Japan vs Sweden (26:28)
23:45 JST Favourites take care of business as day three of competition concludes

And with that, the second round of matches for the men's competition and day three of the handball competition at Tokyo 2020 comes to an end.

Denmark and France sit comfortably in first place in their respective groups after more terrific play. 
The action continues tomorrow with six games in the women's competition! First up, hosts Japan take on Montenegro followed by Brazil versus Hungary, then Sweden versus ROC, afterwards Republic of Korea versus reigning world champions the Netherlands, then Angola versus Norway and the day concludes with France against Spain. Of course you can follow the action here on ihf.info, we hope you will join us once again!
23:00 JST FINAL WHISTLE Japan 26:28 Sweden

Japan were behind the entire second half but never gave up. They fought hard, pulled back to within four goals and finally had a chance to equalise in the 58th minute. Unfortunately for them, Hiroki Motoki's foot was over the line when he was ready to jump from the right wing and level the game.
12 saves for Mikael Aggefors at a 32% rate. The Aalborg goalkeeper played a satisfactory role and allowed Andreas Palicka to rest tonight. On offence, their best player was Hampus Wanne, who recorded an eight-goal tally.
Another close victory for Sweden, who are now on four points in Group B and are close to the goal of making the next round at Tokyo 2020.
 
22:40 JST Japan don't give up and the game is still open

Sweden opened up at six-goal gap into the 43rd minute, but Japan scored three in a row and still believe in their chances. Wings are the stars of the night, with Hiroki Motoki contributing five goals for the home team and Hampus Wanne on six for the Swedes.
 
22:10 JST HALF-TIME Japan 14:17 Sweden

Sweden have taken less shots than Japan but have three more goals. The Swedes' efficiency in six-metre throws (8/9) partly explains why the hosts go into the break trailing by three after doing a nice job in the opening half.
Highest scorers so far are Sweden wing Niclas Ekberg and centre back Felix Claar, with three. The same as Japan right back Shinnosuke Tokuda.
 
21:50 JST The hosts put on a nice show versus Sweden
It's a fact that Japan have moved on from their weak start at Tokyo 2020. Into the 15th minute, the score is level at 8:8 between them and the Swedes — who couldn't hold to the three-goal advantage they built in the first few minutes of the game.
Japan's tactical evolution adds to their unbelievable speed and powerful shooting. The combination makes them a very dangerous team. Sweden can attest to that tonight.
 
21:50 JST Quotes after Portugal's win

Paulo Pereira, Portugal head coach
On how the first win feels:
"I feel a bit better now because it was a tough match. Bahrain have a model of game that is difficult for us because they play one-against-one; a lot of duels. They create a lot of space almost during all the game. Only in the last moments we fixed this and finally we won this tough game. I hope against Sweden we can do a little bit better. I don't want to find some excuses or something but we still have the effects of jetlag and we all must be patient with these players."
On the psychological preparation he prioritises and how this plays into high-pressure last minutes of matches:
"We need always, all days, to improve the playing way and the way that we live. This we can do in the group and individually. Especially when you live these moments, if you live more and more moments like this, you are more and more ready to fix problems. For us it is the third big competition in two years and a half, three years. We still must improve a lot of things. We are in the good way I think.
"Mentally, there is nothing special — everybody must do what everybody must do in every moment. We must learn a lot; we must continue to learn a lot about this, especially also during our life — not only in the game, but when we communicate between us; when we live. Step by step I think, as a team, with everything. We have also bad days. With everything, we can step by step fix and grow up as a team."
On what he said in the last time-out:
"I said we are going to play without a goalkeeper. Maybe it's a little bit crazy but normally in Portugal there are a lot of people that call me a little bit crazy, because I told them we are able to come here to the Olympic Games when we have Croatia and France in our group [for the Olympic qualification]. Everybody said 'he is crazy'. But normally if you are realistic in a country where the sport is not important, if you are realistic, you are going to lose. So we must, maybe it's a little bit crazy, but we must be a little bit crazy — and when people say to you that you are crazy you are in a good way. So, I will be like this always because we need this. If we are normal; if we are 'OK let's see what happens next game. Let's see', it is not possible to achieve our objectives, our goals, because normally we are not ready for this. Fortunately, I have a group of players — all, but especially some players are really, really great — that help me a lot to achieve these goals."
On the next game against Sweden:
"Sweden is a big team. But also in the near past we had some games with teams that, theoretically, are stronger than us, and we beat them, so we can play against Sweden. I hope we can have less effects of jetlag, because we are here only one week. Today is Monday and we have been here one week. We need a little bit more time. I hope and I wait that against Sweden we can be better and better physically and mentally."
 
21:30 JST Japan take on Sweden in search of their first win

In their first presentation, the home team lost 30:47 to the Rio 2016 gold medallists Denmark. Now they aim to leave that game behind as they have another big battle ahead versus the 2021 IHF Men's World Championship runners-up Sweden — who beat Bahrain in a nerve-racking clash on Saturday and reach this day with positive team feelings.
 
21:00 JST FINAL WHISTLE Bahrain 25:26 Portugal

Incredible! Portugal turn things around in the closing minutes to record their first Olympic victory. Miguel Martins equalised at 24:24 with seven minutes left on the clock. Afterwards, keeper Gustavo Capdeville made some crucial saves and gave them oxygen in their attempt to come back — he finished with 13 stops at a 43% rate.
It was not until the last 60 seconds of the match that Pedro Portela ended a counterattack successfully for the Portuguese to go in front 26:25. 20 seconds later, Bahrain's Mohamed Ali missed a 7-metre throw and sadly saw how their hopes vanish once again in the final minute — their recent experience versus Sweden appeared as a ghost.
Portugal didn't shine tonight but they still managed to remain calm, as coach Pereira asked, and grab a precious first two points at Tokyo 2020.
 
20:40 JST Portugal look uncomfortable as Bahrain are up by two

"Let's make one attack at a time," says Portugal coach Pereira in a time-out. "We still have 20 minutes. Please, let's stay calm, guys!"
Luis Frade has scored his first two goals from the line and Alexis Borges has contributed one as well as they try to make use of their best weapons. However, they still look a bit uncomfortable in the game, even when it's only two goals that separates them from Bahrain. The score is 21:19 in the 45th minute.

20:10 JST HALF-TIME Bahrain 15:14 Portugal

Bahrain head to the dressing room at half-time with a one-goal edge over Portugal. Playmaker Husain Alsayyad is playing at his 100%. He has scored six goals (six rockets, to be fair!) and his team feel the boost of energy he brings — actually, we all thank him for those impossible hip shots, his number one trademark.
It's clear that Portugal can still give much more than what we have seen from them in this initial period. No six-metre goals (0/3), no fast breaks, no pivot goals.

19:50 JST Impressive first quarter of the game for Bahrain

The Asian side come from behind to take the lead 7:6 in the 14th minute. Four goals for captain Husain Alsayyad proves once again why he's one of the best shooters in handball. His mate Mohamed Ahmed extends the gap to two and Portugal coach Paulo Pereira requests a time-out.
The Portuguese need to show something else if they are to react in this first half. Just as an example, we are missing their incredible pivot play so far.

19:20 JST Debutants Portugal and Bahrain look for their first points at an Olympic Games

Victory slipped away on day one for Bahrain versus Sweden, but if they repeat such a performance they can beat anyone at Tokyo 2020.
Portugal are one of the raising nations in the world of handball and they don't lack quality in any of their lines.
If you are awake and enjoy handball, then decidedly you can't miss this intercontinental clash in Group B.

15:55 JST Back to Group A now…

A hat tip for Niklas Landin, the IHF Male Player of the Year 2019, who recorded 14 saves and made the difference in the second half, for an outstanding 35% saving efficiency. Now it's back to Group A, for the crunch match opposing Spain and Norway.
We will be back shortly for the last two games in this group, with Bahrain facing Portugal and hosts Japan meeting Sweden.
 
15:45 JST FINAL WHISTLE Egypt vs Denmark 27:32

For the third consecutive time at the Olympic Games, Denmark have started the group phase with two wins in a row. While the first was a walk in the park, 47:30 against Japan, the game against Egypt was the first true test for the reigning world and Olympic champions, who eventually secured a 32:27 win. Five years ago, the Scandinavian side conceded two losses, right now they are looking to repeat their success from the IHF Men's World Championship, where they secured the title without dropping a game
It was another masterclass from Mikkel Hansen, who is now the top scorer of the tournament, after two games. Hansen scored nine times against Egypt, taking his tally in the competition to 15 goals, yet seven goals came from penalties and only two from open action. But Denmark could not have won without the contribution of Mathias Gidsel, who scored eight goals himself, trailing Hansen in the top scorer standings with 14 goals.
Egypt managed to keep Denmark close for at least 45 minutes, but the reigning champions were too strong. However, this is a sturdy Egyptian side, who will cause trouble to every team they face at Tokyo 2020. They just could not hold Denmark back in the second half.
By the way, Niklas Landin is ok, despite being hit in the head with a strong shot by right back Yahia Omar.
Denmark are now topping Group B, with four points, and a goal difference of +22, while Egypt are second, with two points from two games. On Wednesday, Denmark face Bahrain, in a game where they are huge favourites, while Egypt meet hosts Japan.
 
15:32 JST Can Egypt save something from this game?
 
Two consecutive two-minute suspensions have hampered Egypt's effort to save the game, as Denmark duly took advantage to open a three-goal gap, 26:23. The reigning Olympic champions really upped their game when it mattered most, especially in defence, getting more stops and stealing two balls. Yet, their trademark fast breaks have been missing, with Denmark scoring only one goal in transition throughout the whole game.
Egypt are still relying on Yahia Elderaa (six goals), Mohamed Sanad and Ahmed Mohamed (five goals each) to keep them in the game. Sensing the urgency, Danish coach Nikolaj Jacobsen called a time-out exactly with 10 minutes to go, giving precious instructions for his side to come out unscathed and win the second game in a row at Tokyo 2020.
 
15:21 JST Denmark bounce back and take the lead

Denmark have started brightly the second half and limited Egypt's attack in the first minutes, to take back the lead. And they are doing exactly what they needed to do, create more open shots for different players, having already scored seven goals in the first 10 minutes of the second half, through six different players. On the other hand, Egypt have taken a step back, but they are relentless, they are never a team to back down from a challenge.
Egypt are trying to do the same, with back Yahia Omar, line player Mamdouh Shebib and right back Ahmed Elahmar scoring their first goals now. Denmark are still up, 22:20, with 18 minutes to go. Who's going to win this game? It's anybody's guess.
14:54 JST HALF-TIME Egypt vs Denmark 15:14

Denmark had an average of 33.5 scored goals per game at the IHF Men's World Championship in January and put 47 past Japan in the first game at Tokyo 2020. Therefore, Egypt's achievement of limiting the reigning Olympic champions to only 14 goals in the first half is a superb one. The Pharaohs indeed had a very good first half, despite their average scoring efficiency of 60%. But who needs more when you are surprising a team like Denmark time and time again?
Well, it might not be enough. Denmark are renowned for their fighting spirit and they will surely bring that to the table in the second half. What needs improving for them? Basically everything. Mathias Gidsel and Mikkel Hansen combined for 10 goals, scoring five each, but apart from that, everything has been hit or miss for the Scandinavian side. Too many turnovers led to Egypt scoring goals, so that needs correcting if Denmark are to take something from this game.
Whoever expected a one-sided match might have to rethink that after this first half. It may not be the classic from January, but it surely is one of the most competitive matches at the Olympic Games Tokyo 2020 up until this point.
 
14:41 JST Are Egypt always a dark horse for Denmark?

The attacking mechanism of Egypt really put the Danish defence under strain, but as players begin to tire, the Scandinavian side are starting to adapt, forcing turnovers and winning important balls in defence. Mikkel Hansen is not producing a vintage performance, but he is still the top scorer of the Danish side, with four goals. Denmark even experimented with two line players and two backs, but Nicolaj Jakobsen put an early end to it.
Still, Egypt are ahead (11:10) after 20 minutes. They rely mostly on Denmark failing to score and turning the ball over rather than stopping them efficiently in defence, but a stop is a stop. More importantly, Egypt have six different scorers and another four players shot at least once, therefore bringing an element of surprise in attack.
 
14:29 JST Egypt at their best against the reigning Olympic champions

Very, very lively start. Egypt are no pushovers here and are really testing Denmark, a team who won seven of the last nine matches at the Olympic Games.
The Egyptian backs are unstoppable right now, with Yehia Elderaa and Hassan Kadah each scoring twice. Niklas Landin, the IHF Male Player of the Year 2019, has made two saves already, but they are nowhere to be seen on the scoreboard, where Egypt are leading 7:5 after 11 minutes.
Egypt currently seem to be better in attack than Denmark, a team who scored 47 goals against Japan in the first game – but it was also a bit of bad luck for the Danish side, with Mikkel Hansen hitting the post once.
However, Egypt are really playing at their best and will likely mount a challenge during the whole game.
 
14:00 JST Time for revenge?

The time has come. We are 15 minutes awayfrom one of the headliners of the day, the game between Denmark and Egypt. The Danish side never conceded a loss against Egypt, but the clash at the 2021 IHF Men's World Championship  in January should serve as a warning signal for the reigning world champions. You surely remember it, the game went to extra time, Mikkel Hansen was sent off and then Denmark won the penalty shoot-out 35:33, leaving an entire Egyptian nation in tears.
Time for payback? Probably. This is what Egypt expect, actually. "[We've] definitely been hearing a lot that it was one of the best games in history and I believe it was. The game was crazy, going from one side to the other," says Egypt right wing Mohamed Sanad. "It was one hell of a match and definitely everyone enjoyed watching and everyone was on their feet. Unfortunately the best match in history wasn't a match that we won." You can read more on the rivalry between the two sides here. 
 
13:45 JST Ready to open Group B

The most exciting and balanced game at the IHF Men's World Championship in January 2021, Egypt vs Denmark, is the highlight of the day in Group B, a crunch match that sent the Pharaos in agony, after the African powerhouse lost against the future world champions in the quarter-finals at a penalty shoot-out.
Denmark strolled to a win in the first match (47:30) against hosts Japan and are serious contenders to defend the gold medal they won at Rio 2016.
Meanwhile, Japan will try to erase the impression they left in the first leg against another Scandinavian powerhouse, Sweden, while Portugal and Bahrain fight for their first-ever win in the competition.
After the first round, Denmark (+17), Egypt (+6) and Sweden (+1) are on the first three places in the group, followed by Bahrain, Portugal and Japan, who are on zero points.
All the relevant statistics, the standings and the schedule for the men's Tokyo 2020 Olympic Games tournament can be found here.