Wolff saves point for Germany with last-gasp save
25 Jan. 2021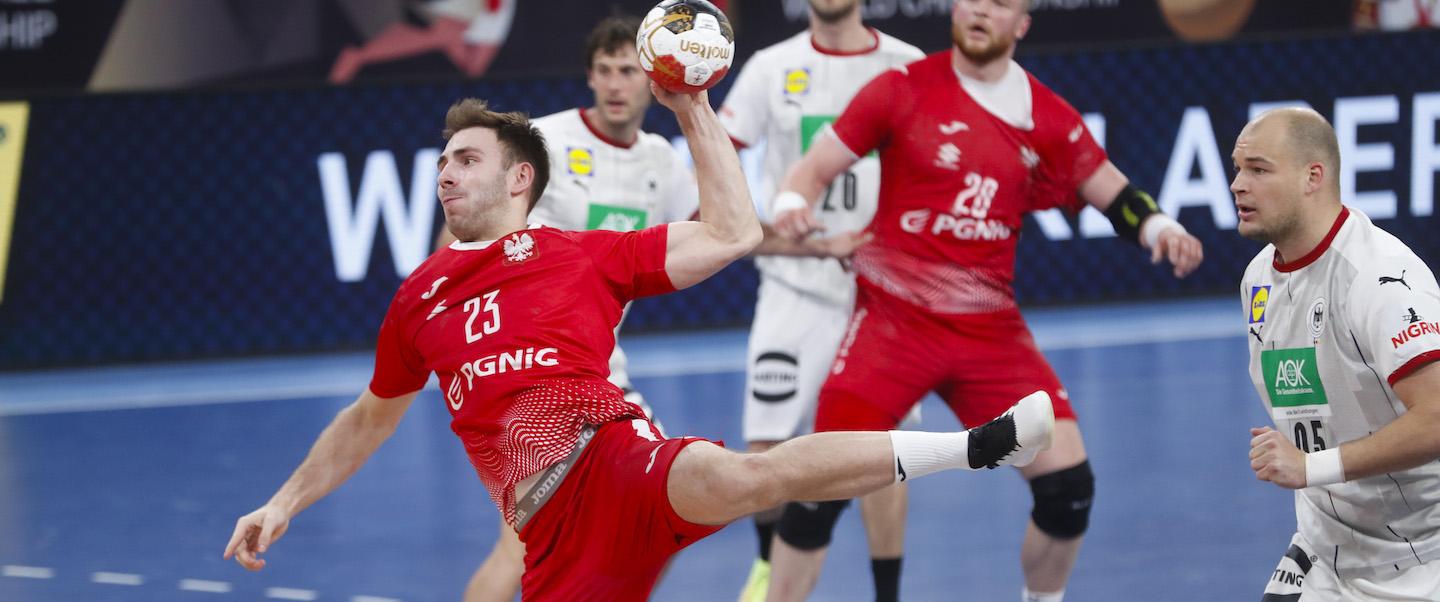 Germany finish third in Group I after saving a draw in the final seconds of the game against Poland, 23:23, after goalkeeper Andreas Wolff stopped line player Patryk Walczak in a one-on-one situation.
However, Germany cannot avoid their worst IHF Men's World Championship finish in their history, 12th place, as Poland finish 13th.
MAIN ROUND GROUP I 
Poland vs Germany 23:23 (12:11)
When German goalkeeper Andreas Wolff saved the penalty and the subsequent rebound against his club teammate at Lomza Vive Kielce, Arkadiusz Moryto, it looked like Germany were fired up for the game against Poland.
But having the lead only once, for seven seconds, 4:3, after 11 minutes, it was nowhere near enough against a gritty Polish side, that did exactly what they did best against their previous opponents, except in the loss against Hungary.
With an in-form goalkeeper in hummel Player of the Match Adam Morawski, whose saving efficiency varied from 45 percent to even 60 percent in the first half, Poland had everything they needed to build a comfortable lead.
And on the back of wings Arkadiusz Moryto and Przemyslaw Krajewski, who scored three goals each, Poland created a healthy 9:6 lead.
Yet Germany, with the prospect of their worst-ever IHF Men's World Championship finish, mounted a comeback after their coach, Alfred Gislason, called a timeout.
The ever-present left back Paul Drux answered with his own three-goal outing in the first 30 minutes, with the game still very much in the balance at the break, 12:11.
A 3:0 run to start the second half ensured a four-goal lead for Poland, as Germany struggled to find their footing in attack, failing to highlight their line player and wings.
With the ever-reliable Morawski saving shots exactly when it mattered, the German side found it more and more difficult to score, as two suspensions in a 16-second span for Sebastian Firnhaber and Paul Drux hampered their comeback attempt even more.
Yet Poland were faced with serious issues, as their attack faltered and Germany got their own 4:0 run to tie the game, 19:19, with nine minutes to go.
Germany then took the lead with only two minutes to go, 23:22, through a goal scored by Marcel Schiller, but the final was hectic.
Germany had the chance to score with their final attack, but a passive play was called when Philipp Weber stopped to try and pass the ball. With nine seconds to go, Poland went on a fast break, but Wolff saved Patryk Walczak's shot with one second to go, to preserve the 23:23 draw.
With five points, but a better goal difference, Germany finish third in the group, but their 12th place in the final standings secures their worst-ever final ranking.
With three wins, one draw and two losses, Poland finish 13th, as the best-fourth placed side in the four main round groups.
hummel Player of the Match: Adam Morawski, Poland