Australia and New Zealand take continental honours
19 Jun. 2018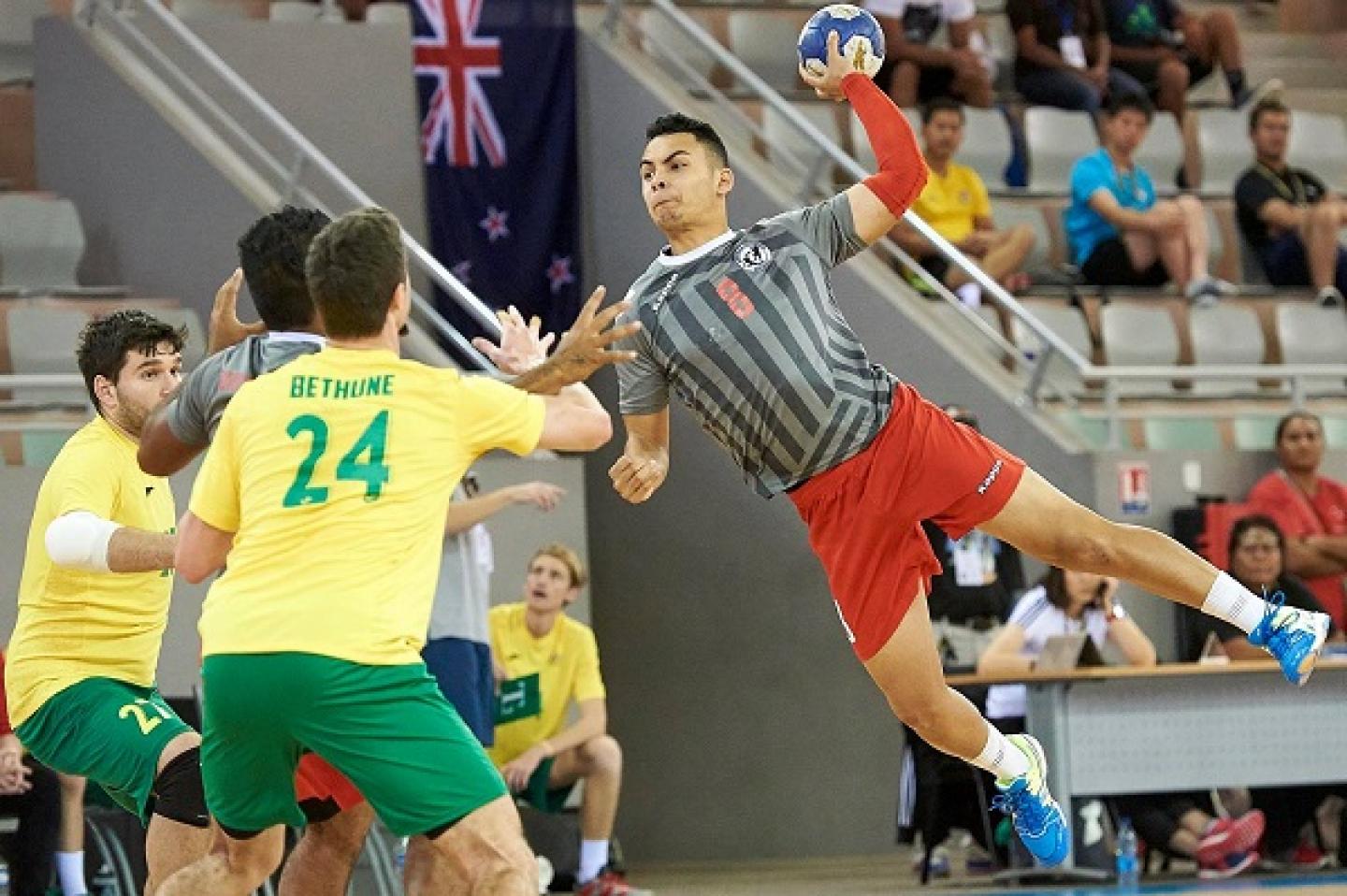 Païta, New Caledonia was the setting for the 2018 IHF Trophy Oceania and after six competition days (10-15 June), the Australia junior team and New Zealand's youth were all smiles, celebrating their victories.
"We're incredibly satisfied with the results. For the U20s team to be ranked 3rd at the last Challenge tournament in Cook Islands, then to win the tournament is a great improvement. We're now looking forward to the Intercontinental Challenge tournament," said Paul Langenberg, coach of the Australia U18 team.
And indeed Australia did not leave any doubts that they are a force to be reckoned with, remaining undefeated during the entire tournament. They threw off their campaign against Tahiti, who won both the most recent editions of the IHF Trophy, and their 28:26 victory sent a clear message not to underestimate them. They continued with victories over hosts New Caledonia (28:24), New Zealand (22:16) and Fiji (30:18) before finishing the campaign with a clear 15-goal victory against Cook Islands (25:10).
On the last competition day of the round-robin tournament, Tahiti claimed the runners-up position, beating New Zealand 30:26. They are followed by hosts New Caledonia on third rank, New Zealand on fourth, Fiji on fifth and Cook Islands, with zero points, at the bottom of the table.
In the newly introduced U18 edition of the IHF Trophy, it was New Zealand who impressed everyone, winning all of their matches in a decisive manner – the closest it ever got was against the New Caledonia, who had the support of the home crowd, and in the end they beat them by seven goals (27:20). New Zealand started their campaign with a 42:20 win against Fiji, followed by a 34:18 victory against Papua New-Guinea. Outclassing Cook Islands 43:10 and beating their rivals Australia by a 14-goal margin (25:11) on the final day showed, that New Zealand have a bright future ahead.
"Handball is a young sport in New Zealand, so it is great that New Zealand is able to compete with countries such as the host nation New Caledonia where they grow up playing handball in schools and where their technical abilities are so evident.
"It really does prove to me that with the success New Zealand Handball is having, New Zealand will be able to push through to new levels of handball in the future. Tournaments such as this are so critical for the development of handball in our region," said Tim Rainer, coach of New Zealand's U18 team.
New Caledonia finished runners-up at the tournament on home ground, while Australia ranked third, Fiji fourth, Papua New-Guinea came in fifth and in the U18 tournament as well, Cook Islands finish with zero points on 6th place.
RANKING
Junior competition
1 - Australia
2 - Tahiti
3 - New Caledonia
4 - New Zealand
5 - Fiji
6 - Cook Islands
Youth competition
1 - New Zealand
2 - New Caledonia
3 - Australia
4 - Fiji
5 - Papua New-Guinea
6 - Cook Islands
MATCH RESULTS
Junior competition
Participants: Australia (AUS), Cook Islands (COK), Fiji (FIJ), New Caledonia (NCL), New Zealand (NZL), Tahiti (TAH)
NCL-FIJ 49:21
NCL-NZL 36:21
COK-FIJ 19:35
TAH-AUS 26:28
NCL-AUS 24:28
COK-TAH 6:44
FIJ-NZL 18:27
NCL-COK 42:5
AUS-NZL 22:16
TAH-FIJ 47:21
COK-NZL 14:22
FIJ-AUS 18:30
NCL-TAH 32:38
TAH-NZL 30:26
COK-AUS 10:25
Youth competition
Participants: Australia (AUS), Cook Islands (COK), Fiji (FIJ), New Caledonia (NCL), New Zealand (NZL), Papua New-Guinea (PNG)
NCL-COK 31:3
FIJ-NZL 20:41
COK-PNG 4:50
NCL-AUS 37:23
PNG-NZL 18:34
NCL-FIJ 46:15
COK-AUS 3:35
PNG-AUS 27:33
COK-FIJ 8:29
NCL-NZL 20:27
COK-NZL 10:43
FIJ-AUS 16:34
NCL-PNG 42:27
AUS-NZL 11:25
PNG-FIJ 35:3