Korea sit top of Asia again
26 Sep. 2021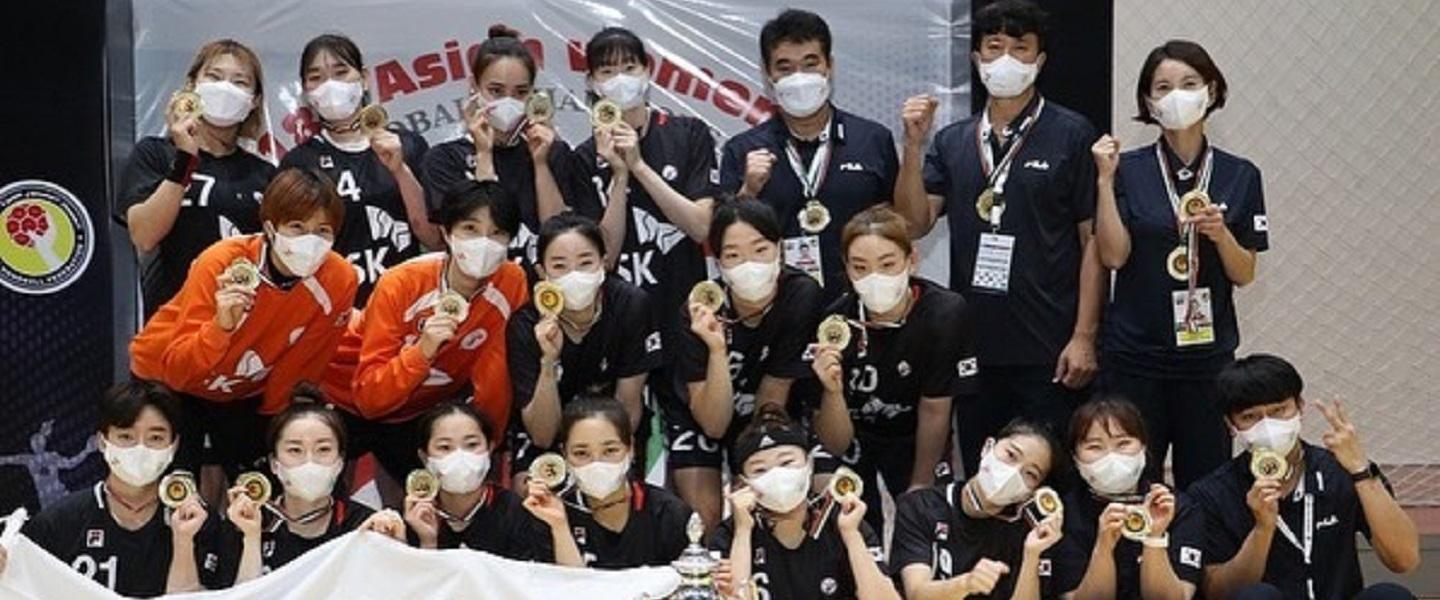 Republic of Korea's Jang In-Ik won the battle of the new coaches against Japanese counterpart Mikio Furuhashi in the final of the 18th AHF Asian Women's Championship in Amman, Jordan, this weekend, overseeing a 33:24 (18:14) win to claim the continental crown.
The victory is the fourth successive time Korea have beaten Japan in the continental final, following Indonesia 2015, Korea 2017 and Japan 2019, and continues their medal streak of claiming a podium place in all 18 editions of the competition.
The 2021 gold also means Korea continue their tight grip on the title having claimed top spot in 15 of those 18 editions and they did it without star player Ryu Eun Hee.
Initially, the Győr player was set to join her national teammates after the preliminary round, but having already confirmed their qualification for Spain 2021, it was decided she would remain in Hungary with her club side to continue her preparations there rather than join her national team in Jordan.
The Korean Handball Federation instead focused on mixing up youth and experience as they look to continue their continental dominance but also reclaim their position on the world stage following years of being on top in past decades. 
Six of the squad of 16 in Jordan were 23 years old or under, with only six players from the Tokyo 2020 squad of 15 making it in – goalkeeper Jeong Jinhui, left wing Jo Harang, centre back Lee Migyeong, right back Jung Yura, left back Kim Jinyi and right wing Jung Ji In.
The remaining nine from the Tokyo 2020 squad – goalkeeper Ju Hui, right wing Kim Yunji, left wing Choi Sumin, left back Sim Haein, centre back Kang Kyungmin and line players Won Seonpil, Kang Eunhye and Gim Boeun, along with Ryu Eun Hee – were not in Jordan.
The star of the final for Korea was Jung Yura, who scored exactly one third of her side's goals – 11 – as the Japanese struggled to cope with the power of the Daegu City Hall right back. Migyeong Lee, who plays her club handball for Japanese side Omron, scored three.
Kazakhstan ensure no fourth-place repeat
With the top five teams in Jordan all ensuring an automatic qualification place at the 2021 IHF Women's World Championship, Iran, having qualified for the 3/4 placement match, could have been forgiven for letting the emotion of having secured their first appearance at a senior Women's World Championship in their previous game get the better of them, but they fought hard against a Kazakhstan side for the final place on the podium.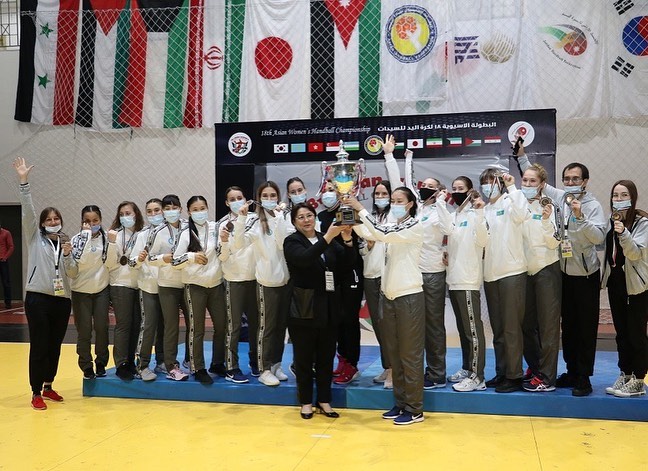 However, Kazakhstan, with a mixture of experience and not wanting to repeat their fourth-place rank of the previous four championships, proved too strong to comfortably beat them 38:33 (20:15), thanks to 12 goals from Alessya Malysheva. The bronze is their first-ever in the competition.
The dream ends for Hong Kong
All eyes of the Asian women's handball world were on the Princess Sumayah Sport Hall for the 5/6 placement match between Uzbekistan and Hong Kong, with the winners knowing they would secure the last direct ticket to Spain 2021 following the announcement earlier this week that just the top five teams in Jordan would qualify for the event, instead of the initial six.
For large parts of the first half Hong Kong looked like they were going to get there, leading by two at times and looking comfortable. However, thanks to a superb fast-break save from goalkeeper Turyim Mamirova in the dying seconds of the first half and a seven metre strike from Madina Khudoykulova straight after, the teams went in all-square (11:11).
Hong Kong were unable to deal with the strength of Khudoykulova, allowing her to score 13 goals in total, as they lost out on their dream of qualifying for their first-ever senior Women's World Championship, losing 25:28.
They had led by two (16:14) until the 39th minute, but Uzbekistan kept in touch, finally opening up some daylight in the 50th minute thanks to a breakthrough goal from Mirzaeva Zilola. (23:21) and they never looked back.
Uzbekistan's qualification for the IHF Women's World Championship is just their second one, following their debut appearance back in 1997.
Hosts turn it around to finish on a high
The opening match of the final day saw the home nation have a disastrous first half against Syria, going into the break 6:13 behind. Both nations were at just their second-ever senior women's continental championship after appearing together back at the debut edition, also in Jordan, in 1987.
A second half turnaround swiftly followed with Jordan outscoring their opponents 16:8 to win 22:21 with Dina Sanduqa top-scoring thanks to her seven goals.
Results
Saturday 25 September
7/8 placement match: JOR vs SYR 22:21 (6:13)
5/6 placement match: UZB vs HKG 28:25 (11:11)
Bronze-medal match: IRI vs KAZ 33:38 (15:20)
Gold-medal match: KOR vs JPN 33:24 (18:14)
For previous round reviews and results click below:
Final ranking
1 – Republic of Korea (KOR)*
2 – Japan (JPN)*
3 – Kazakhstan (KAZ)* 
4 – Iran (IRI)*
5 – Uzbekistan (UZB)* 
6 – Hong Kong (HKG)
7 – Jordan (JOR)
8 – Syria (SYR)
9 – Singapore (SGP)
10 – Kuwait (KUW)
11 – Palestine (PLE)
* qualified for 25th IHF Women's World Championship
For more information about the competition, visit the Asian Handball Federation Facebook page.
Photos: Asian Handball Federation