Familiar foes battle it out for Asian crown
24 Sep. 2021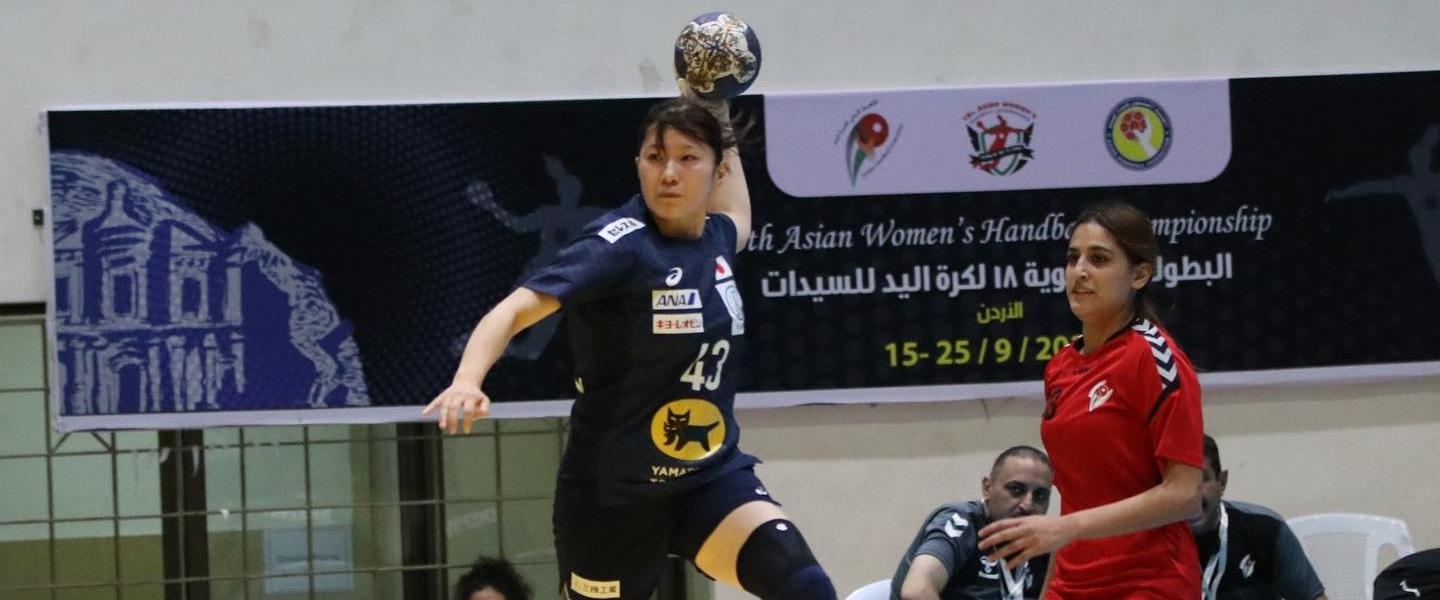 New coaches, but familiar clash
Japan and Republic of Korea will battle it out for the title of continental champions as the 18th AHF Asian Women's Championship in Amman, Jordan concludes tomorrow.
The meeting of the teams in the final is the fourth successive time they have met in the continental final, following Indonesia 2015, Korea 2017 and Japan 2019, with Korea winning all three (36:22, 30:20, 30:25).
Both teams appeared at the Olympic Games Tokyo 2020 and since then have changed their coaches with Jang In-Ik in charge of Korea and Mikio Furuhashi taking the reins of Japan.
Jang's side go into the final (17:00) as strong favourites, having easily overcome Iran in their semi-final 46:21 (23:12) – and with even more history on their side, having medalled in all 17 previous editions of the championship, which includes an unprecedented 14 golds. 
However, Furuhashi will be hoping to help grab Japan's first gold in the competition since 2004, when they won on home soil in Hiroshima – their solitary title in the competition so far. They were given a harder job in their semi-final than Korea were, by Kazakhstan, winning 38:24 (18:16).
Iran aiming for further history, Kazakhstan hoping history does not repeat
Both Iran and Kazakhstan will be looking to make up for their disappointment to win bronze in their clash (15:00). The Iranians have already made history with their highest-ever ranking in the competition, with a sixth-place rank achieved twice previously, while Kazakhstan – champions in both 2002 and 2010 – will not want to finish fourth again, a rank they have finished in at the past four editions (2012, 2015, 2017, 2018).
Hong Kong on brink of historic qualification
While Korea, Japan, Iran and Kazakhstan battle it out for medals tomorrow, they have already achieved qualification through to the 2021 IHF Women's World Championship in Spain this December, with the top five teams in Jordan guaranteed a place in the newly expanded 32-team championship.
This means that the 5/6 placement match (13:00) between Uzbekistan and Hong Kong has taken on extra significance as the winners will secure the final Spain 2021 qualification spot for the continent of Asia.
The two teams will meet after they both won their first round 5-8 placement matches. Hong Kong overcame Syria 34:24 and Uzbekistan ended the dreams of the hosts Jordan, defeating them 34:26.
If Hong Kong were to win tomorrow and qualify, it would be their first time in a senior World Championship – men or women – while Uzbekistan would appear in just their second one, after their 1997 debut.
The teams have already met in Jordan, with Hong Kong winning 30:27 (16:15) in a tight Group A preliminary round match.
Hosts hoping to end on a high
The first match of the final day sees another preliminary group match repeat with hosts Jordan taking on Syria in the 7/8 placement match (11:00). In a tight Group B encounter last week, Jordan won 28:24 (12:12).
MATCH SCHEDULE
(All times local, new throw-off times)
Friday 24 September    
Rest Day
Saturday 25 September
11:00    7/8 placement match: JOR vs SYR
13:00    5/6 placement match: UZB vs HKG
15:00    Bronze-medal match: IRI vs KAZ
17:00    Gold-medal match: KOR vs JPN
All games are streamed on the Jordan Handball Federation Facebook page here.
RESULTS
The competition features a total of 11 teams: Kazakhstan (KAZ), Singapore (SGP), Republic of Korea (KOR), Uzbekistan (UZB), Hong Kong (HKG), Jordan (JOR), Japan (JPN), Iran (IRI), Palestine (PLE), Kuwait (KUW) and Syria (SYR).
Thursday 23 September
9/10 placement match: SGP vs KUW 24:15 (12:6)
5-8 placement round: UZB vs JOR 34:26 (15:11)
5-8 placement Round: SYR vs HKG 24:34 (10:19)
Semi-final: KOR vs IRI 46:21 (23:12)
Semi-final: JPN vs KAZ 38:24 (18:16)
To read a summary of the Preliminary Round and to see all results, visit here.
FINAL RANKING
1 – KOR/JPN
2 – KOR/JPN
3 – IRI/KAZ
4 – IRI/KAZ
5 – UZB/HKG
6 – UZB/HKG
7 – JOR/SYR
8 – JOR/SYR
9 – Singapore (SGP)
10 – Kuwait (KUW)
11 – Palestine (PLE)
For more information about the competition, visit the Asian Handball Federation Facebook page.
Photo: Asian Handball Federation