Asian women's championship reaches last four
23 Sep. 2021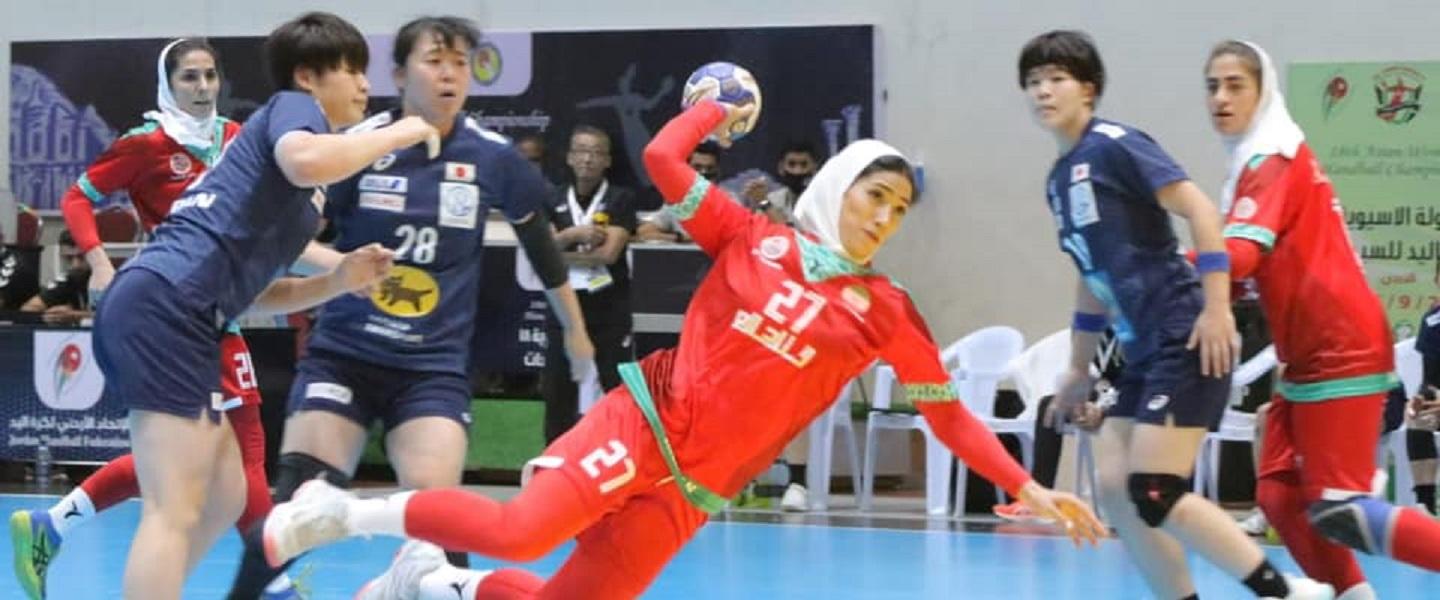 After 25 games, the preliminary round of the 18th AHF Asian Women's Championship in Amman, Jordan, has completed with Republic of Korea, Kazakhstan, Japan and Iran left to battle it out for the continental title.
The four Asian heavyweights find themselves up against each other in the semi-finals, set to take place tomorrow (Thursday 23 September), but having already booked their ticket through to the 2021 IHF Women's World Championship, scheduled to be played in Spain in December.
Asian women finally throw-off
After being postponed since December 2020, and then moved from the Korea to Jordan due to the COVID-19 pandemic, the championship finally got underway last week (Wednesday 15 September) with a total of 11 teams competing in two preliminary groups.
The competition saw the addition of Palestine and Syria two weeks before its start after Qatar, India and Afghanistan had withdrawn, while another continental heavyweight, PR of China, were unable to travel to Jordan and ended their shared record – with Korea and Japan – of having appeared in every single edition of the championship since its debut in 1987.
Preliminary round
As expected, Korea won all of their Group A games, in the process scoring 164 and conceding just 58. That put them on eight points, to top their group, while Japan topped Group B, also finishing with maximum points (10) from their five games, scoring 217 and conceding just 41.
This represented an average of 43.4 goals per match scored, and just 8.2 conceded for the Japanese side, while Korea finished with 41 scored and 14.5 conceded per game.
Aside from the dominant Koreans, Group A, with a total of 10 games, saw three close encounters with Kazakhstan coming from behind to beat Uzbekistan 31:28 (14:17) to eventually finish second, while Hong Kong held on to also beat the Uzbeks, defeating them 30:27 (16:15), a result which would ultimately confirm their third place group finish. Singapore, in just their second senior Asian Women's Championship, lost all four games to finish bottom.
With 15 games, Group B had more action and behind group winners Japan there was a scrap for that coveted second spot which ultimately went to Iran, thanks to their 28:22 victory over Jordan, which pushed the hosts into third. But Jordan did impress, overcoming the strong Syrians 28:24 (12:12), adding to their 28:11 victory over Kuwait and 45:7 demolition of Palestine.
Despite losing all five of their preliminary games to confirm a championship ranking of 11th, Palestine, in their debut senior Asian Women's Championship, will be inspired by their final match against Kuwait – themselves in just their second senior continental event – where they went down by just eight goals (20:28). 
Familiar faces to meet again?
If Korea beat Iran and Japan overcome Kazakhstan in their semi-finals, then it will be the fourth consecutive time they will have met in the continental final, following Indonesia 2015, Korea 2017 and Japan 2019, with Korea winning all three (36:22, 30:20, 30:25). 
Korea have medalled in all 17 previous editions of the championship and will welcome their superstar player, Ryu Eun Hee, after the Győr right back missed the preliminary round of action due to her involvement in the DELO EHF Champions League.
Both Korea and Japan have new coaches in Jordan following their Olympic Games Tokyo 2020 campaigns, with Jang In-Ik in charge of Korea following the resignation of Kang Jae-Won and Mikio Furuhashi taking the reins of Japan from Ulrik Kirkely, whose "contract period expired", following Tokyo 2020, according to the Japan Handball Association.
Furuhashi took over from Kirkely, who had led the Japan women's national team since June 2016, and is well experienced, having been the director of the women's youth teams (U16 from 2018) since 2019.
World championship history for Jordan, Syria or Hong Kong?
The top five teams in Jordan are guaranteed a place in the newly expanded 32-team World Championship, and with four confirmed already, the final one will be known on Saturday following the completion of the 5/6 placement match. In the 5-8 placement round today, Uzbekistan play Jordan and Syria take on Hong Kong.
With just one previous senior Women's World Championship appearance between them (Uzbekistan – 1997), there could be a debutant confirmed in what is just the second appearance for Jordan in the Asian Women's Championship since hosting the debut continental event back in 1987.
    
RESULTS
Group A: Kazakhstan (KAZ), Singapore (SGP), Republic of Korea (KOR), Uzbekistan (UZB), Hong Kong (HKG)
 
Group B: Jordan (JOR), Japan (JPN), Iran (IRI), Palestine (PLE), Kuwait (KUW), Syria (SYR)
Group A
KAZ vs SGP 33:18 (14:12)
KOR vs UZB 45:19 (22:8)
KAZ vs HKG 31:29 (17:14)    
KOR vs SGP 39:9 (21:5)
SGP vs HKG 16:26 (7:12)
UZB vs KAZ 28:31 (17:14)
SGP vs UZB 16:33 (10:17)
KOR vs HKG 40:10 (20:3)
HKG vs UZB 30:27 (16:15)
KAZ vs KOR 20:40 (9:21)
Group B
JPN vs IRI 23:20 (14:8)
PLE vs JOR 7:45 (2:23)
KUW vs SYR 28:32 (13:16)
IRI vs KUW 38:11 (21:5)
JOR vs SYR 28:24 (12:12)
JPN vs PLE 56:1 (29:0)
IRI vs PLE 52:9 (23:3)
SYR vs JPN 7:43 (2:22)
JOR vs KUW 28:11 (17:5)
PLE vs SYR 13:47 (5:27)
KUW vs JPN 5:52 (2:26)    
IRI vs JOR 28:22 (15:12)
SYR vs IRI 19:38 (10:20)
JOR vs JPN 8:43 (4:23)
KUW vs PLE 28:20 (16:10) 
MATCH SCHEDULE
(All times local)
Thursday 23 September
11:00    9/10 placement match: SGP vs KUW
13:00    5-8 placement round: UZB vs JOR
15:00    5-8 placement Round: SYR vs HKG
17:00    Semi-final: KOR vs IRI
19:00    Semi-final: JPN vs KAZ
Friday 24 September
Rest Day
Saturday 25 September
13:00    7/8 placement match
15:00    5/6 placement match
17:00    Bronze-medal match
19:00    Gold-medal match
All games are streamed on the Jordan Handball Federation Facebook page here.  
For more information about the competition, visit the Asian Handball Federation Facebook page.
Photo: Asian Handball Federation