Qatar defend title; China claim first Asian Beach Handball Championship trophy
25 Jun. 2019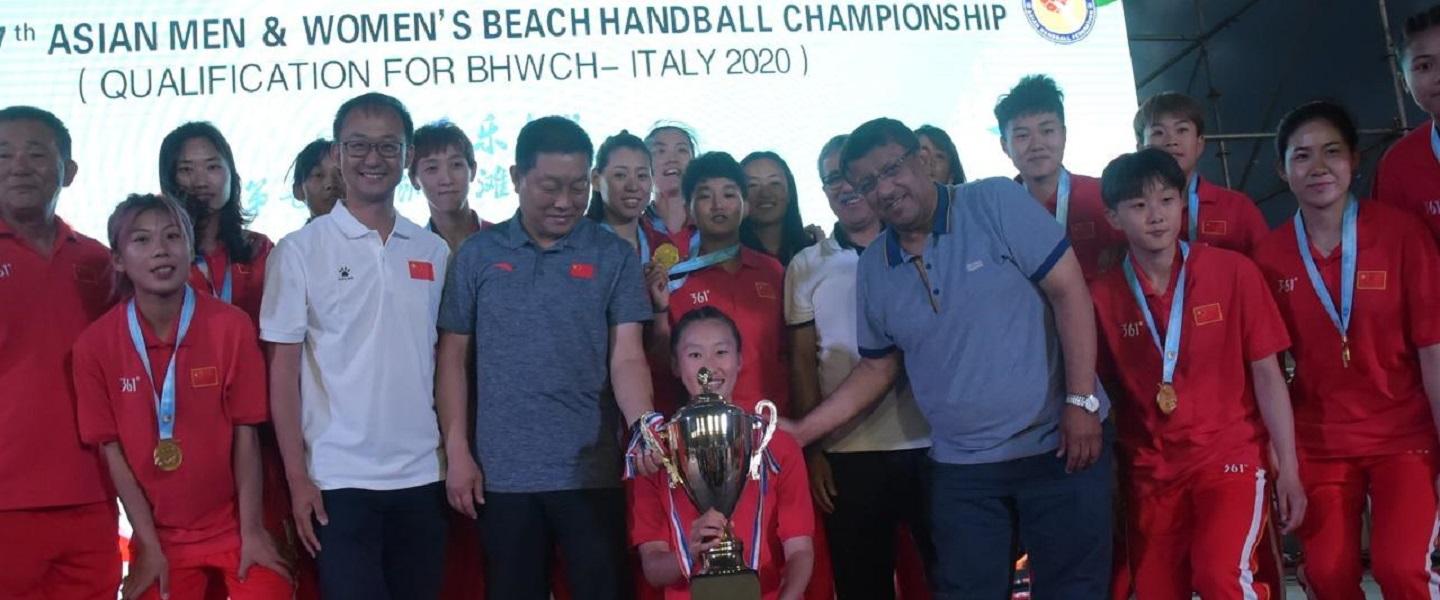 The 7th Asian Men & Women's Beach Handball Championship concluded on Monday 24 June, with P.R. of China taking the women's trophy and Qatar clinching the men's.
Qatar continue dominance
For Qatar, it is the fifth straight continental title. The last time another team topped the podium was in 2007, at the second edition of the event. Since then, Qatar have become the indisputable team to beat. Also like in the most recent editions, the silver medal in the men's competition went to Oman. The first time Qatar won the title, in 2011, Oman claimed their first silver medal – and the story has repeated at every edition since, including in Weihai, P.R. of China in 2019.
Qatar won the trophy by way of a 2:0 victory over Oman in the final. It was a clean sweep all the way through the championship, as Qatar did not even drop one set in their campaign. Since the mid-way update on June 18, Qatar defeated Chinese Taipei and Vietnam in their last preliminary matches. They won the semi-final versus Iran on Saturday 2:0.
The other finalists, Oman, did not have quite as smooth a ride to the final. After opening with three victories, Oman were defeated 1:2 by Thailand in round four. In round five, Oman faced tough opposition from Iran, but won their last preliminary clash 2:1. Oman then made their way to the trophy match with a 2:0 victory versus Vietnam in the semi-final.
Vietnam were therefore sent to the bronze-medal match, where they met Iran. The game was decided in a shoot-out, won by Iran 2:0 (14:10, 16:18, 5:4).
China celebrate first title on home soil
Hosts China had a significant reason to celebrate the results in the women's competition, as they took their first ever Asian Beach Handball Championship trophy and broke Thailand's hold on the title. Thailand had won the last three Asian Championships.  
The champions had a perfect run through the tournament, collecting only wins and finishing with the maximum points after the five straight victories. Like Qatar in the men's division, China did not even lose a set.
Vietnam and Chinese Taipei both finished with three wins and two losses, thereby counting the same number of points. However, Vietnam won the mutual encounter between the two, and therefore ranked second above Chinese Taipei in third. Vietnam's two losses were to Hong Kong and China, while Chinese Taipei were also beaten by China.
The final rankings are as follows:
 
Men's competition:
1. Qatar
2. Oman
3. Iran
4. Vietnam
5. Thailand
6. Pakistan
7. Chinese Taipei
8. Philippines
9. Saudi Arabia
10. Japan
11. Afghanistan
12. Indonesia
Women's competition:
1. P.R. of China
2. Vietnam
3. Chinese Taipei
4. Thailand
5. Hong Kong
6. Japan
Photo: Asian Handball Federation