Quarter-finals: Norway eye to erase 24-year winless streak against Spain
27 Jan. 2021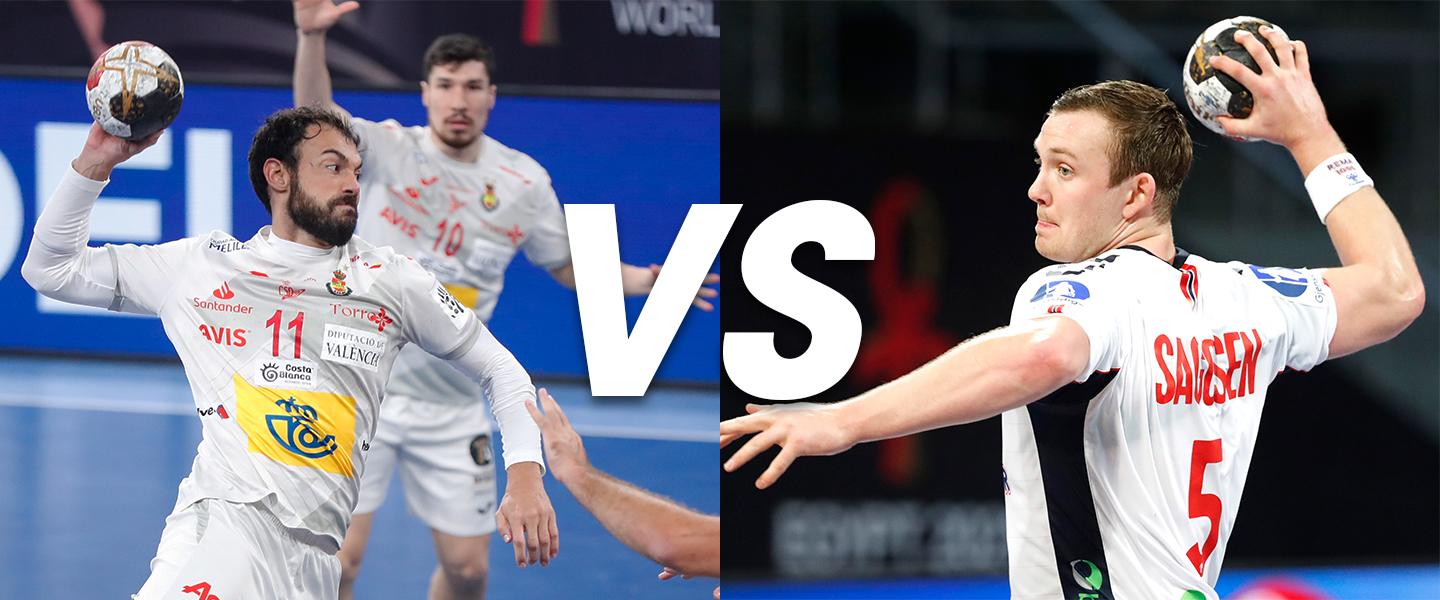 If history played a part in handball, Norway would have no chance against Spain in the quarter-finals headliner of the 27th IHF Men's World Championship.
The Nordic side have failed to win against the reigning European champions in their last 17 attempts, but after a tenuous wait to secure their berth for the knockout phase at Egypt 2021, Christian Berge's side will try to turn the tables.
Spain vs Norway 21:30 CAT
Norway spent the last ten days worrying about what other teams would do at Egypt 2021, as they did not control their fate after the loss against France, 24:28, in their first preliminary round game.
But with France sweeping their opponents in the main round, including a commanding 32:23  win against Portugal on Sunday, the Norwegian side enjoyed a cathartic evening, knowing they had secured their place between the top eight teams in the world, with a helping hand from the French team.
But this is not the time to dwell on emotions past and Norway must recalibrate quickly if they want to seal the chance to better their silver medals from France 2017 and Germany/Denmark 2019.
A tough clash against undefeated Spain awaits in the quarter-finals and, for Norway, this could be another chance to release the pain caused by the opponents in the past 20 years.
In fact, Norway have not won in the past 17 games against "Los Hispanos", drawing once and losing the other 16. Their last win came in 1997, when Norway's top scorer Sander Sagosen, the All-Star left back at Germany/Denmark 2019, was only two years old.
"It has been a long time since I have played against Spain. They are a good team and have extremely many good players, but, on the other hand, I think we look good and can match that Spain team very well. Now, we finally have our fate in our own hands and I look forward to playing against them," said Sagosen to Norwegian TV station TV2.
Anything but a win will be deemed a failure as Norway have secured a medal in the last three major competitions they have played in – silver at France 2017 and Germany/Denmark 2019 and bronze at the EHF EURO 2020, which they co-hosted with Sweden and Austria.
After the 29:29 unexpected draw against Brazil in their first game in the competition, Spain have been getting better and better, both in attack and defence, with their experience enabling them to score easy wins against Germany, 32:28, and Hungary, 36:28, on their way to win Group I.
Spain are excelling both in attack, where they have scored the second most goals, 198, only ten less than Denmark, but also in defence, as goalkeeper Gonzalo Perez de Varga has saved 57 shots and has the second-best saving efficiency in the tournament, at 40 percent.
But neither history, nor statistics will play a crucial part when the two sides face off on the court at New Capital Sports Hall come Wednesday evening.
"We had the chance to rest some of our players in the last two games of the main round, against Uruguay and Hungary, therefore we are focused and will try to do our best game against Norway," said Spain's coach Jordi Ribera.
Unlike Norway, who have played in the last two IHF Men's World Championship finals, Spain have failed to progress to the final weekend since 2015, when they finished fourth in Qatar.
But with an aging side, with the highest age average in the competition, 30.1 years old, three years older than Norway, this will be the last chance for one of Spain's greatest ever players to clinch a World Championship gold medal.
Captain Raul Entrerrios will play his 275th game for Spain, while Norwegian line player Bjarte Myrhøl has just hit 250 caps in the win against Iceland, needing only 25 goals to reach the 800-goal milestone in the Norwegian national team.
The winner will play against either title holders Denmark or hosts Egypt for a place in the Egypt 2021 final.