Norway play the waiting game, again
24 Jan. 2021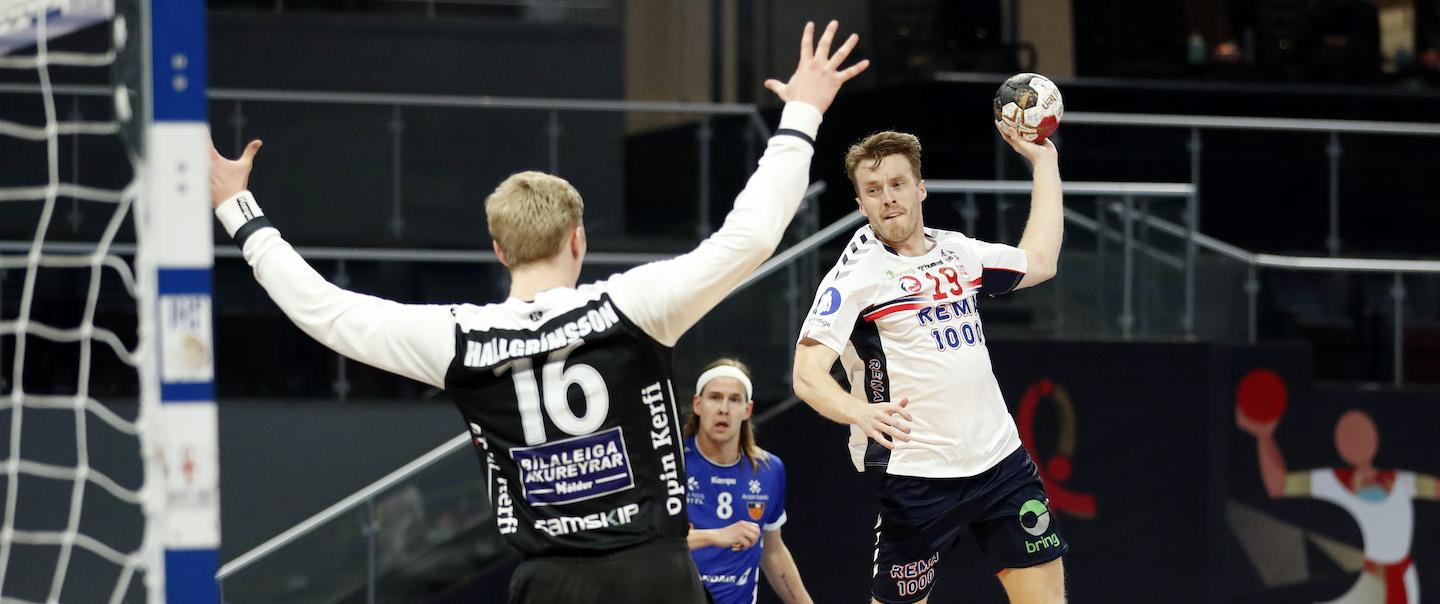 By beating Iceland tonight Norway made it five wins in a row after their victories against Switzerland, Austria, Portugal and Algeria, but still they wait to know their quarter-final fate after their opening day 24:28 defeat at the hands of France, the very team they are relying on to do them a favour in the late match vs Portugal (21:30 CAT). 
MAIN ROUND GROUP III
Iceland vs Norway 33:35 (18:18)
Iceland went into the match missing the influential right back Viggo Kristjansson, who had nearly helped defeat the French side last time out and had been an injury doubt going into this clash with a sprained ankle which will see him out for a month.
In his place came a third Icelandic goalkeeper, Agust Bjorgvinsson, who was rested against France, with captain Arnor Gunnarsson again out of the 16 due to a hamstring strain.
Christian Berge kept the same 16 which had played against Algeria in math where he experimented with a 7 against 6 attack in preparation for what he called the "chameleon" defence of Iceland, but in the end, it was his defence causing the problems, with seven first-half saves from Torbjorn Bergerud and 10 from Kristian Saeveras between the Norwegian posts in the second.
Rather than attempt to break through the Icelandic defence, a defence in which Iceland coach Gudmundur Gudmundsson had questioned the Icelandic media's criticism of yesterday, Norway decided to try their luck from distance – sinking home eight first-half nine-metre shots.
Iceland's Bjarki Mar Elisson was still able to find holes, although he played more of a restricted role without Kristjansson, with whom he had combined so effectively with against France, despite this, the teams went into the break all-square (18:18).
At half-time, the Iceland TV commentary looked towards the defence of Gudmundur Gudmundsson's side, with three goalkeepers all in action, hoping they would hold up in the second half but Norway had other ideas, holding a three, then four goal lead for the next 20 minutes, extending it to five (31:26, 51st minute).
Iceland came back within one (31:32) as late as the 56th minute, but when Saeveras made his 10th save, from Arnar Arnarsson (31:33, 59th minute), Gudmundsson and his bench held their hands on their heads, knowing that was the end of the fight.
With eight goals, Sander Sagosen top-scored again, but he and his teammates now wait for the variety of possibilities against Portugal and whether they will join Iceland on their way home or not tomorrow.
"It's difficult for us to talk about opponents in [a possible] quarter-final because the Portugal and France match has to be played first. I really don't know who will win, both teams are playing really well and maybe Portugal has played better until now, but France have won every game. 
"It's a 50/50 game, and I don't think I will watch very much of it."
hummel Player of the Match: Goran Johannessen, Norway