Slovenia win Balkan derby against North Macedonia
20 Jan. 2021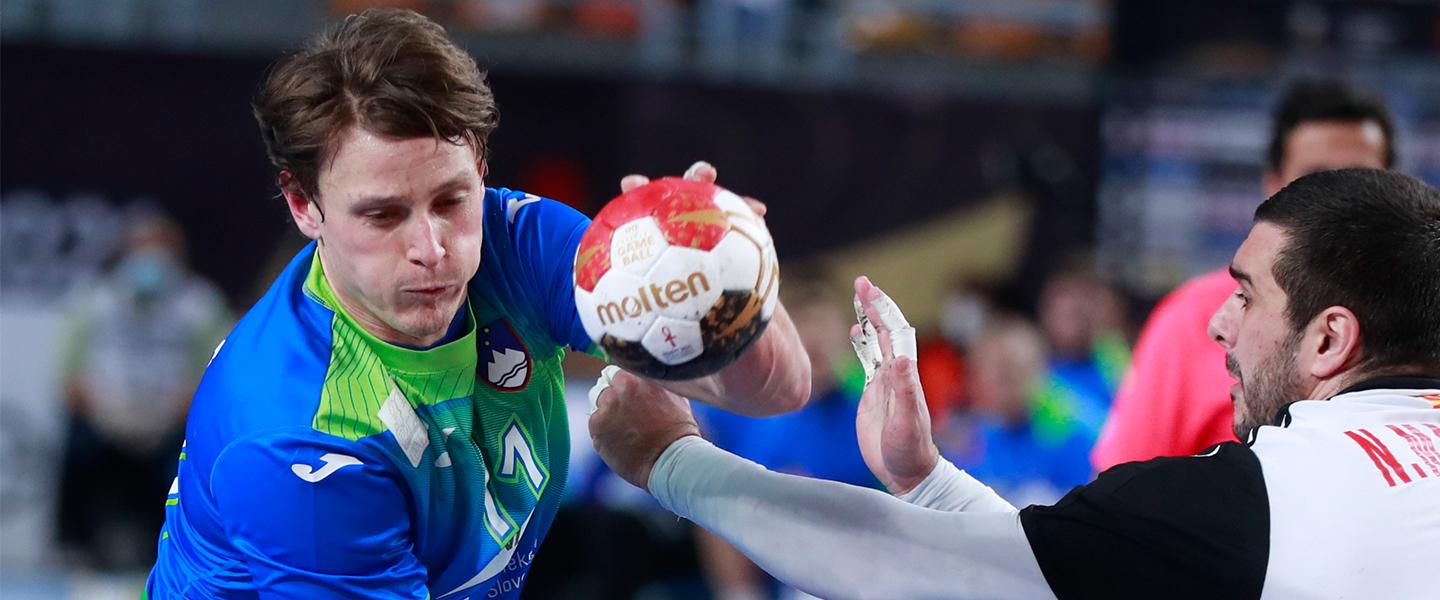 In the main round group IV opening match, Slovenia proved too strong for their Balkan rivals North Macedonia and celebrated a clear victory.
Now the Slovenes are on four points, while North Macedonia remain at the bottom of the table on zero points. 
GROUP IV
North Macedonia vs Slovenia 21:31 (9:13)
Slovenia, who had won both previous encounters against North Macedonia, were considered favourites in today's match. However, Danilo Brestovac's men enjoyed a better start of the match.
By progressing to the main round, they had already reached their World Championship goal and did not feel much pressure. Veteran Kiril Lazarov scored three penalty goals within the first ten minutes, and Nikola Mitrevski showed some good goalkeeping to put North Macedonia in front – 6:4 by minute 13.
After a slow start, Slovenia claimed initiative already in the first half. While Dragan Gajic and Jure Dolenec had some impact in attack, goalkeeper Urban Lesjak was almost unbeatable, recording ten saves in the first half. 
After the 22nd minute, Slovenia did not concede any goals until the break, enoying a 4:0 run which lifted them to a 13:9 lead at half-time.
"We had some problems in the opening 15 minutes, but later on, we were the bosses on the court," Lesjak said after the match. 
Centre back Mario Tankoski ended North Macedonia's goalless run in minute 33, yet Slovenia were dominant again thanks to a superb defence and goals by Borut Mackovsek, Jure Dolenec and Miha Zarabec.
They extended their lead to 21:12, but then North Macedonia also had a good spell, as 20-year-old Martin Serafimov contributed significantly to reduce the gap to 16:22.
However, the time-out taken by coach Ljubomir Vranjes helped Slovenia to get back on track. Lesjak was brilliant again in goal in the last ten minutes of the match, while his teammate Gajic became the top scorer of the game with seven goals. 
"We played quite well in the first half, but made too many technical mistakes after the break. I think the final score doesn't reflect the difference between the teams, we deserved to have lost by a smaller margin," said North Macedonia's coach Danilo Brestovac. 
hummel Player of the Match: Urban Lesjak, Slovenia