Nigerian leagues go from strength-to-strength
02 Dec. 2020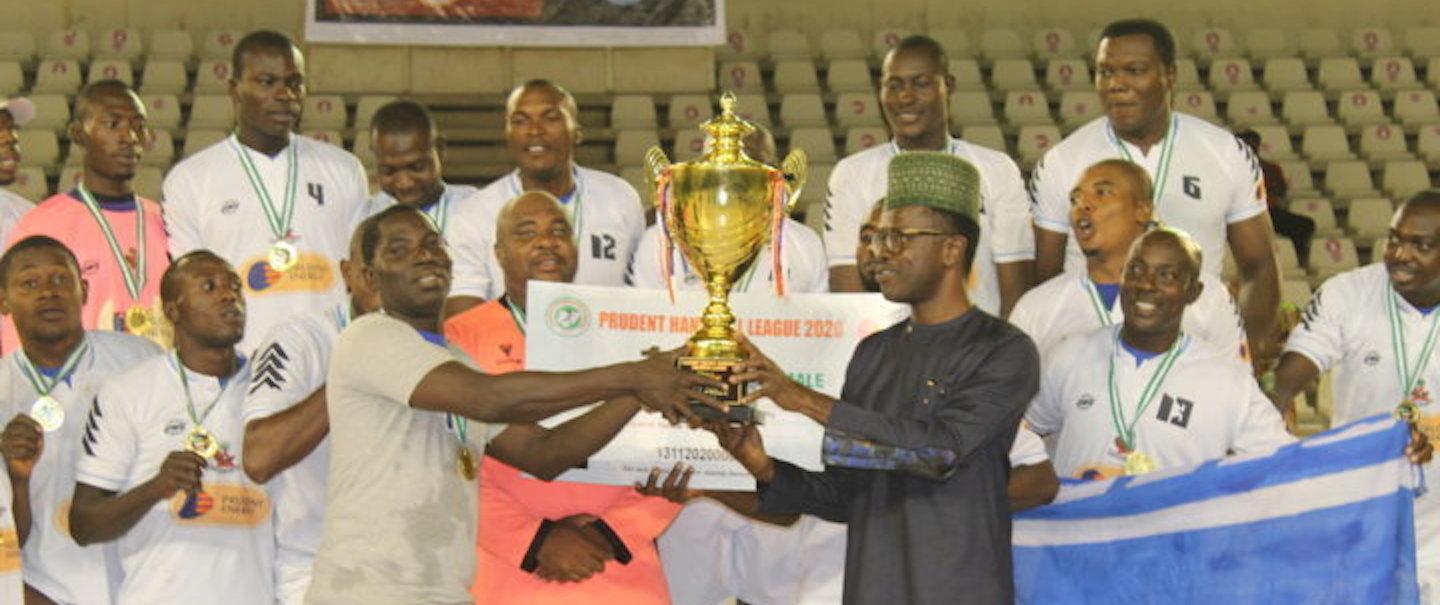 The delayed 2020 Prudent Energy Handball Premier League took place in Abuja, Nigeria, across October and November with both men's and women's competitions taking place in the West African country's capital city.
Matches were played both indoors and outdoors at the Moshood Abiola National Stadium in Abuja, with both competitions taking place under strict COVID-19 protocols, including all players and officials having to present negative test results to participate, and all overseen by COVID-19 officers from the Nigerian government.
The league was also shortened and played in a single phase of competition over 14 days, expanded from 12, to allow for further rest days, while the Handball Federation of Nigeria (HFN) worked closely alongside the Federal Ministry of Youth and Sports to ensure safe competition for all.
All games were streamed live on HFN Facebook with interviews after each one, and the league received lots of positive coverage throughout the Nigerian and continental media.
Women's Competition
The women's league saw 10 teams competing for glory. They included 'Seasider Babes' (from Lagos), the 'Nigerian Civil Defence' team, also based in Lagos, 'Defender Babes', Owerri's 'IMO Grasshoppers', Kaduna's 'Kada Queens', 'Edo Dynamos' from Benin City, 'Plateau Peacocks', 
'Edo Dynamos' (Benin), 'Desert Queens', and the team of the Federal Road Safety Corps, 'Safety Babes' from Abuja.
Two news sides featured, with Markudi's 'Benue Queens' added, and the national division one champions 'Adorable Angels' from Ilorin, the state capital of Kwara in western Nigeria.
And it was a fairy-tale debut season in the top-flight for the Angels as they won the league, defeating former champions Plateau Peacocks on the final day (29:28) to finish on 26 points, take the title and claim a prize money of 1.25 million Nigeria Naira. Edo Dynamos finished second, one point behind and two ahead of defending champions, Safety Babes, in third. 
"I'm delighted that we won the title in our first appearance," said Adorable Angels coach Isiaka Attanda to local media after confirming the title. "We were never given any chance, and someone even advised us that we should try not to be relegated to the lower division, but I laughed. The story is different now because we are the champions."
Coach Attanda went on to explain about how the team has progressed through the age groups to where they are now – the best in Nigeria.
"My players are still in school at the University of Ilorin, Kwara State University, Kwara Polytechnic, and Kwara College of Education," he said to local media. "They first appeared at the U12 championship, which they won and in 2014 they finished fourth at the U16 youth championship.
"Now, they live together in the Ilorin metropolis, which makes it easy for them to come together and prepare for training."
Men's Competition
A total of 12 teams battled for glory in the men's competition, including defending champions 'Kano Pillars', 2018 winners 'Niger United' from Minna, the state capital of Niger, and new sides 'Confluence Stars' from Lokoja, and 'Delta Force'.
The remaining eight sides were 'Rima Strikers', 'Plateau Vipers', 'COAS Shooters', 'Borno Spiders', 'Kada Stars', 'Lagos Seasiders', 'D: Defenders' and the men's Federal Road Safety Corps team, 'Safety Shooters'.
And it was Safety Shooters who emerged victorious, winning the Prudent Energy Handball Premier League 2020 league title on the penultimate day, matchday 13.
They defeated the Plateau Vipers 30:23 to move up to 30 points, ensuring they could not be caught on the final day by the joint second-placed Kano Pillars and Lagos Seasiders. At the other end of the table, Borno Spiders and debutants Delta Force were relegated to National Division One.
"It has been a tortuous journey, but we are happy to end it well," said Shooters' coach Bala Mohammed to local media. "My players and the entire team is in a joyous mood right now. Hopefully, this victory will change our fortunes in the local scene as we eye a good outing in the continental championship."
The Best
A number of awards were presented to the best players in the league at the awarding ceremony following the completion of both leagues. 
Line player Idowu Abdulrazak of Adorable Angels (women) and Atabo Abdullahi of Safety Shooters (men) were named their respective league's Most Valuable Players (MVP), while Abdulrazak also took the top scorer award and Anas Muhammad grabbed the same, for Rima Strikers in the men's league.
With their titles, Safety Shooters and Adorable Angels will represent Nigeria in the African league winner's competitions in 2021, with the next edition of the Prudent Energy Handball League set to get underway in April 2021.
All-star Teams were announced for both competitions, with Adorable Angels and Kano Pillars dominating, taking four spots in the women's and men's teams respectively.
ALL-STAR TEAMS
Women
Goalkeeper – Toyin Yusuf (Plateau Peacocks)
Left Wing – Ugochi Nnadi (IMO Grasshoppers)
Left Back – Nuhu Wuraola (Adorable Angels)
Centre Back – Faith Inegbedion (Edo Dynamos)
Right Back – Muinat Yusuf (Adorable Angels)
Right Wing – Rebecca John (Adorable Angels)
Line Player – Idowu Abdulrasaq (Adorable Angels)
MVP – Idowu Abdulrasaq (Adorable Angels) 
Fair Play – Adorable Angels
Top Scorer – Idowu Abdulrasaq (Adorable Angels) 
Men
Goalkeeper – Obinna Okwor (Confluence Stars)
Left Wing – Andrew Ojo (Kano Pillars)
Left Back – Kingsley Okubike (Kano Pillars)
Centre Back – Atabo Abdullahi (Safety Shooters)
Right Back – Faruk Yusuf (Lagos Seasiders)
Right Wing – Osamwonyi Olaye (Kano Pillars)
Line Player – Stephen Sessugh (Kano Pillars)
MVP – Atabo Abdullahi (Safety Shooters)
Fair Play – Niger United
Top Scorer – Anas Muhammad (Rima Strikers)
FINAL RANKINGS
Women
1 – Adorable Angels (26 points)
2 – Edo Dynamos (25)
3 – Safety Babes (24)
4 – Plateau Peacocks (19)
5 – IMO Grasshoppers (18)
6 – Kada Queens (16)
7 – Defender Babes (15)
8 – Seasider Babes (15)
9 – Benue Queens (13)
10 – Desert Queens (9)
Men
1 – Safety Shooters (31)
2 – Kano Pillars (29)
3 – Lagos Seasiders (29)
4 – Rima Strikers (27)
5 – D: Defenders (25)
6 – COAS Shooters (21)
7 – Niger United (19)
8 – Confluence Stars (19)
9 – Kada Stars (19)
10 – Plateau Vipers (15)
11 – Delta Force (15)
12 – Borno Spiders (14)