Next generation of Nigerian handball prospering in Sokoto
31 Mar. 2020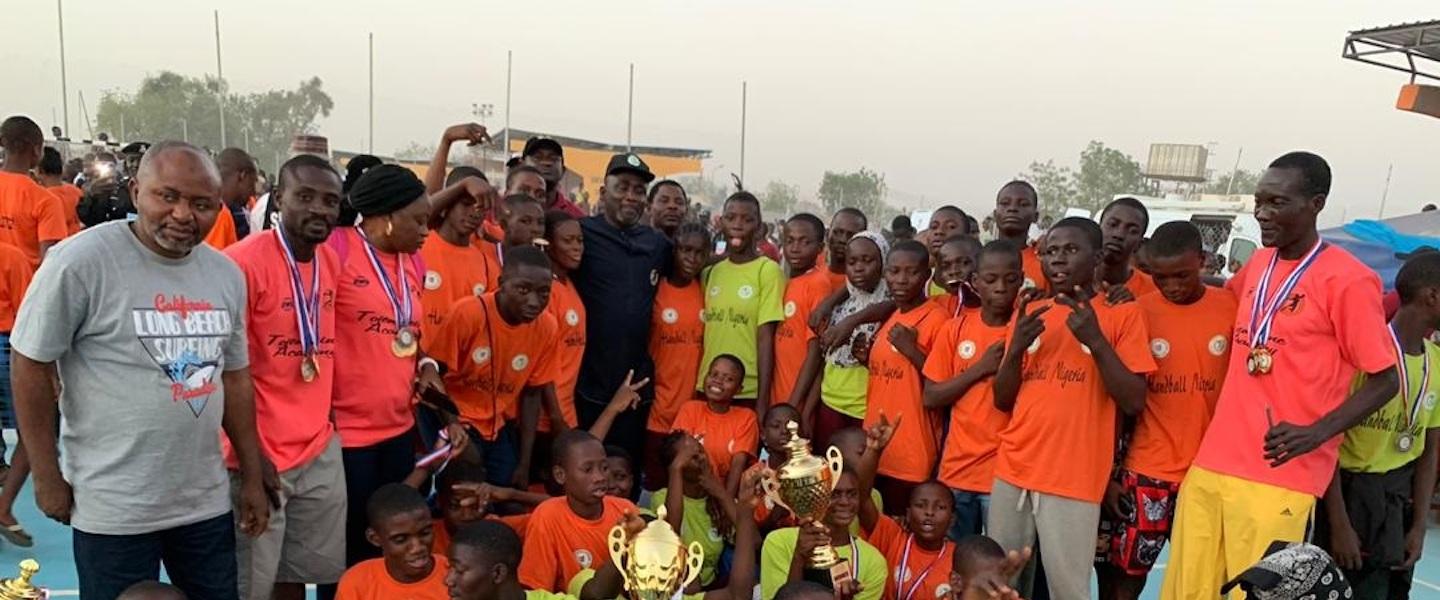 Teams from across Nigeria took part in the Under 12 (U12) and Under 15 (U15) boy's and girl's Nigerian national championships held from 29 February to 7 March in Sokoto.
While many people will be familiar with Nigeria's capital city Abuja, which replaced the previous capital Lagos in 1991, Sokoto, which lies on Nigeria's border with Niger in the north-west, is not so well-known, but it is providing a hotbed of talent for the next generation of Nigerian handball.
The U12 girls' competition, won by home team Sokoto Junior Rima, saw three teams competing, while the U15 category, with Tojemarine Sports Academy claiming the title, saw nine sides in attendance. 
In the boys' competition, six teams competed in the younger age (U12) category, won by Tojemarine Sports Academy, while seven took part in the U15 championship, which saw home team Sokoto Junior Rima claim their second title.
Nearly half of the teams present in Sokoto this year came from handball academies, with previous editions of the championship not allowing them to participate, but thanks to new guidance from the Handball Federation of Nigeria (HFN) Board under President Sam Ocheho, they have been allowed.
"We were all greatly impressed by the turnout in the U15 girls' tournament, which was very impressive considering the usual turnout we have had in previous championships," said Ocheho to IHF.info.
"Another major highlight was that 11 of the 26 teams present came from handball academies – in previous years they could not attend, but this year they could, and it meant their players represented Nigerian states rather than the academies themselves.
"The HFN Board made this change after we identified the need to provide opportunities for new, younger players to compete in this tournament, so this is why we allowed academies to participate this year and we have seen direct results already – we are also seeing a large interest from retired and senior players who now want to volunteer to coach these younger-age teams.
"This allows not only increased numbers of those playing handball at a younger age in Nigeria but provides a pathway for former players to continue in our sport – we do not lose their experience, and everyone benefits from years of knowledge." 
The championships were sponsored by the Sokoto State Government and with Sokoto taking half of the titles, alongside Tojemarine from Lagos, it demonstrates the continued high-level of development in two of the strongest states for handball in the west African country – Sokoto and Lagos.
"The Sokoto State Government have been a huge supporter of handball not only in their own state, but across our whole country," added Ocheho.
"They did not leave any stone unturned in ensuring a befitting tournament. They practically gave everything; constructing three handball courts just for the championships, which is a major feat, on behalf of the HFN we give our thanks to the Sokoto State Governor, His Excellency Aminu Waziri Tambuwal and his able Commissioner for Sports, Alhaji Aminu Bala Bodinga, for their great help, assistance and achievement."
The closing ceremony was attended by members of the Sokoto State cabinet, plus France's Ambassador to Nigeria, His Excellency Jerome Pasquier, who pledged his support towards the development of handball in Nigeria. 
His Excellency Aminu Waziri Tambuwal also committed to hosting the next three editions of the championship, from 2021-2023, as well as providing sponsorship for a Sokoto State team to attend a future edition of the Partille Cup and the donation of a mini-bus for the use of the HFN.
The teams competing in the U12 and U15 HFN Nigerian National Championships were:
Tojemarine Sports Academy, Lagos State (U12 Boys, U15 Girls, U15 Boys)
Najet Handball Academy, Zaria – Kaduna State (U12 Boys, U15 Girls, U15 Boys)
Mindscope Handball Academy – Ogun State (U15 Girls)
Nisha Handball Academy, Jos – Plateau State (U12 Girls, U15 Girls)
Suleja Shooters Handball Academy – Niger State (U12 Boys, U15 Girls)
Sokoto Junior Rima (U12 Girls, U12 Boys, U15 Girls, U15 Boys)
Imo State (U12 Girls, U15 Girls, U15 Boys)
Niger State (U12 Boys, U15 Boys)
Kebbi State (U12 Boys, U15 Girls, U15 Boys)
Zamfara State (U12 Boys)
Abia State (U15 Girls)
Adamawa State (U15 Boys)
The championship was the last HFN event to be held before the Nigeria lockdown of sport due to COVID-19, which is affecting every corner of the globe.
"With the advent of COVID-19 and its impact globally across sporting events, the Handball Federation of Nigeria was not left alone," added Ocheho to IHF.info.
"We have been impacted in various forms and our programme of activities for this year has been severely affected. We have postponed our National Sports Festival, our CAHB Men's IHF Trophy Zone III participation, the first phase of our Prudent Energy Handball League initially scheduled 12-26 April, and the 5th Sam Ocheho Invitational Handball Championship, which brings together teams from West African Sub region.
"We do not know how long these will last and have only highlighted areas we have been impacted for now," he added. "We are currently planning how all our State Associations affiliated to the HFN will be involved in assisting to combat the impact of COVID-19, initially by donating food items to our immediate communities, with more to follow.
"We join hands together with the rest of the world in trying to do our best to ensure the safety of our athletes and stakeholders by suspending all our activities for now and observing the necessary social and physical distancing. 
"Our heart goes out to all affected globally and wish them all a speedy recovery."
PHOTO: Handball Federation of Nigeria