Midway stage for African youth women in Niger
20 Sep. 2019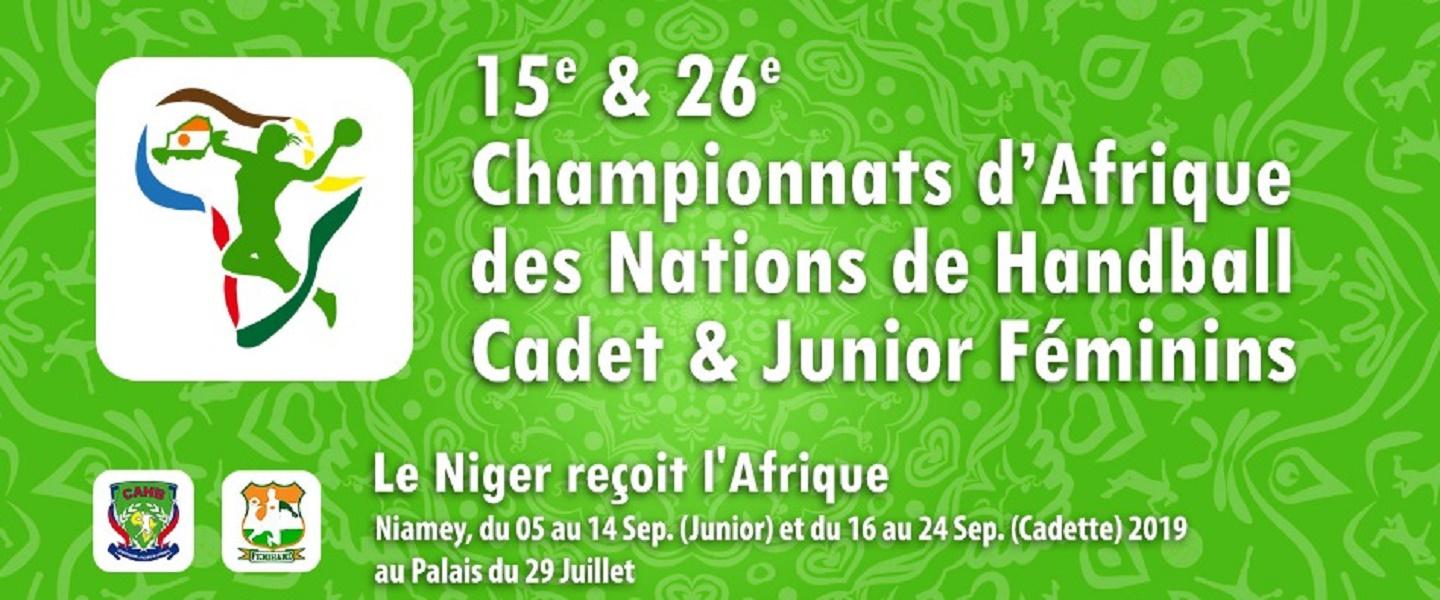 Nine of the 21 games are complete at the 2019 CAHB Women's African Youth Championship underway in Niamey, Niger, and set to finish on 24 September.
The tournament is round-robin format with all seven teams playing each other once and the team with the most points at the end taking the title.
Along with host nation Niger (NIG), Egypt (EGY), Tunisia (TUN), Angola (ANG), DR Congo (COD), Algeria (ALG) and Guinea (GUI) are all competing for the continental title, which has been won by Egypt the last two times (2015, 2017).
Egypt have comfortably won both of their games so far in Niamey, against Niger (43:8) and Guinea (33:26), while Angola, who are the record title-holders with three gold medals (2009, 2011, 2013), also have a 100% success rate, defeating Algeria (36:10) and Tunisia (28:21).
Guinea – who took bronze in the junior tournament – have also won two games, against Niger (25:19) and DR Congo (22:19) in a tight clash which saw the teams all-equal (10:10) at the break, but lost their third match, against the strong Egyptians.
Egypt take on Angola in what could be an eventual gold medal decider Sunday (22 September) at 1600h (local time), but with 12 matches remaining to be played in the competition, anything can happen.
To follow the tournament visit the African Handball Confederation website.
Results
Monday 16 September
COD vs ALG 19:28 (8:14)
NIG vs GUI 19:25 (8:10)
Tuesday 17 September
ANG vs ALG 36:10 (15:5)
COD vs GUI 19:22 (10:10)
EGY vs NIG 43:8 (17:4)
Wednesday 18 September
TUN vs ALG 24:22 (13:10)
EGY vs GUI 33:26 (15:13)
COD vs NIG 28:18 (14:8)
Thursday 19 September
TUN vs ANG 21:28 (9:19)
Match Schedule
All times local, organising committee reserve the right to change times/days of matches
Friday 20 September
1400    ANG vs GUI
1600    EGY vs ALG
1800    NIG vs TUN
Saturday 21 September
1400    EGY vs COD
1600    TUN vs GUI
1800    ANG vs NIG
Sunday 22 September
1400    TUN vs COD
1600    EGY vs ANG
1800    ALG vs NIG
Sunday 23 September
Rest Day
Monday 24 September
1400    ALG vs GUI
1600    ANG vs COD
1800    EGY vs TUN

Day 2 (17 September) Results and Pictures

Day 3 (18 September) Results and Pictures

Day 4 (19 September) Result and Pictures