Niamey set to welcome teams from across continent
04 Sep. 2019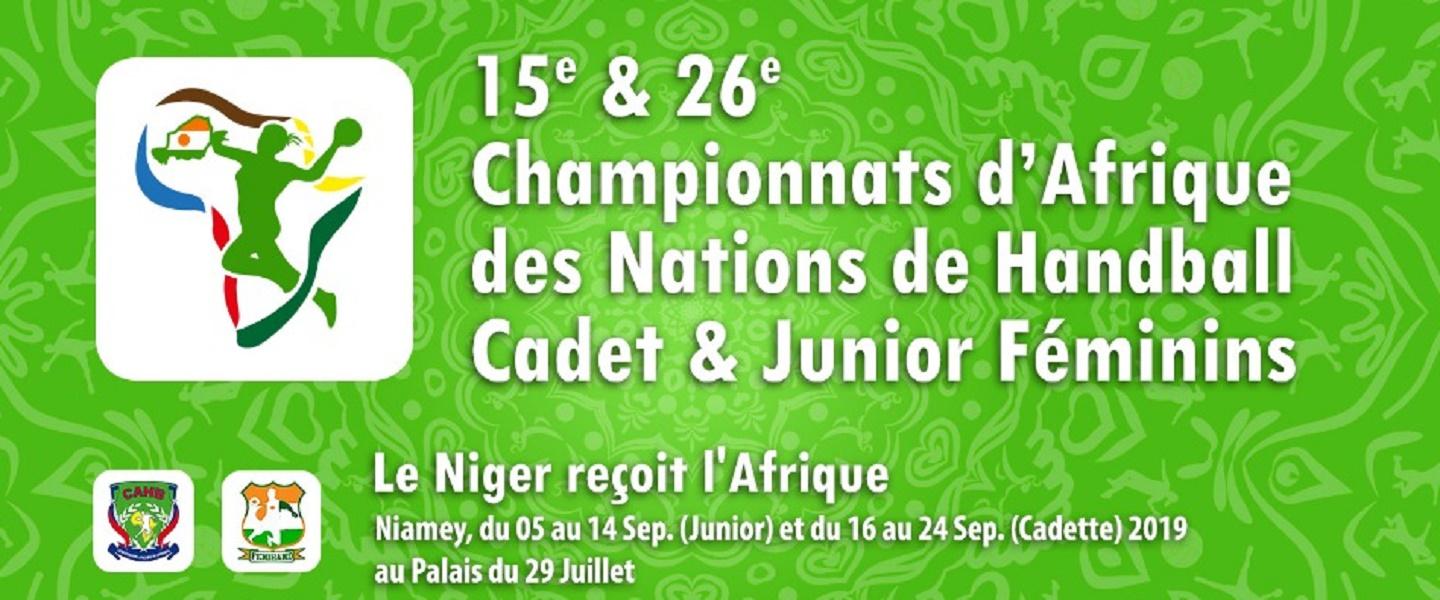 The 2019 edition of the CAHB Women's African Junior Championship gets underway on Thursday (5 September) in Niamey, Niger, with nine of the best women's national junior teams competing for the continental title across 24 matches.
Alongside host nation Niger (NIG), Angola (ANG), Senegal (SEN), Congo (CGO), Guinea (GUI), DR Congo (COD), Tunisia (TUN), Algeria (ALG) and Benin (BEN) all feature in the competition which starts with two preliminary groups of five and four teams each.
The top two in each group will go straight through to the semi-finals and final with all other teams playing off in placement matches in the competition which finishes on Saturday 14 September.
All games will be played in the Palais du 29 Juillet with the top three teams in Niamey automatically qualifying through to the 2020 IHF Women's Junior World Championship.
Last time around in Abidjan, Côte d'Ivoire, Angola beat Egypt 29:19 (16:8) in the final game to take the title a record ninth time and the third time in a row following victories at the 2015 edition in Nairobi, Kenya, and 2013 in Oyo, Republic of the Congo.
The CAHB African Women's Junior Championship started back in 1980 in Lagos, Nigeria.

Match Schedule
All times local
Preliminary Group A: Angola (ANG), Senegal (SEN), Congo (CGO), Guinea (GUI)
Preliminary Group B: DR Congo (COD), Tunisia (TUN), Algeria (ALG), Benin (BEN), Niger (NIG)
Thursday 5 September
1200    SEN vs GUI
1400    TUN vs BEN
1700    Opening Ceremony
1800    NGR vs ALG
Friday 6 September
1400    ANG vs CGO
1600    COD vs BEN
1800    TUN vs NIG
Saturday 7 September
1200    SEN vs CGO
1400    ANG vs GUI
1600    TUN vs ALG
1800    COD vs NIG
Sunday 8 September
Rest Day
Monday 9 September
1400    CGO vs GUI
1600    COD vs ALG
1800    BEN vs NIG
Tuesday 10 September
1400    COD vs TUN
1600    ALG vs BEN
1800    ANG vs SEN
Wednesday 11 September
Rest Day
Thursday 12 September
1200    Placement Round 5-8
1400    Placement Round 5-8
1600    Semi-Final 1
1800    Semi-Final 2
Friday 13 September
1400    7/8 Placement Match
1600    5/6 Placement Match
1800    3/4 Placement/Bronze Medal Match
Saturday 14 September
Final