Perfect records earn Costa Rica youth and junior titles at IHF Trophy – Central American Zone
02 Sep. 2019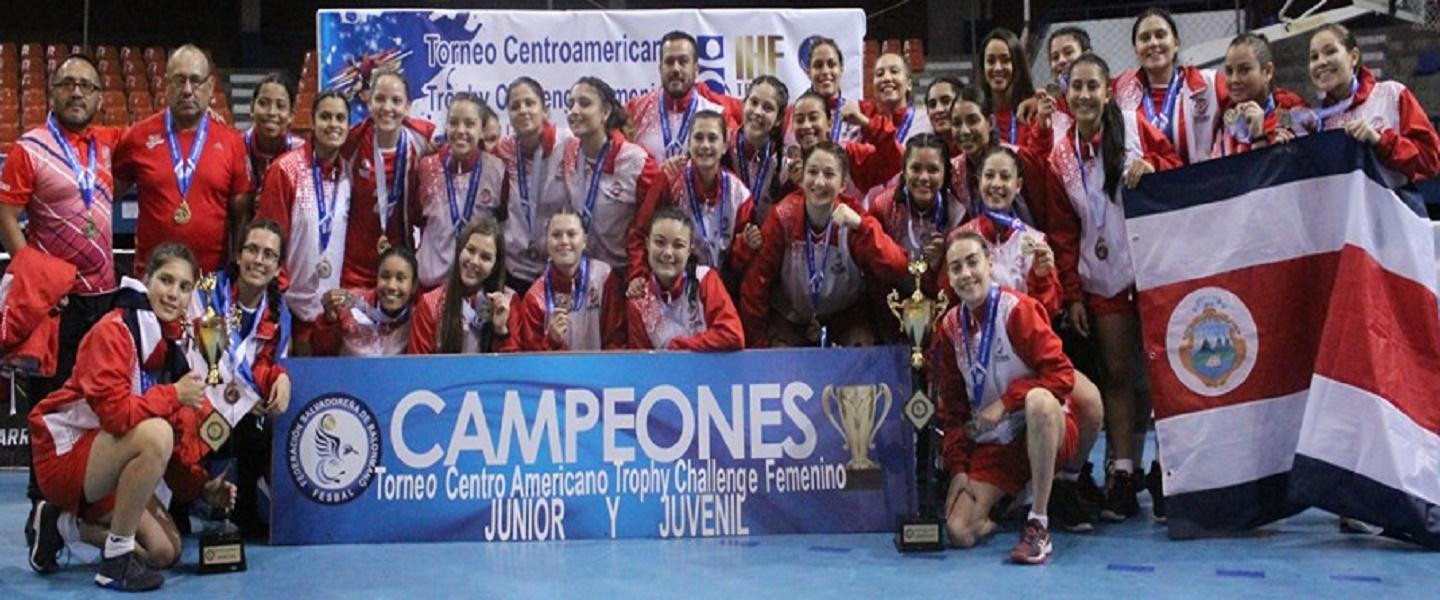 Costa Rica female teams claimed both titles at the IHF Trophy – Central American Zone Saturday in El Salvador, winning the junior and youth championships with perfect records in the two round-robin competitions. The victories take both teams through to the IHF Trophy South and Central America – Continental Phase.  
Junior championship
After just three days of competition, Costa Rica were already well on their way to winning the junior title. At that stage, Costa Rica counted six points in their tally, while Nicaragua, Guatemala and El Salvador each had two from one win apiece. 
It was a 34:32 victory over Guatemala in round three that placed Costa Rica firmly on top of the table – and that ended up being the match that won them the title. Also on day three, Nicaragua defeated Panama 39:13. 
Costa Rica had their rest day in round four, while Guatemala recorded a 48:14 victory over Panama and Nicaragua won their match versus El Salvador 34:17. On the final day of U19 games, Costa Rica and Guatemala each took victories, Costa Rica defeating El Salvador 33:18 and Guatemala beating Nicaragua 29:26. 
The loss to Costa Rica ended up being Nicaragua's only defeat, and they finished on six points behind the competition winners on the maximum eight. With their two victories, Nicaragua placed third on four points, while El Salvador placed fourth with two points, and Panama were fifth after four straight defeats.  
"This medal is very important for our country because we won it unbeaten over all the rivals we had. The fact that Guatemala participated gives it more value because they are complicated rivals. The goal was to be champions, and we did it," said Costa Rica junior coach Oldemar Quesada. 
Youth championship
Costa Rica were also undefeated in the youth competition, finishing with the maximum 10 points from five victories. Indeed, it was exactly the same ranking in both competitions, as Guatemala placed second with four wins (eight points), Nicaragua were third with three victories and two losses (six points) and El Salvador finished fourth with two wins and three defeats. With one victory, Panama took fifth place ahead of Honduras, who were defeated in all five games. 
Following their results on the opening two days, Costa Rica recorded victories against Panama (42:14), Honduras (48:14) and El Salvador (40:15). After suffering their only loss in the competition in round one, Guatemala finished with their campaign strong with three wins – 20:16 versus Nicaragua, 49:4 versus Panama, and 44:8 versus Honduras. 
Following their round three defeat at the hands of Guatemala, Nicaragua earned their third place with a 30:17 win over El Salvador and a 32:16 victory against Panama. 
El Salvador's second set of two points were secured on day three, with an 18:15 result versus Honduras. 
More information on the IHF Trophy – Central American Zone can be found on the El Salvador Handball Federation website. 
 
Photos: Federación Salvadoreña de Balonmano