Toroa and Parrots win New Zealand national beach titles
06 Mar. 2023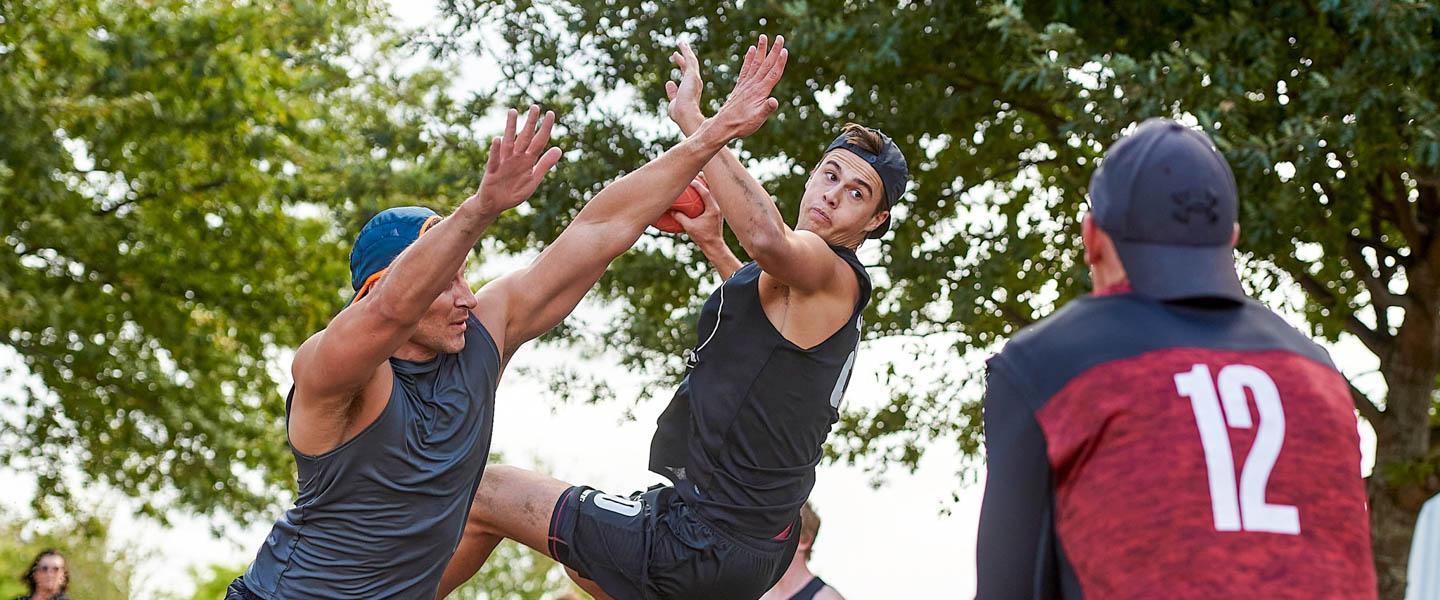 The 2023 New Zealand National Beach Championships concluded on Sunday (5 March) with Otago Toroa and Parrots winning the women's and men's titles respectively.
The Pioneer Stadium Sand Courts in Christchurch were the setting for the championships, which took place over three matchdays, with adverse weather conditions affecting the final day.
A social, mixed event featuring nearly 30 players opened the championships on Friday (3 March) with Toru taking the title, ahead of a weekend of action featuring eight teams – five men's and three women's – battling for the honour of becoming champions of their country.
In total, 10 men's matches and six women's matches were played, each in a round-robin league, with the eventual top two in their respective championships playing off in the final.
In the men's competition, Parrots from Wellington defeated Barad-dûr Beach Bros in a final shoot-out to take a 2-1 victory (13:12, 11:12, SO 7:6) and defend their 2022 title. Canterbury's Pekapeka won bronze with a 2-0 (11:8, 18:16) victory over city rivals Masters of Spinjitsu. Otago Shags (Otago) finished fifth.
Otago Toroa won a defence-dominated women's final against Pekapeka 2-0 (4:3, 11:8), getting the better of the rain, to overturn their preliminary group 0-2 loss that Pekapeka had inflicted on them the previous day. Parrots finished in third place.
North vs South series concludes
In addition to the club matches, the 'North vs South' three-match series, reflecting the two main landmasses (North Island and South Island) which make up New Zealand, was concluded with the second and third matches played across the weekend.
The first match of the series took place in early February (Saturday 4) as part of the national team training weekend and saw the men's North team defeat the South and the South women beat their North counterparts.
Saturday (4 March) saw the second match in each series played, with the South women taking a 2-1 shoot-out win to go 2-0 up in the series, while the men's North side beat the southerners 2-0 to also go 2-0 up in the series.
And it was the same set of results in the third and final matches on Sunday (5 March), with both the South women and North men taking a 3-0 series win each.
The New Zealand Handball Federation created the series to '…provide high-level competition, with high-performance players from North Island playing against those from South Island'.
Both the national championships and North vs South series were streamed live and can be watched again here. 
Ranking
Women's Competition
1. Otago Toroa (Otago)
2. Pekapeka Women (Canterbury)
3. Parrots Women (Wellington)
Men's Competition
1. Parrots Men (Wellington)
2. Barad-dûr Beach Bros (various towns/cities)
3. Pekapeka Men (Canterbury) 
4. Masters of Spinjitsu (Canterbury), 5. Otago Shags (Otago)
Photos: New Zealand Handball Federation