Dutch delight as Macedonians implode in Krakow
15 Jan. 2023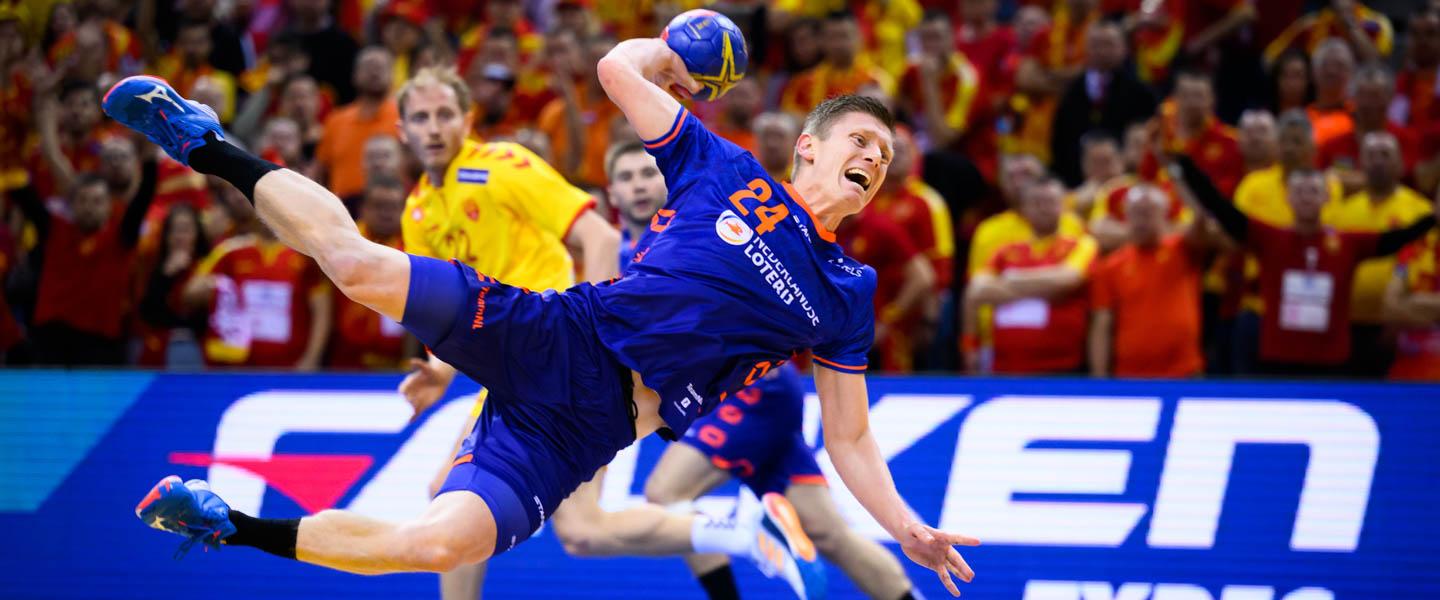 With a focused and commanding performance, the Netherlands secured their passage through to the main round of the 2023 IHF Men's World Championship, taking a 10-goal victory against North Macedonia in their group F preliminary group clash at the Tauron Arena in Krakow.
Group F
North Macedonia vs Netherlands 24:34 (11:18)
After their historic, first-ever IHF Men's World Championship victory against Argentina on Friday, Netherlands' coach Staffan Olsson named an unchanged team for their second group F preliminary group match in Poland.
On the other side of the court, North Macedonia coach Kiril Lazarov made two changes, bringing left-handers David Savrevski – who arrived from Skopje this morning – and Pavle Atanasijevikj into his matchday squad. One was forced, with right back Tomislav Jagurinovski being out injured, while line player Kostadin Petrov was dropped.
Lazarov had talked about minimising mistakes in his team, citing the 17 turnovers in their opening loss against Norway, but little changed tonight.
His first time out came just after the 10-minute mark after the Netherlands turned a 2:3 deficit into a 7:3 lead following a 5:0 scoring run. North Macedonia had not scored for six minutes and the rot was setting in.
Again, Dutch goalkeeper Bart Ravensbergen was on form, ending the match with 12 saves but already operating at a 50% save rate (5/10) by the 15th minute.
North Macedonia did eventually find their feet, albeit briefly, as they came back to two down (9:11), resulting in Olsson taking a time out just after the 20th minute, but the Netherlands showed a fighting quality despite their lack of experience at this level, going on a 4:0 run (14:9, 24th minute) to silence the massed Macedonian fans.
Filip Taleski's weak shot from nine metres towards the end of the half highlighted the problems his side were having against their opponents – they ended the first 30 minutes with just 52% shot effectiveness – and at half-time, there were whistles from the stands.
Little changed in the second half and the difference between the two teams was evident midway through. 
With Netherlands' up 22:18, player of the match Kay Smits sunk home his penalty shot (23:18, 45th minute). After a save from the resulting Macedonian attack, Dani Baijens shot into an open goal (24:18), with Lazarov trying to plug his attack while his side served a two-minute suspension. 
The subsequent restart saw Luc Steins steal the ball immediately and slot home (25:18), and another Netherlands' steal followed immediately (26:18). Lazarov had his hands on his hips, and the game was over. 
"I did not actually see it because I was doing something else," said Olsson to ihf.info about the Steins steal and score.
"But a goal like that is building up a lot of energy for the whole team. I would like to say that every goal is important, but some of them are more important than others."
As Smits picked up the best player award, the disappointment of the entire Macedonian squad was etched on their faces. But all is not lost, as they know that if Norway beat Argentina tonight, a win against the South Americans in their final match on Tuesday (17 January) will see them into the main round.
"They deserved to win today, but I'm not satisfied," said Lazarov after the match. "We came here to make one win and we have one possibility now against Argentina on Tuesday.
"At the moment, they (the Netherlands) are better than us. We know that because we changed totally our generation. We came here for first time with a team without stars. We will do everything to mobilise and try to win against Argentina and pass to the second round.
"We need to do everything to win the last match."
Immediately afterwards, the Netherlands play Norway in the final group F preliminary match.
hummel Player of the Match: Kay Smits (Netherlands)