Birthday cake and a 62-year wait: Netherlands' men win at a world championship
15 Jan. 2023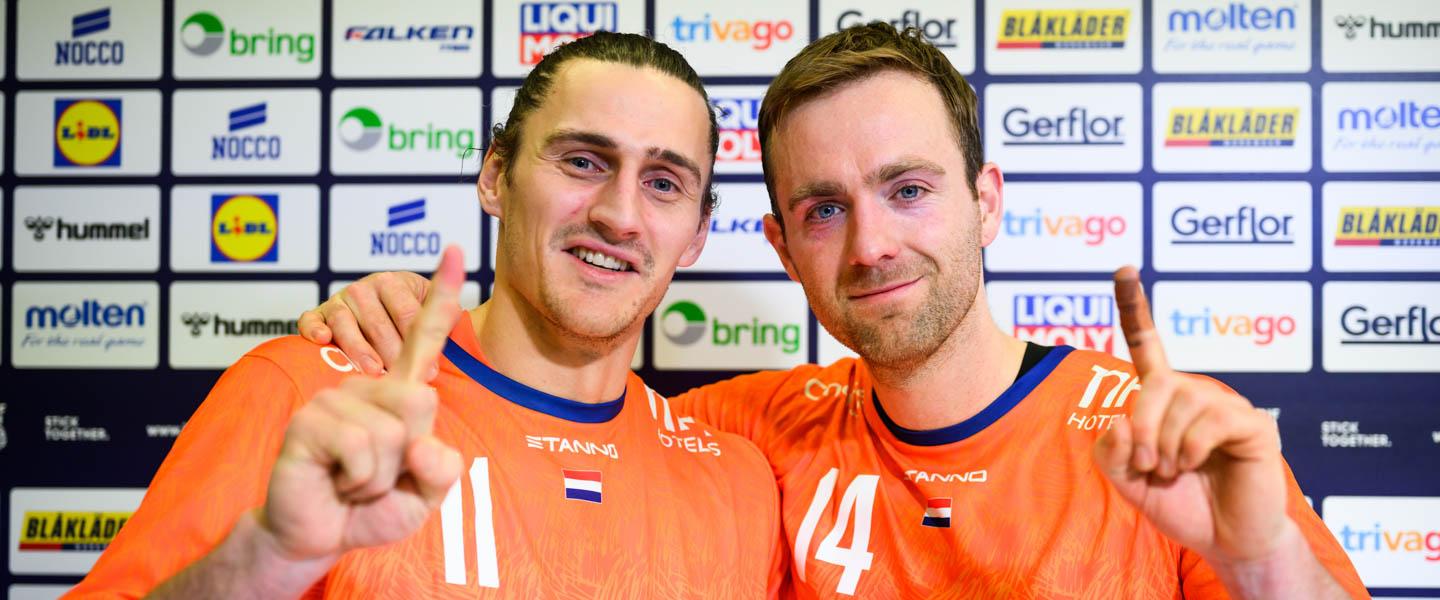 The fourth edition of the IHF Men's World Championship took place in Germany 62 years ago.
Won by Romania, who were coached by Oprea Vlase and Niculae Nedeff, the Netherlands were one of the 12 teams who participated. 
Their campaign was short-lived, though. An opening loss against hosts Germany (7:33) was followed by a defeat against France (11:21) in preliminary group B, and they were out of contention.
But little did the Dutch think back then that it would take another 62 years before they would appear at the global event again.
A 'wild' way to Poland/Sweden 2023
Their first chance to qualify for the 2023 IHF Men's World Championships came in April 2022, when they faced Portugal in a two-legged qualification play-off.
It was all going well after the first leg in Portugal, the Dutch taking a 33:30 victory, but the return leg in Eindhoven a few days later ended in disaster. The Portuguese took a seven-goal win (35:28) to win the tie overall, 65:61.
Chance over? No.
They received a second bite at the apple, and it was by an unexpected route: a Wild Card. The IHF confirmed that route in June 2022. 
With '…the performance level of the men's national handball teams at previous handball events on international and continental level and the general development of handball in the country concerned,' part of the decision-making process, the IHF Council awarded a place to the Netherlands.
In their decision, they described the Netherlands men's side as '…one of the teams on the rise, who have seen a remarkable improvement over the past few years, confirmed by the 10th-place finish at the Men's EHF EURO 2022'.
"We knew when we played Portugal that they have been a really good team for the last five, ten years; they even played at the Olympic Games. We knew it would be hard, but in the end we lost by a little bit too many goals at home," explained Netherlands' captain Bobby Schagen to ihf.info.
"We didn't expect the wild card anymore because we're quite a small nation in the handball world, but at the same time, we kind of deserved it; we're up and coming. It was just a positive motivation from the International Handball Federation that they gave us this Wild Card."
Six decades of waiting, finally over
With that motivation, the scene was set for the Dutch with an opening match against Argentina at the Tauron Arena in Krakow, Poland. 
And it all went to plan for the team in orange.
Led from the back by a hummel player of the match performance from goalkeeper Bart Ravensbergen, the Dutch won by 10 goals (29:19) to record a historic first-ever win at an IHF Men's World Championship.
"I did not expect us to win by such a high margin; it's amazing really," said Dutch player Iso Sluijters to ihf.info about the landmark victory. 
"Argentina are a very good team, but we played amazing defence with a really good goalkeeper behind and it was just a really good match on our part.
"We started making some mistakes towards the end of the first half and missed some shots, so they could make the fast counter, but we never felt like we were really in trouble," he added.
"We kept our confidence. At the smallest, we were in front by three goals, but then in the second half we started directly with a good defence, a good goalkeeper and a good attack. It felt good overall."
Dutch men crossing off their 'to do' list
Sluijters was also part of the other recent Dutch men's national team history – scorer of their first-ever goal at an EHF Men's European Championship in Trondheim, Norway, back in 2020 and understood the context of the result this week against the South Americans.
"I was very happy when I shot that first goal at the first European Championship we ever played, and now we're here at our first World Championship in over 60 years. It just feels amazing," said the GC Amicitia Zürich player.
"I'm getting a little bit older, one of the older guys in the team, so I'm just happy to be here and to be able to experience this. This experience is just amazing. I will just take every positive point and try to keep learning."
Schagen opened the scoring for his side, their first World Championship goal for 62 years, and Sluijters could not have been happier that his captain was the one to do it on an extra-special day.
"It's very special because it was his birthday, along with Ivar Stavast, which makes it even more amazing," said Sluijters, who, like the rest of the squad in the Tauron Arena, were supported vociferously by a passionate section of fans.
"He had some friends from back home," added Sluijters. "All of the guys in the corner were his friends, more or less. So it must have felt amazing for him to score that goal."
"I hope I can have some cake because I am very hungry," joked Schagen. 
"This day couldn't have been better, but the most important thing was that we won, because Argentina are a good team. It was important in our group that we won this match. I'm really happy, and of course I'm 33 years old now, so it feels good. 
"We worked so long for this," added the TBV Lemgo player. "We are a small handball country and got the wild card, so it feels a little bit that we have to prove that we belong here. We did it against Argentina, but we still have to play two matches in this group and we want to qualify for the main round.
"Then we will prove that we are one of the teams that belong here." 
Expert knowledge guiding the way
Leading the Dutch on their quest at Poland/Sweden 2023 is Swedish coach Staffan Olsson, winner of multiple championships both as a player and a coach.
In post since last September, his very first match in charge saw a victory against neighbours Belgium, immediately endearing him to the nation, a reputation now only further enhanced by the moment of history in Poland.
"He's a really relaxed guy, but you always see that he has so much knowledge about handball, the small details. He has so much experience," said Schagen about Olsson.
"For us as Dutch handball players, it's not normal that Staffan Olsson is coaching us. It's really an honour and we try to learn from him.
"It's the only that third week that we have been working with him, so it has to develop a little bit, but we talk a lot," added Schagen about if he, as captain, and the new coach spend a bit of extra time together.
"I give my opinion about the team because I've been in this team since 2009 and I know them. I will try to help him find his way, but I don't need to tell him how handball works."
History made, make some more?
With 112 national team appearances going into Poland/Sweden 2023, Schagen is well-aware not to get too carried away with that opening victory.
"Our goal here is obviously to qualify for the main round," he said. "That will be a huge step for us and from there on we'll see what's possible, what opponents we'll get, but we want to qualify for the main round. That's the next step."
It's a view Sluijters elaborates on.
"We must forget the Argentina match," said the right back. "We can't be too confident because the next match will be North Macedonia and they have a really good and talented team as well. We will just prepare for the next match, the next opponent and just focus on that one.
"Our first goal here was to make it to the main round. We made a very good step against Argentina. In the future, our goals will be the medals, but I think that's a little bit too ambitious now.
"We want to make it to the main round here, and then we will see where we can go."
Inspiring a generation
While the Netherlands' women's team are well-known, with either a World or European Championship medal every year from 2015 to 2019 and two top-five Olympic Games finishes in 2016 and 2021, the men's side are not quite at that level yet.
And Schagen hopes that as his side and teammates become a regular presence on the international stage and continue to win, it will inspire the next generation back home to head to their nearest court and pick up the ball.
"Handball is really popular with little girls back home and I hope that we can prove that it's also a men's sport. It's really important," he said.
"It's an attractive sport, a fast game, and I hope a lot of young guys will come to handball when they see us. We feel that we have to do that; we feel we are the role models."