Double delight for Cameroon
30 May. 2019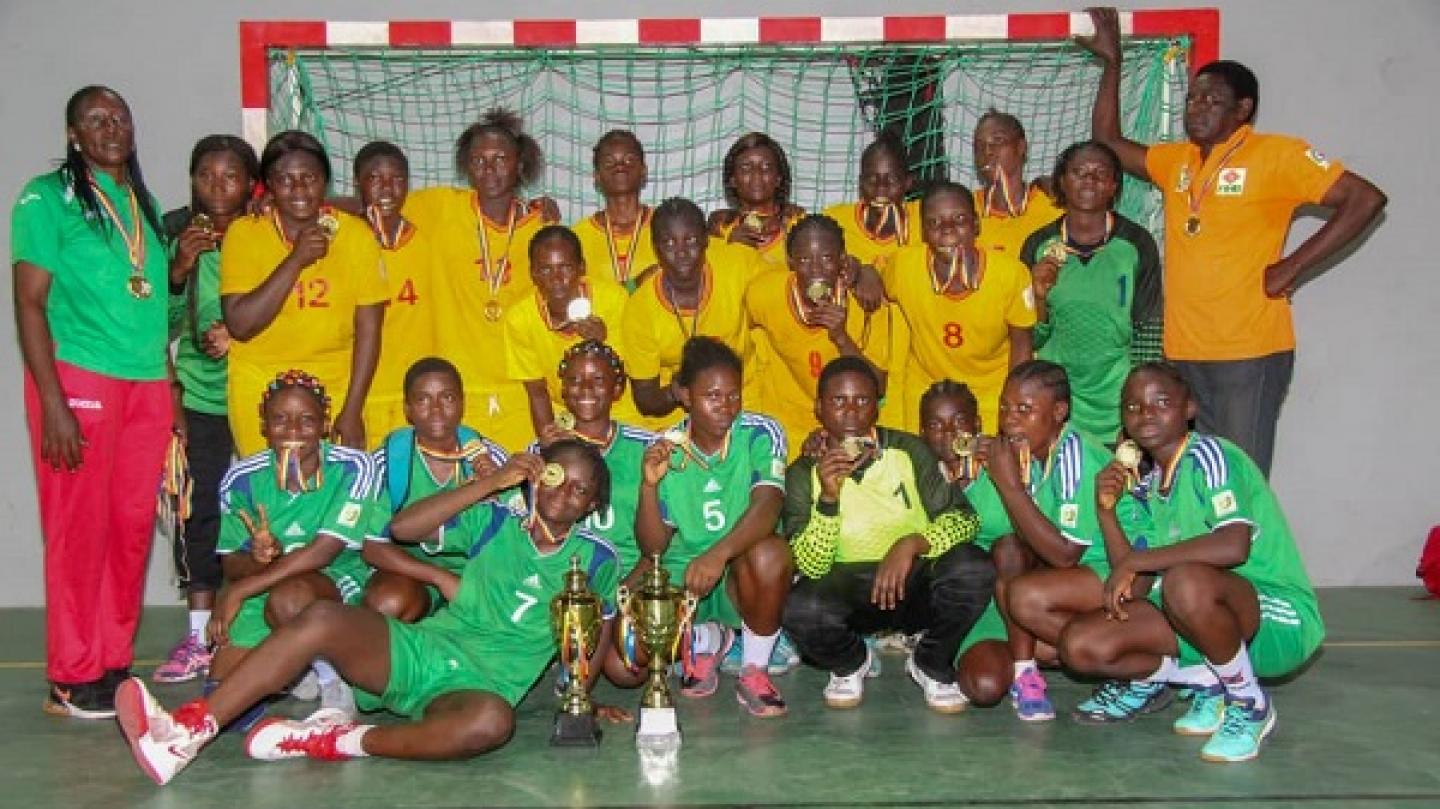 DR Congo's capital city Kinshasa saw four days of match action this past week as teams from across the region in both the youth and junior age categories competed for the 2019 IHF Women's Trophy - Africa Zone IV title.
In the end, both Cameroon teams took gold, beating the host nations in their respective youth (Under 17, born in 2002 and younger) and junior (U19, born in 2000 and younger) finals.
Four nations were competing in the tournament: Central African Republic (CAF), Cameroon (CMR), DR Congo (COD) and Morocco (MAR), but due to their passports not being presented correctly, the Central African Republic (CAF) were allowed to compete, but not able to be ranked, and the late arrival of the Cameroon youth team saw them forfeit their first game, against CAF.
All games were played at the Kinshasa Renes French School (Lycée Francais de Kinshasa Renes) hall and an outdoor court, Tata Rafael Ground (Terrain Tata Rafael) with games outside reduced to two halves of 25 minutes each due to climatic conditions.
Both the junior and youth competitions were played in a round-robin league format, with all teams playing each other once. The top two in each group will then played off for the gold medal and third and fourth place for bronze.
Following the completion of the preliminary group stage, DR Congo topped their group with three wins out of three and a goal difference of +43, followed by Central African Republic, Cameroon and Morocco, with two points each.
In the junior competition, the host nation were also top with six points out of six and a goal difference of +39, in second spot was Cameroon with four points (+50 goal difference), followed by Morocco, on two points and Central African Republic on zero.
The two bronze medal matches saw Morocco take on Central African Republic and it was the Moroccans who grabbed both medals on offer. Firstly, their youth side easily won 18:8, but it was a different story in the junior final as it took seven-metre throws to separate the two teams who could not be separated in normal time. In the end Morocco ran out 27:26 winners.
The final saw the host nation fans expect a double gold medal performance as their teams took on Cameroon in the finals as both their junior (31:23) and youth teams (20:17) had beaten the Cameroonian teams in the Preliminary Group stage.
However, it was not to be as a massive swing in form saw Cameroon's youth side take a 13:7 in the first half, before winning 21:17, while the junior team won by eight goals (30:22), having gone four goals up at the break (13:9).
With their victories, both Cameroon teams have now qualified through to the African continental phase of the IHF Women's Trophy 2019-20 to be held in the future, with the winners of that then qualifying through to the IHF Women's Trophy - Intercontinental Phase.

RANKING
Youth (U17) Competition
1 Cameroon
2 DR Congo
3 Morocco
4 Central African Republic

Junior (U19) Competition
1 Cameroon
2 DR Congo
3 Morocco
4 Central African Republic

RESULTS
Wednesday 22 May
Youth (U17) Competition
CAF vs CMR Forfeited, due to late arrival of CMR
COD vs MAR 31:3 (17:0)

Junior (U19) Competition
MAR vs CAF 28:21 (13:11)
COD vs CMR 31:23 (16:13)

Thursday 23 May
Youth (U17) Competition
CMR vs MAR 26:10 (11:6)
CAF vs COD 8:20 (2:10)
Junior (U19) Competition
CAF vs CMR 13:28 (2:11)
COD vs MAR 29:15 (14:4)

Friday 24 May

Youth (U17) Competition
MAR vs CAF 21:16 (7:7)
COD vs CMR 20:17 (13:9)

Junior (U19) Competition
CMR vs MAR 29:17 (15:7)
CAF vs COD 13:30 (7:15)

Saturday 25 May
Rest Day
Sunday 26 May

Youth (U17) Competition
Bronze Medal: MAR vs CAF 18:8 (12:4)
Gold Medal: CMR vs COD 21:17 (13:7)

Junior (U19) Competition
Bronze Medal: CAF vs MAR 25:26 (7:10)
Gold Medal: COD vs CMR 22:30 (9:13)