Iceland, Montenegro, Morocco and Sweden clinch first places in the groups of the President's Cup
08 Aug. 2023
Iceland, Montenegro, Morocco and Sweden are the winners of the four groups of the President's Cup, as this phase of the competition at the 2023 IHF Men's Youth World Championship finished on Tuesday afternoon in four venues throughout Croatia.
 
By winning with a four-goal margin (26:22), Morocco sealed the first place in Group I, with an advantage of a single goal against Algeria, with a topsy-turvy game finishing in a huge win for Morocco.
 
Sweden delivered the clearest win, 42:26 against Argentina, while Iceland earned their second win in the group (34:28) against Bahrain, clearly dominating their opponent.
 
Montenegro also worked hard to secure their second win in a row, 24:21 against Chile, after winning by a single goal against Mexico on Monday, with this result securing the first place in Group III.
 
The four teams will now all head to the Placement Matches 17-20, being the only ones with a standing chance to clinch the trophy at the end of the competition.
 
President's Cup
Algeria vs Morocco 22:26 (10:12)
 
To be able to ensure that they finish first in the group, Algeria had a simple task in the all-African clash against Morocco, to avoid a loss by at least four goals. But the start was patchy for Algeria, who conceded four consecutive goals to see themselves down 4:0, exactly the margin that Morocco needed to ensure the first place for themselves.
 
With backs Abdellah Razgui and Lbachir Mansouri combining for 10 goals in the first half, Morocco were firmly in control of the game, but Algeria gave some warning signs, managing to cut the gap to a single goal for the first time in the 26th minute (9:10), cleverly manoeuvring the game.
 
Wing Abdelouahab Djemati was particularly impressive for Algeria, scoring seven goals in the first 34 minutes, as the African side struggled to keep the game under control, definitely making too many turnovers in crucial moments when they could have tied the score.
 
It was a topsy-turvy match, with mistakes by each side being punished, as Morocco first took a four-goal lead, 19:15, in the 45th minute, thanks to the powerful shots made by Abdellah Razgui, only for Algeria to cut that gap to a single goal (22:21) with six minutes to go.
 
But Morocco proved to be stronger, finishing the game with a 4:1 run to clinch the first place by the finest of margins after wing Noam Bernard El Ouadrhiri scored a spin shot with 24 seconds to go, bringing the 26:22 win.
 
A three-way tie ensued in the group, with Morocco boasting the best goal difference, +3, followed by Algeria, +2. Therefore Morocco clinched the first place by a single goal, much to Algeria's disappointment, and will head to the Placement Matches 17-20, with Algeria going to feature in the Placement Matches 21-24.
 
hummel Player of the Match: Abdellah Razgui (Morocco)
Iceland vs Bahrain 34:28 (19:13)
 
A 3:0 Bahrain run early in the first half set up the Asian team for a two-goal lead (6:4), as Iceland were left reeling by the plethora of turnovers and misses in their attack to start the game. It was the moment when the European side needed to prove that they learnt something from their losses against Czechia and Egypt and indeed they did, wrestling back the control of the game.
 
The pivotal moment of the match was a 5:0 unanswered run from the 19th to the 23rd minute, when Iceland shut down Bahrain, forcing turnovers from the Asian side with a sturdy defence which stopped every possible try from their opponents. From an 11:10 scoreline, Iceland established a six-goal gap, 16:10, a lead which they kept until the break.
 
With Reynir Thór Stefánsson in fine form, scoring six goals and dishing six assists, the gap grew even bigger in the second half to seven goals, but Bahrain pulled no punches and tried to mount a comeback, falling short however, due to Iceland's efficiency in attack.
 
A 34:28 win for the European side was enough to see them on the first place in the group, confirming Iceland's strength. Iceland secured the first place and will now head to the Placement Matches 17-20, where they aim to clinch the President's Cup, bouncing back after a disappointing start in the competition.
 
In a three-way tie with fellow Asian sides, the Republic of Korea and Japan, Bahrain ended up on the last place, with a -8 goal difference, as opposed to Japan (+5) and Korea (+3), heading now to the Placement Matches 29-32, trying to avoid finishing on the last position, after a four-game losing streak.
 
hummel Player of the Match: Reynir Thór Stefánsson (Iceland)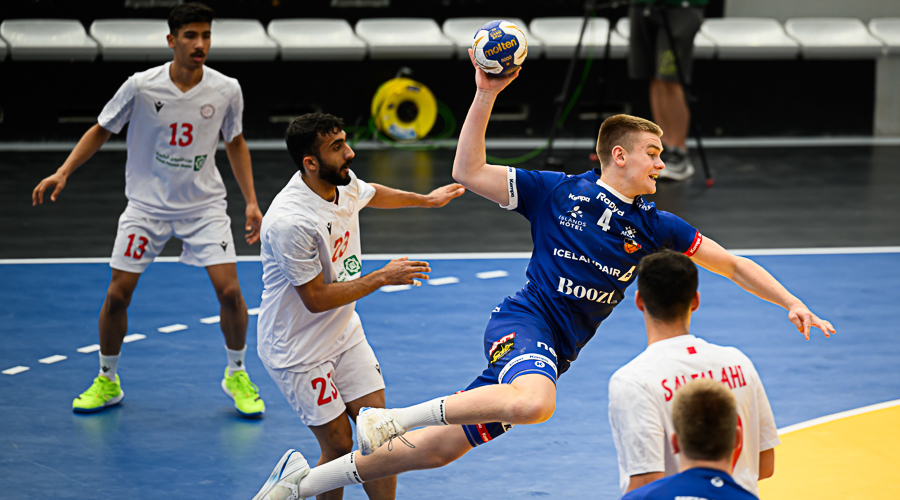 Chile vs Montenegro 21:24 (10:13)
After beating Mexico by just one goal (28:27) on Monday, Montenegro recorded another hard-fought victory, this time against Chile. So the Balkan team finished top of Group III and will continue fighting for the President's Cup in the Placement Matches 17-20.
Meanwhile, Chile, who broke a streak of two consecutive wins, became runners-up of the group. The South Americans proceeded to the Placement Matches 21-24, hoping to return to the winning track on Thursday. 
Darko Durkovic and Milorad Bakic became Montenegro's best scorers with six goals each, and the Europeans did particularly well in defence. Their goalkeeper Lazar Sredanovic made seven saves in the first half and added two more at the break, while Savo Vujovic, who replaced him, boasted a 50% save rate.
At Chile, Fernando Castillo did a decent job in attack once again, ending the game with six goals. His impact helped the South Americans move the score from 0:2 to 4:2 early in the match, but their lead did not last long. Montenegro gained an advantage slowly but steadily, which resulted in their three-goal cushion at half-time.
Both teams produced an equal number of shots in this match (41), and although their shot efficiency left much to be desired, Montenegro's 59% was better than Chile's 51%. After the restart, Chile tried to fight back and reduced the gap to just one goal several times, but the Europeans used a 3:0 run to take a 20:16 lead and ultimately clinched a win.
 
hummel player of the Match: Milorad Bakic (Montenegro)
Argentina vs Sweden 29:42 (10:21)
Sweden extended their winning streak in the President's Cup and will fight for the ranking from 17th to 20th place. After a surprising draw with the Islamic Republic of Iran and defeat against the Faroe Islands, Swedish players proved to be a powerhouse of the President's Cup. It took them only 15 minutes to gain the lead, which Argentina couldn't catch.
Sweden showed their determination already from the first minute, opening the game with four straight goals. Argentina were having trouble in the attack welcoming their first goal in the fifth minute as their top scorer, Lucas Obregon Gomez, netted for 4:1. For a short period of time, it looked like Argentina could tie a game, but Arvid Norén built the wall on his goal, completely ruining their confidence.
IK Sävehof's goalkeeper had a remarkable performance, closing the first half with 11 saves at 53% save efficiency. Swedish attack just built on that, slowly widening the gap with each passing minute. Having an attack efficiency at only 38% by half-time, Argentinians trailing by 11 didn't come as a surprise.
Not much changed in the second half as Sweden were galloping to a 40-goal mark and a new win. 11 out of 12 field players netted at least once, with Love Sundewall and Linus Gustavsson being the pack leaders with six goals each. Their biggest lead in the game was by 17 goals, but Argentina managed to reduce it in the last ten minutes of the game as the Swedish side was slowly releasing their foot from the pedal.
hummel Player of the Match: Love Sundewall (Sweden)
Photos: Croatia 2023/Kolektiff images