Hungary, Iceland and Republic of Korea all end Croatia 2023 on a high
11 Aug. 2023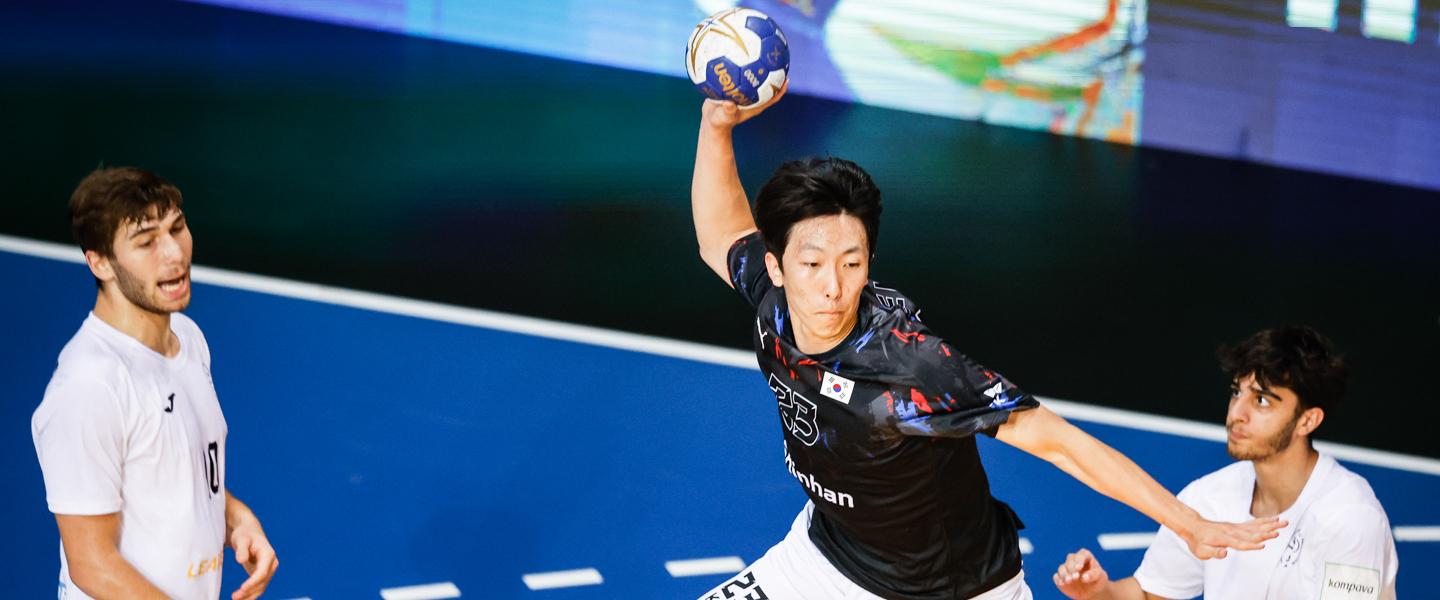 Hungary delivered a strong win against Saudi Arabia (40:24) to finish on the 11th place at the 2023 IHF Men's Youth World Championship, finishing the competition on a high after two winless games.
Iceland also ended up on the 19th place, with a 38:32 win over Montenegro. At the same time, the Republic of Korea returned to secure a 33:30 win against Georgia and finish 25th after starting the competition on a three-game losing streak.
11/12 Placement Match
Hungary vs Saudi Arabia 40:24 (20:10)
Hungary ended their Croatia 2023 campaign with a dominant display against a Saudi side who contributed to their own downfall, turning over the ball numerous times in this 11/12 placement match thanks to 27 technical faults.
There was never any doubt about this result from the opening minutes as the Hungarians raced to a three-goal (5:2) lead within eight minutes. A 6:0 scoring run late on in the first period ensured the game was over as a contest (18:7, 25th minute).
The key to the lead was a strong defensive set-up from Hungary which proved too much for the Saudis to pick apart and when they did, their shooting was off – they managed to put away just over half of their attempts in the 60 minutes.
It was no surprise that Saudi Arabia's right wing Hussain Furaij finished as top-scorer for his team with five goals, cementing himself inside the top four at Croatia 2023, but as a group, they will have to work hard on not making it easy for their opponents to give themselves a chance going forward.
The result for Hungary's men of 11th place represents their lowest-ever ranking at this level (the previous lowest was 10th), while Saudi Arabia's 12th-place finish is their best-ever ranking at this level, beating their previous best of 20th, gained in 2019 on their debut.
hummel Player of the Match: Balázs Szucs (Hungary)
Placement Match 19/20
Montenegro vs Iceland 32:38 (15:18)
Both European teams had lost a chance to reach the President's Cup final on Thursday, but each of them were determined to finish the tournament on a high. In the end, Iceland claimed their fifth win at Croatia 2023 and ranked 19th, while Montenegro, who debuted at this level, took the 20th position.
Iceland again showed their attacking power, as they hit the 30-goal mark in the sixth consecutive game and were just two goals shy of 40 goals. They boasted a 76% shot efficiency, and Elmar Erlingson, elected "hummel Player of the Match", became their top scorer with nine goals.
Montenegro's Filip Gazdic had even more impact – 12 goals from 13 attempts, including five 7m shots. His team also did quite well in attack, yet their 70% shot efficiency was slightly worse than their rivals. Actually, both sides defended worse than they attacked, and the goalkeeping duo of each team made just seven saves. 
The rivals were tied at 5:5 10 minutes into the match, but then Iceland had a 3:0 run, and they kept a three-goal advantage until the break. In the second half, Montenegro hit back and drew level a few times, at 21:21, 22:22, 25:25 and the last time at 28:28 with 13 minutes to go.
But the Balkan side could not pull in front, and Eidur Rafn Valsson stepped up for Iceland, as his impact helped them to pull away again, 35:30 by minute 54. Montenegro had no power left for another comeback, so Iceland won and took the 19th place. 
hummel Player of the Match: Elmar Erlingson (Iceland)
Placement Match 25/26
Georgia vs Republic of Korea 30:33 (18:14)
The Republic of Korea made a comeback against Georgia and secured their third win in a row, finishing Croatia 2023 in 25th place. Even though this is their worst ranking since their first appearance in 2005, Korea were glad to end with a win.
The Republic of Korea tried to impose their rhythm and more of a fast-paced handball, but Georgia were ready for it and shut down Korea's attempts. With a few good saves and defensive reactions, Georgia became the first side to gain a more significant lead (7:4).
Sandro Darsania delivered yet another great performance for his side, having six goals in the first half and setting the five-goal gap between the sides. However, Korea continued to pounce and made three consecutive goals narrowing the gap to only two.
Georgia needed a time-out to rethink their tactics, mainly in defence. While their attack was at 75% efficiency. Korea were able to break their defence from all positions. For a short moment, it helped and Gigi Rukhadze gave his part by saves to get their hands on a 18:14 lead at the break.
The second half brought a completely different game. Korea stepped up a gear and, in ten minutes, managed to level (22:22) as Hyeonmin Kim scored his fifth of the day. Georgia tried to make a run for it, but goalkeeper Subin Kang decided to make the most of the opportunity he was given and, with three saves in a row, brought Korea their first lead in the game.
Despite all Georgia's efforts, they weren't able to make it up for a bad performance from the 35th to 45th minute and thus had to make peace with another defeat at the 10th IHF Men's Youth World Championship. This was Georgia's second appearance at the competition after they finished 20th in the 2017 edition.
hummel Player of the Match: Minjun Lee (Republic of Korea)
Photo: Croatia 2023/Kolektiff images