Korea women's youth continue continental domination
30 Aug. 2019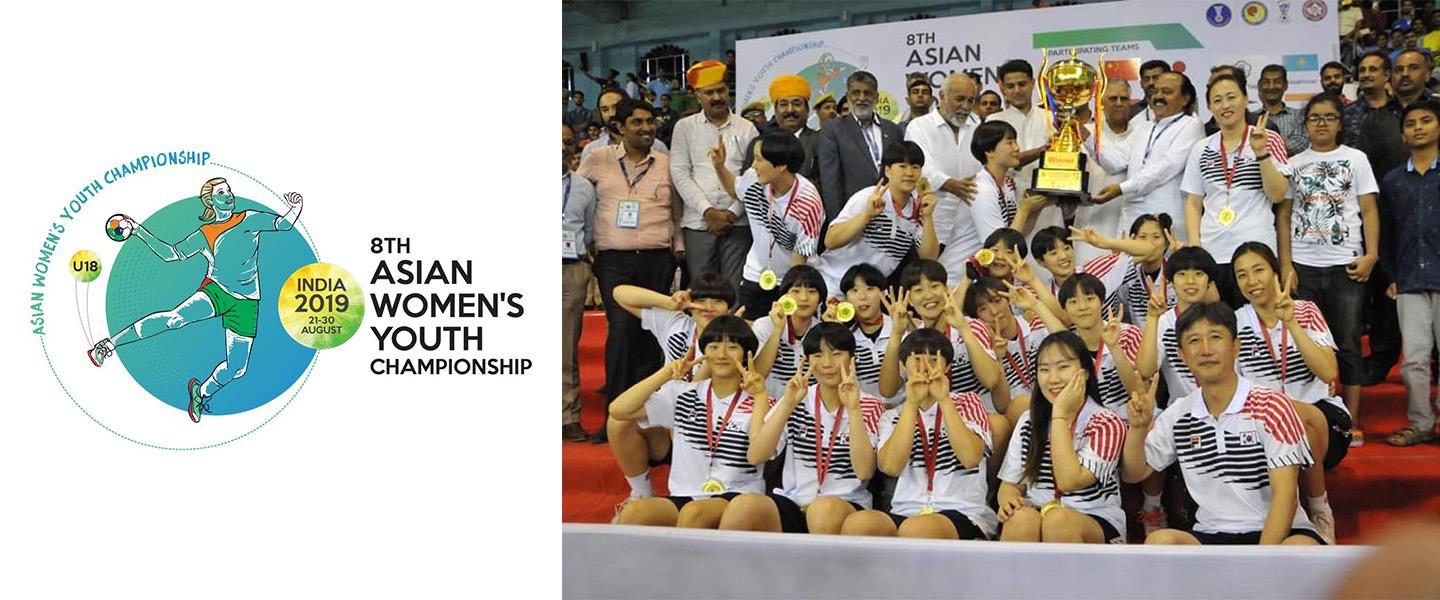 Following eight match days since last Wednesday (21 August), the 2019 AHF Women's Asian Youth (U18) Championship completed in Jaipur, India, today (Friday 30 August).
The 10 nations appearing alongside the hosts India (IND) were Bangladesh (BAN), Republic of Korea (KOR), Uzbekistan (UZB), Chinese Taipei (TPE), Japan (JPN), Mongolia (MGL), Nepal (NEP), P.R. of China (CHN) and Kazakhstan (KAZ).
And it was the Koreans who went home with the gold as they continued their continental domination, winning the 2019 title to make it eight championships out of eight since the biennial championship started back in 2005.
The 10 nations were initially split into two preliminary groups of five teams each before the top two in each moved into the semi-finals and the final itself. 
Korea won all their group matches, against Bangladesh (55:16), Chinese Taipei (38:17), Uzbekistan (40:15) and Japan (35:29), before beating Kazakhstan in the semi-final (45:24) and then China in the final, easily winning (32:14), having restricted their opponents to just five first-half strikes.
Japan went into the competition hoping for a different ranking in 2019, after finishing as runners-up in all previous seven editions, and they got it – but not the one they wanted, as they finished with bronze.
This followed a shock 25:24 defeat in the semi-final against China in a match where they were leading by three at the break (14:11). However, they did manage to grab a medal in the end, defeating Kazakhstan by 20 goals in the 3/4 placement match, 41:21.
All 29 games were played at the Sawai Mansingh Indoor Stadium which welcomed competition debutants Mongolia, Bangladesh and Nepal. And out of the new nations stepping onto the continental stage, it was the Nepalese who excelled, making history as they won their first-ever match, beating Mongolia 24:22 in the preliminary stage, while Bangladesh also took their maiden victory, also defeating Mongolia, in the 9/10 placement match.
Besides China as hosts of the 2020 IHF Women's Youth World Championship, the teams from Korea, Japan, Kazakhstan and Uzbekistan have qualified directly to the event.
For further details and results visit asianhandball.org.
FINAL RANKING
1 KOR
2 CHN
3 JPN
4 KAZ
5 UZB
6 TPE
7 IND
8 NEP
9 BAN
10 MGL
RESULTS
Preliminary Round
Preliminary Group A: Korea Republic (KOR), Japan (JPN), Uzbekistan (UZB), Chinese Taipei (TPE), Bangladesh (BAN)
Preliminary Group B: India (IND), China (CHN), Kazakhstan (KAZ), Nepal (NEP), Mongolia (MGL)
Wednesday 21 August
NEP vs CHN 6:47 (1:24)
TPE vs JPN 22:37 (12:19)
MGL vs IND 16:58 (7:27)
BAN vs KOR 16:55 (9:23)
Thursday 22 August
UZB vs JPN 22:40 (13:20)
KAZ vs CHN 25:32 (8:16)
TPE vs KOR 17:38 (11:16)
NEP vs IND 6:36 (5:16)
Friday 23 August
CHN vs MGL 38:8 (23:5)
TPE vs UZB 30:26 (17:12)
JPN vs BAN 45:9 (29:5)
NEP vs KAZ 15:46 (8:18)
Saturday 24 August
Rest Day
Sunday 25 August
BAN vs TPE 16:33 (7:17)
MGL vs NEP 22:24 (7:12)
UZB vs KOR 15:40 (11:22)
KAZ vs IND 40:30 (16:13)
Monday 26 August
BAN vs UZB 16:43 (5:22)
MGL vs KAZ 10:48 (3:28)
KOR vs JPN 35:29 (19:13)
IND vs CHN 24:42 (12:22)
Tuesday 27 August
Rest Day
Wednesday 28 August
9/10 Placement Match: BAN vs MGL 36:17 (17:8)
5-8 Placement Round: TPE vs NEP 38:4 (15:2)
5-8 Placement Round: IND vs UZB 34:35 (18:15)
Semi-Final: KOR vs KAZ 45:24 (24:10)
Semi-Final: CHN vs JPN 25:24 (11:14)
Thursday 29 August
7/8 Placement Match: NEP vs IND 0:0
5/6 Placement Match: TPE vs UZB 32:33 (21:16)
Friday 30 August
3/4 Placement/Bronze Medal Match: KAZ vs JPN 21:41 (13:16)
Final/Gold Medal Match: KOR vs CHN 32:14 (15:5)
 
Photo: Asian Handball Federation