Uzbekistan dominant in Asia Zone III
14 May. 2019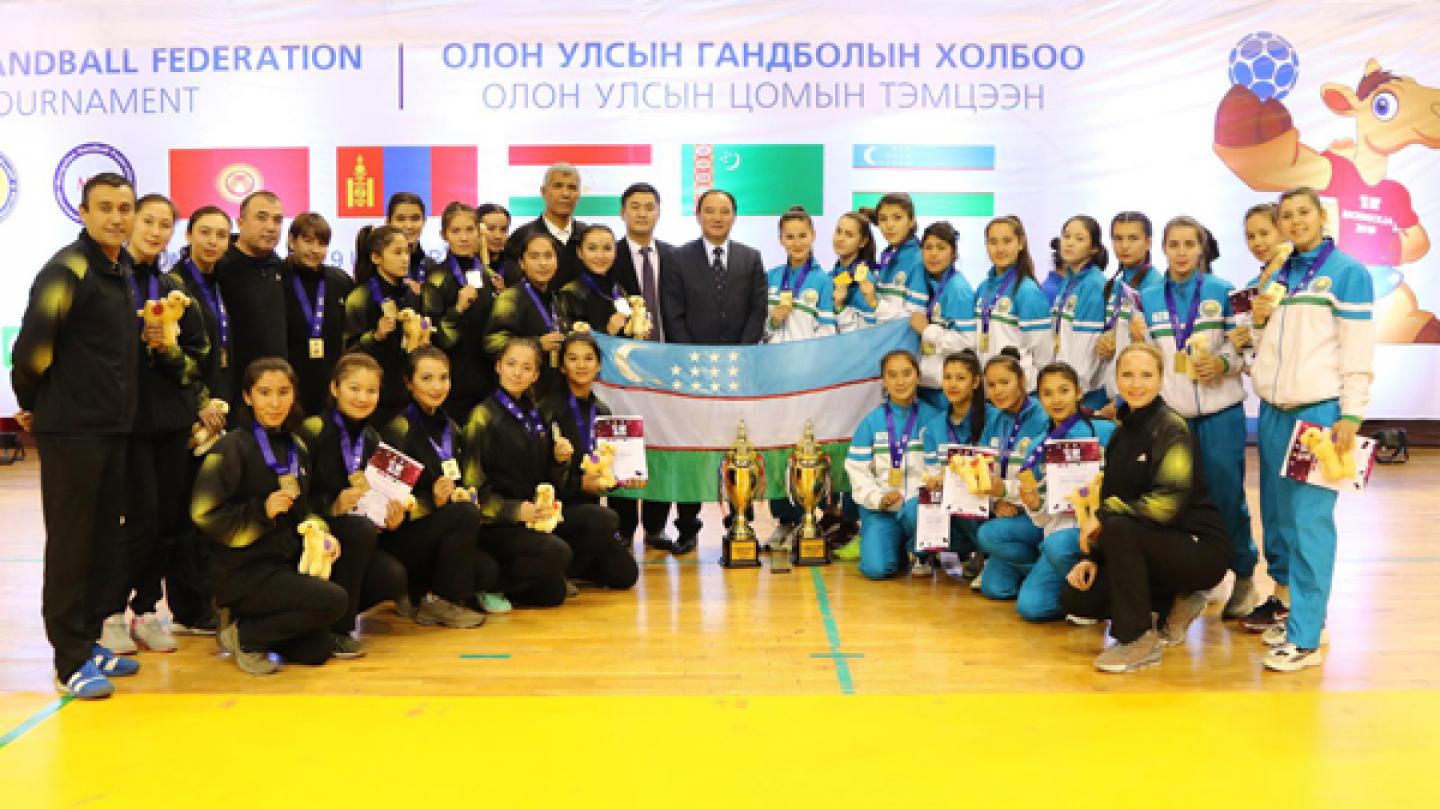 The Asia Zone III (Central Asia) IHF Women's Trophy recently concluded in Mongolia's capital city Ulaanbaatar, with Uzbekistan taking both the youth (Under 17, players born in 2002 and younger) and junior (U19, born in 2000 and younger) titles and, with them, a ticket to the continental phase to be held later this year.
Competing alongside Uzbekistan (UZB) were Kyrgyzstan (KGZ), Tajikistan (TJK), Turkmenistan (TKM) and the hosts, Mongolia (MGL) and all five nations fielded teams in both age groups at the developmental tournament which was the first taste of international handball for many of the players.
Both competitions were played in a round-robin league format and Uzbekistan continued their dominance in the second half of the tournament, following an impressive first few matchdays. 
Last Wednesday (8 May) Uzbekistan's youth side defeated Turkmenistan 37:22 (16:12) in what would eventually prove to be the title decider. 12 goals from centre back Ozodakhon Khudoyberdieva, backed up with 10 strikes by team-mate and fellow centre back Darya Valeeva, ensured the win for the Uzbek side, despite 10 goals from Turkmenistan's left back, Diana Yeremeyeva.
The penultimate matchday (9 May) saw both home sides beat Tajikistan easily, while the junior Uzbekistan team won their 'title decider' against Turkmenistan easier than their youth side did, 43:20 (21:9).
And, despite the home fans knowing both their teams could not win gold on the final day (10 May), their youth side put on a very impressive performance in the tightest match of the whole tournament, showing great fight to take Turkmenistan into the half-time break all-square (17:17). But, in the end, Yeremeyeva was again the danger, scoring 16 times to cancel out the best efforts of the home nation's Ariunsuvd Ganbold, who struck 10 times.
Two easy wins for both Uzbekistan sides later confirmed their double golds in the tournament which ended with a clear win for the hosts' junior side, against Kyrgyzstan. 
In the junior competition, the final table saw Uzbekistan top with eight points from four wins out of four and a goal difference of +194, while Turkmenistan came in second with six points and +104 goals to their name. Third was the host nation Mongolia with four points (+63), fourth Tajikistan (two points, -130) and in last spot was Kyrgyzstan who lost all four games.
The top three were the same in the youth tournament with exactly the same positions and points. Uzbekistan grabbed their second title, complete with a goal difference of +129. Second-placed Turkmenistan (+56), were followed by the hosts Mongolia (+33), but with a win over Tajikistan, Kyrgyzstan's youth ensured each nation in Mongolia could return home with at least one win between their two teams each.
Top scorer in the junior competition was Uzbekistan's left wing Charos Obidjonova, with 43 goals, closely followed by Turkmenistan's Ayparcha Rejebova (40 goals) and her teammate Malika Kurbanova (38). The U17s goalscoring list was topped by Turkmenistan's Yeremeyeva (38), then Uzbekistan's Valeeva (36) and Khudoyberdieva (35).
Following the conclusion of the games at the Buyant-Ukhaa Sports Palace in the Khan-Uul district of Ulaanbaatar, an awards ceremony took place with IHF officials joined by official representatives from the Mongolian Ministry of Education, Culture, Science and Sport, Organising Committee, Mongolian Handball Federation, and sponsors.
In his closing speech, the Mongolian Handball Federation President, Mr. Jargalsaikhan D., expressed his sincere gratitude to all participating countries and IHF officials as well as the Ministry of Education, Culture, Science and Sport, all supporting organisations, volunteers, and spectators.
"The 2019 IHF Women's Trophy here has helped bring advanced handball development to these Central Asian teams with matches between players from emerging handball nations," he concluded.
Later on, a closing gala dinner was held with all those involved celebrating their achievements and showcasing their country-specific singing and dancing.
Both Uzbekistan junior and youth teams are now qualified though to the Asian continental phase of the IHF Women's Trophy 2019-2020, with the eventual winners of that qualifying through to the IHF Women's Trophy- Intercontinental Phase.
For junior teams only, the intercontinental phase has been upgraded to a qualification event for the 2020 IHF Women's Junior World Championship, set to take place in Romania.
For further information, visit the Mongolian Handball Federation official website at: http://www.handball.mn.
FINAL RANKING
Youth Competition (U17)
1 – Uzbekistan
2 – Turkmenistan
3 – Mongolia 
4 – Kyrgyzstan
5 – Tajikistan
Junior Competition (U19)
1 – Uzbekistan
2 – Turkmenistan
3 – Mongolia 
4 – Tajikistan
5 – Kyrgyzstan
RESULTS: Matchday 3-5
Wednesday 8 May
TKM vs UZB (Youth) 22:37 (12:16)
TJK vs KGZ (Junior) 26:14 (11:8)
           
Thursday 9 May
KGZ vs TKM (Youth) 9:34 (4:21)
MGL vs TJK (Junior) 54:16 (26:9)
MGL vs TJK (Youth) 34:7 (14:4)
UZB vs TKM (Junior) 43:20 (21:9)
Friday 10 May
TKM vs MGL (Youth) 33:27 (17:17)
TJK vs UZB (Junior) 3:54 (1:28)
UZB vs KGZ (Youth) 51:10 (25:5)
KGZ vs MGL (Junior) 5:68 (4:33)
Previous Results
Monday 6 May
MGL vs UZB (Youth) 21:40 (8:13)
UZB vs KGZ (Junior) 93:0 (42:0)
TJK vs TKM (Youth) 5:45
TKM vs TJK (Junior) 62:9
Tuesday 7 May
KGZ vs MGL (Youth) 11:42 (4:23)
MGL vs UZB (Junior) 21:48 (11:19)
UZB vs TJK (Youth) 58:4
KGZ vs TKM (Junior) 4:67 (1:30)
Wednesday 8 May
TJK vs KGZ (Youth) 6:29 (2:14)
TKM vs MGL (Junior) 39:28 (17:11)
Photos: Mongolian Handball Federation