A year on from home success, progress made?
04 Oct. 2018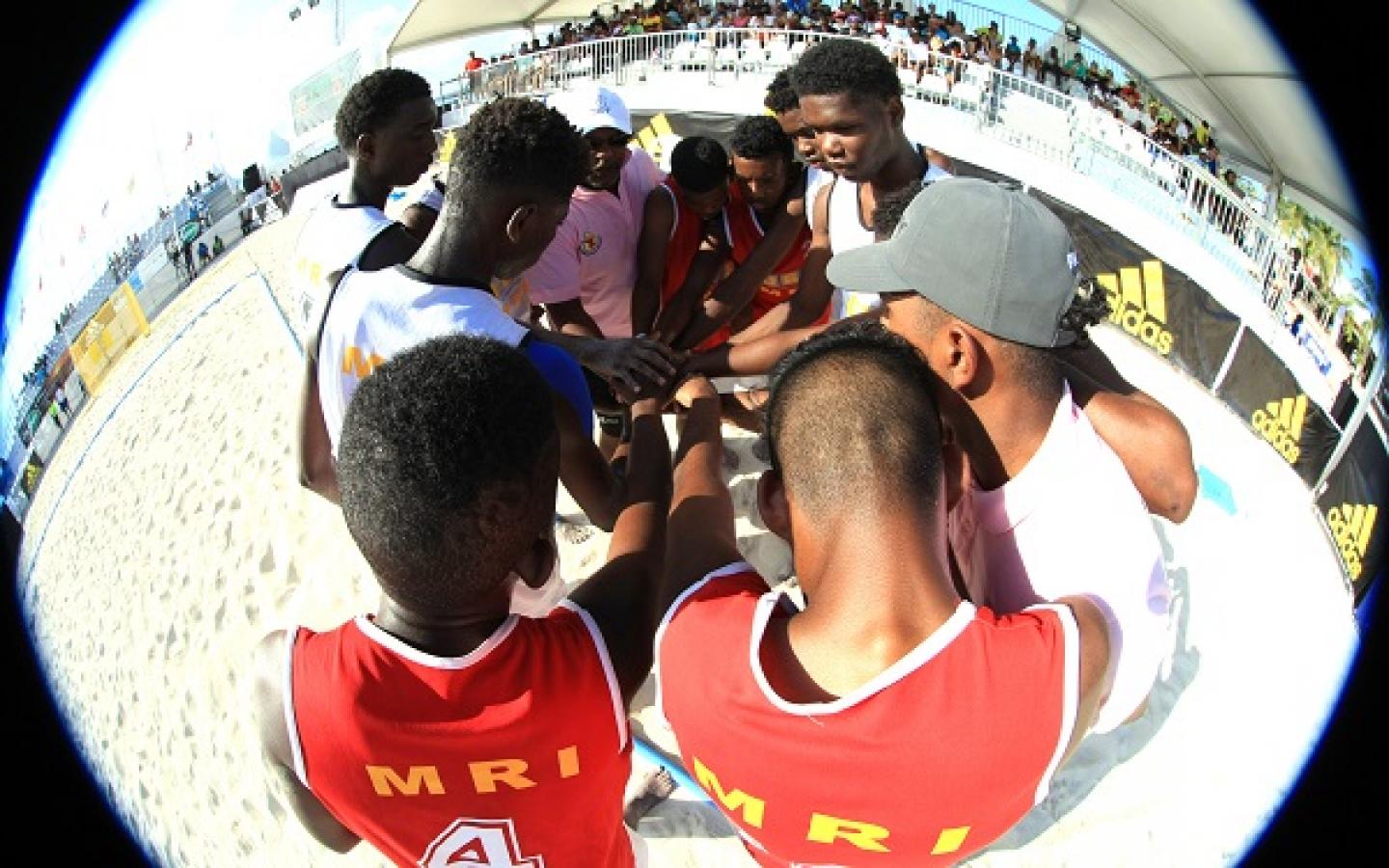 Men: Mauritius (MRI)
Coach: Sheron Raboud-Amoordon
Key Players: Jason CLAIR (left wing), Jean ROMAIN (right wing), David THOMAS (pivot), Michel JOSON (defensive specialist)
Path to Buenos Aires 2018: 2017 IHF Men's U17 Beach Handball World Championship – 12th
The 12th place gained on home sand at the first-ever 2017 IHF Men's U17 Beach Handball World Championship ensured the Mauritian men qualified through to Buenos Aires 2018 as the top-ranked African team, ahead of South Africa and Togo.
After Brazil withdrew from competing before the tournament it meant that all three teams in their preliminary group on Flic-en-Flac beach in the African island nation directly qualified through to the main round before a ball had been thrown, but Mauritius were unable to end the first stage with a win after losing 2:0 to Chinese Taipei and Pakistan.
Further 2:0 losses against Russia, Thailand and Venezuela in their three main round games saw the home team go through to the 9-15 placement round where they beat New Zealand 2:0 to record their first ever win. But another 2:0 loss against Pakistan was then followed by a 2:0 defeat against Venezuela in the 11/12 placement match – although their qualification for Buenos Aires was already secured.
Coach Sheron Raboud-Amoordon will oversee both the Mauritian men's and women's teams in Buenos Aires after being the assistant coach at the 2017 World Championships. A handball player for over 20 years, she participated in various Indian Ocean club tournaments and was champion for seven consecutive years in the local handball championship as well as being captain of the national team at the 2015 Indian Island Ocean Games in Reunion.
After attending several coaching courses back in 2003, Raboud-Amoordon started coaching at youth level with the Mauritius boys' and girls' teams aged 11-15 years old back in 2003 after. In 2016 she participated in an IHF Beach Handball course as part of the IHF Trophy delivered by IHF Lecturer Davor Rakovec and then coach the women's U21 national team at the IHF Trophy in 2010 and 2014.
"Our national team has young players with little experience," said Raboud-Amoordon to IHF.info. "They do not have the opportunity to participate in tournaments and international competitions, but they have made a lot of progress during the past weeks.

"They are all motivated to give the best of themselves, to play well during the competition and to win at least one match."

Many of the boys named in the squad for Buenos Aires have experience from the 2017 World Championship, which saw the team of nine players consist of two players from Mauritius island itself and seven from Rodrigues Island, which is part of the Mauritius territory, east of Mauritius island itself, and will go into their group B clashes with Argentina, Portugal, Italy, Paraguay and Croatia looking to perform to their very best.

"The teams in our groups are great teams with a lot of experience as they participate in tournaments on a regular basis," added Raboud-Amoordon. "They are all used to international competition and have had a long preparation time since their Olympic qualification."

The Mauritian men's team have been training three times a week as part of their preparation, which also included fitness sessions and just before they travelled to Argentina they played in a friendly match against the Mauritian senior team.

Group at Buenos Aires 2018
Group B: Italy (ITA), Argentina (ARG), Portugal (POR), Paraguay (PAR), Mauritius (MRI), Croatia (CRO)
Preliminary Group B: Match Schedule
All times local
Monday 8 October
10:50    POR vs MRI
15:20    MRI vs ITA
Tuesday 9 October
11:40    PAR vs MRI
16:10    ARG vs MRI
Wednesday 10 October
10:50    MRI vs CRO