Double Greek beach handball delight in Mediterranean Beach Games
31 Aug. 2019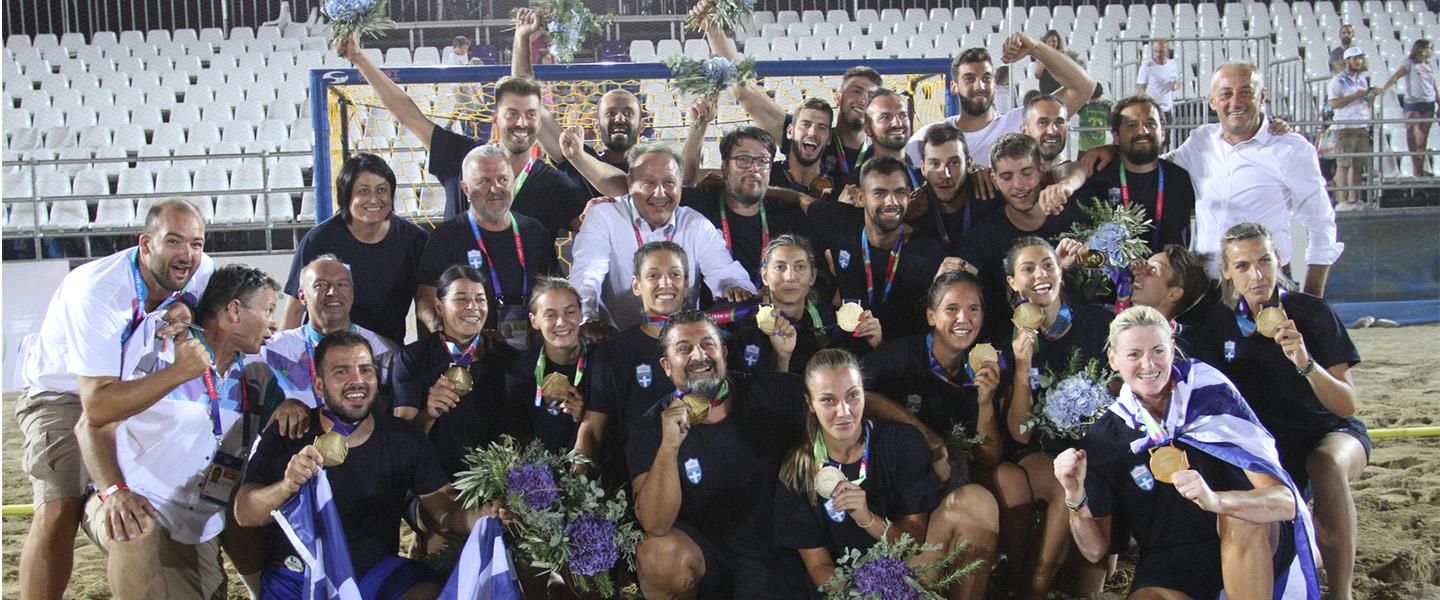 From Saturday 24 to Tuesday 27 August both the men's and women's beach handball competitions took place at the second Mediterranean Beach Games in Patras, Greece, and, in the end, it was a double delight for the home crowd with both Greece teams taking gold.
The women's competition featured Greece (GRE), Italy (ITA), Portugal (POR), Tunisia (TUN) and Cyprus (CYP) with each team playing each other once in a round-robin group before the top four moved directly in the semi-finals and then final.
As world champions, the host nation were strong favourites going into the championship and they did not disappoint beating Tunisia (2-0), Cyprus (2-1) and Portugal (2-1) in the preliminary stage before defeating Tunisia again (2-0) in the semi-finals and then Portugal 2-0 in the final, with a 23:18 first set win and 16:10 second set victory to seal the gold. In the bronze medal match Italy defeated Tunisia 2-0.
The men's competition featured two initial preliminary groups of five teams each with the top four in both going into the quarter-finals before the semi-finals and final. The 10 teams competing were Croatia (CRO), Cyprus (CYP), Egypt (EGY), Albania (ALB), Portugal (POR), Italy (ITA), Malta (MLT), Tunisia (TUN), Morocco (MAR) and Greece (GRE).
Greece won their first three preliminary games against Malta (2-0), Tunisia (2-0) and Morocco (2-1) before losing in a shootout against Italy. In the quarter-finals and semi-finals they won on a shootout, firstly against Cyprus and then Egypt.  In the final against Portugal they won again by shootout. After losing the first set 21:16 they came back to squeeze an 18:16 victory in the second and then comfortably won 6:2 in the shootout decider. In the 3/4 placement match Croatia beat Egypt 2-0 to take bronze.
The event runs every four years with the first edition held in 2015 in Pescara, Italy – the same region where the 2020 IHF Men's and Women's Beach Handball World Championship will be held.
For more information, visit the official Mediterranean Beach Games website at www.mbgpatras2019.gr.
FULL RESULTS AND RANKINGS
Men's Competition
Preliminary Group A: Croatia (CRO), Cyprus (CYP), Egypt (EGY), Albania (ALB), Portugal (POR)
Preliminary Group B: Italy (ITA), Malta (MLT), Tunisia (TUN), Morocco (MAR), Greece (GRE)
Sunday 25 August
CRO vs CYP 2-0
EGY vs ALB 2-0
ITA v MLT 2-0
TUN vs MAR 2-1
CYP vs POR 0-2
ALB vs CRO 0-2
MLT vs GRE 0-2
MAR vs ITA 0-2
Monday 26 August
POR vs EGY 2-1
CYP vs ALB 2-0
GRE vs TUN 2-0
MLT vs MAR 0-2
POR vs ALB 2-0
EGY vs CRO 2-1
TUN vs ITA 2-0
GRE vs MAR 2-1
Tuesday 27 August
CRO vs POR 2-0
EGY vs CYP 2-1
TUN vs MLT 2-0
ITA vs GRE 2-1
Quarter-Final: CRO vs MAR 2-0
Quarter-Final: POR vs TUN 2-0
Quarter-Final: EGY vs ITA 2-0
Quarter-Final: CYP v GRE 1-2
Wednesday 28 August
Placement Round 5-8: MAR vs TUN 2-1
Placement Round 5-8: ITA vs CYP 2:0
Semi-Final: CRO vs POR 1-2
Semi-Final: EGY vs GRE 1-2
9/10 Placement Match: ALB vs MLT 0-2
7/8 Placement Match: TUN vs CYP 2-0
5/6 Placement Match: MAR vs ITA 1-2
3/4 Placement/Bronze Medal Match: CRO vs EGY 2-0
Final/Gold Medal Match: POR vs GRE 1-2
RANKING
1 GRE
2 POR
3 CRO
4 EGY
5 ITA
6 MAR
7 TUN
8 CYP
9 MLT
10 ALB
Women's Competition
Greece (GRE), Italy (ITA), Portugal (POR), Tunisia (TUN), Cyprus (CYP)
Sunday 25 August
GRE vs TUN 2-0
POR vs CYP 2-1
CYP vs GRE 1-2
TUN vs ITA 0-2
Monday 26 August
ITA vs POR 1-2
TUN vs CYP 2-0
ITA vs CYP 2-1
POR vs GRE 1-2
Tuesday 27 August
GRE vs ITA 2-0
POR vs TUN 2-0
Semi-Final: GRE vs TUN 2-0
Semi-Final: POR vs ITA 2-1
Wednesday 28 August
3/4 Placement/Bronze Medal Match: TUN vs ITA 0-2
Final/Gold Medal Match: GRE vs POR 2-0
RANKING
1 GRE
2 POR
3 ITA
4 TUN
5 CYP

Photo: MBG Patras 2019