Great Britain seal historic wins to progress to EHF EURO 2026 Qualifiers Phase 2
17 Jan. 2023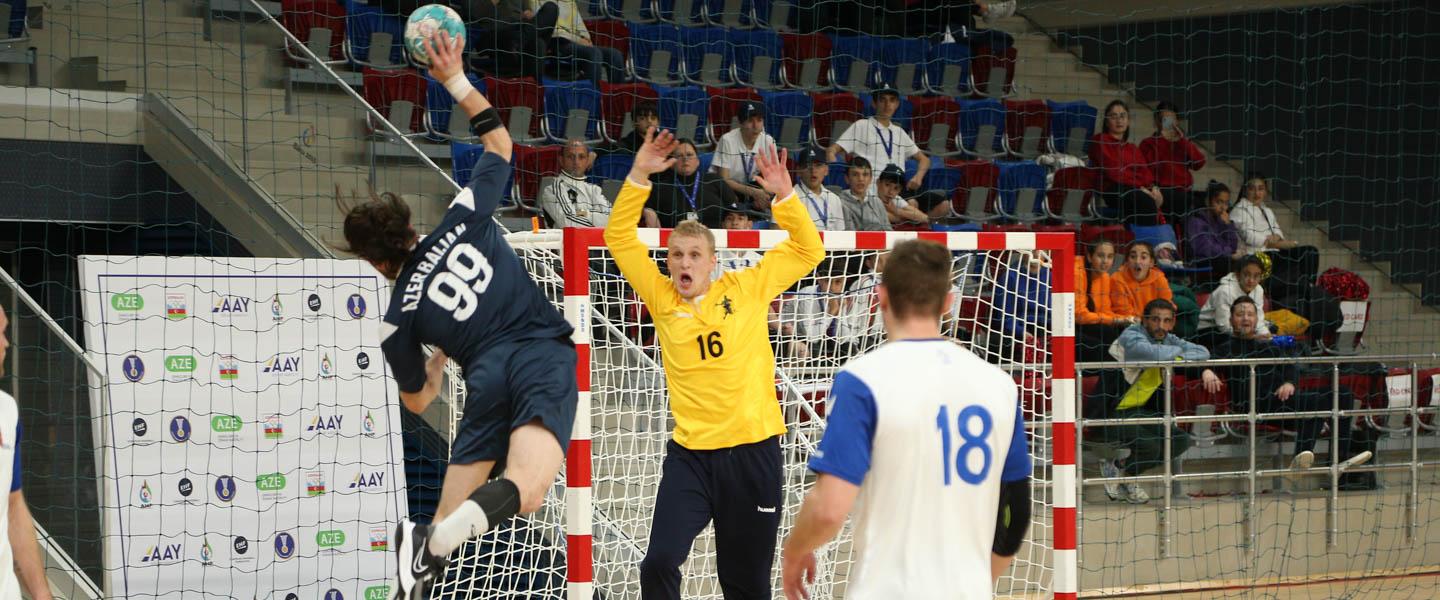 There are still three years separating us from the start of the Men's EHF EURO 2026. Still, the preparations have started for the tournament hosted by Denmark, Norway and Sweden, with the Qualifiers Phase 1 taking place last weekend, in Baku, Azerbaijan, between 13 and 15 January.
Four teams – hosts Azerbaijan, Cyprus, Great Britain and Malta – entered the tournament played in a round-robin format, with only the winners progressing to the next phase, which will see the other European sides vying for 20 reserved places, with the three hosts plus the future EHF EURO 2024 winners already qualified.
Judging by experience, Cyprus were looking to be the team to qualify for the next round of the Qualifiers, but they were shocked on the first day by Great Britain, who underlined their excellent progress in the last few years. Despite leading by as many as three goals (25:22) with three minutes to go, Cyprus conceded a draw (25:25), failing to score a goal.
That meant that if Great Britain and Cyprus won their matches against Azerbaijan and Malta, the goal difference would be the decisive factor in deciding the winner. Therefore, both sides tried to put as much grit as needed in these matches, with Great Britain emerging as the winners.
After the second day, Cyprus had an advantage with a 47:26 win against Malta. At the same time, Great Britain secured a 39:22 win over Azerbaijan, so the decision would be made on the last day of the Qualifiers Phase 1 in Baku.
Eventually, Britain turned the tide and finished the tournament on a high with a clear 44:14 win over Malta, pushing the pedal to the metal in both attack and defence and creating a huge gap which meant the pressure was now on Cyprus to try and match the goal difference set by Great Britain.
But against Azerbaijan, Cyprus started slowly and only got going late in the second half, which set up a crunch second half which saw them winning by nine goals (32:23).
With a +47 goal difference as opposed to Cyprus' +30, Great Britain won the group and progressed to the Qualifiers Phase 2 at the EHF EURO for the first time in history, an excellent performance from an emerging side which is improving year by year thanks to the plan put in place by coach Ricardo Vasconcelos.
Azerbaijan finished third in the tournament with a single win, 34:25, over Malta, while Malta ended up in fourth place with zero points and a -60 goal difference.
Two of Great Britain's players, Francisco Pereira (28 goals) and Sebastian Edgar (25 goals), were the top scorers of the tournament, with Cyprus' captain, Christos Argyrou, finishing in third place with 23 goals.
Photo: European Handball Federation