Clash of European sides highlights packed day 9 at Slovenia 2022
30 Jun. 2022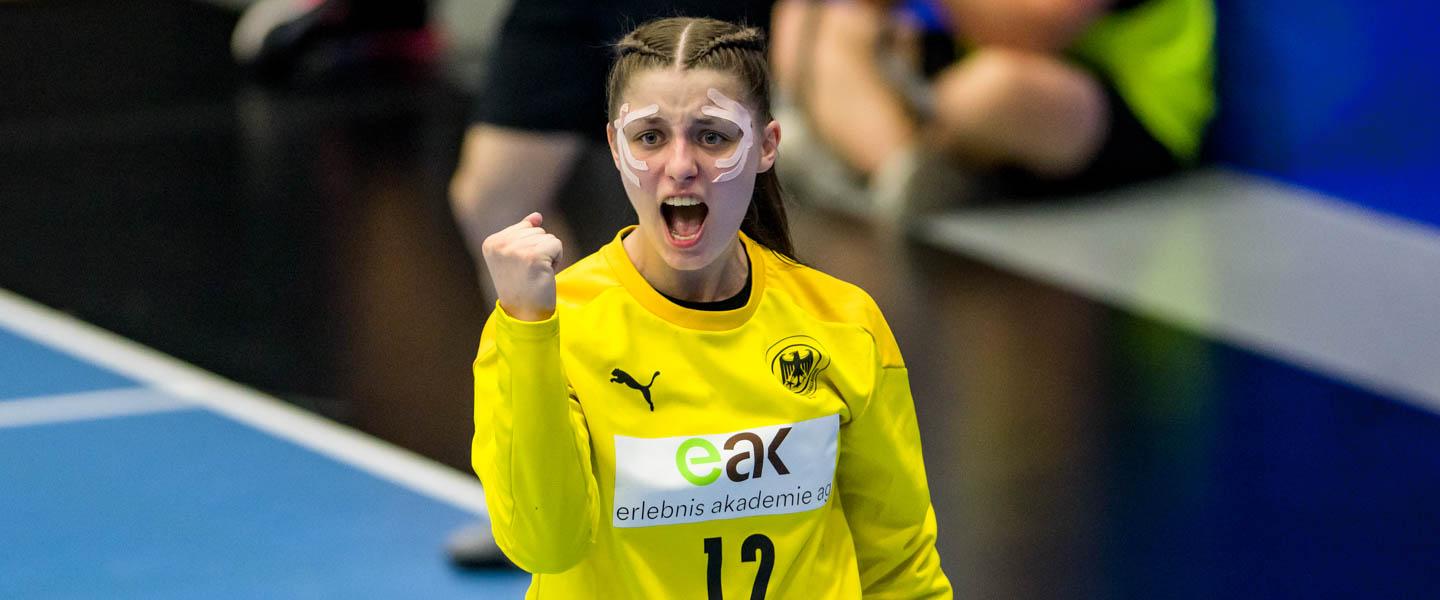 The 23rd edition of the IHF Women's Junior World Championship is slowly reaching its business end, with the four semi-finalist berths being awarded on Thursday, after the conclusion of the quarter-finals.
Seven European sides and one team from Africa are still in contention for the trophy, as reigning champions Hungary face Denmark in the most balanced of clashes, while the silver medallists from Hungary 2018, Norway, are heavily favoured against Switzerland.
Placement matches will also be played on another day when the teams remaining in the competition take the court in Celje in Lasko at Slovenia 2022. Only 31 teams are still present in the tournament after Austria have withdrawn, due to an outbreak of Covid-19 in the squad.
Quarter-finals
Netherlands vs Angola (18:15 CEST, Zlatorog Arena, Celje)
Germany vs Sweden (20:30 CEST, Zlatorog Arena, Celje)
Norway vs Switzerland (18:15 CEST, Golovec Arena, Celje)
Hungary vs Denmark (20:30 CEST, Golovec Arena, Celje)
Despite losing two games on their way to the quarter-finals, against Romania and Germany, Angola became the first African side in history to reach the knockout phase of the IHF Women's Junior World Championship. They will now aim even higher but have lost two key players due to injuries, including centre back Regina Marcos.
But facing an unbeaten Dutch side will probably be their toughest test up to date for Angola, as Ricardo Clarijs' side boast the fourth-best attack in the competition, with 169 scored goals. Netherlands are also looking for their first-ever semi-finals berths in the competition, therefore will be even more motivated to extend their unbeaten run to six games at Slovenia 2022.
Winning Group III of the main round always looked like a difficult proposition for Germany, especially after losing key centre back Lucy Joergens, in their third game at Slovenia 2022 due to a shoulder injury. But after a loss against the Czech Republic, everything seemed to unravel. Bouncing back with a 32:20 win against Angola helped them secure the first place in the group and set up a crunch tie against Sweden in the quarter-finals. "Sweden are one of the contenders for the title, in my book," said Germany's coach, Andre Fuhr, for the official website of the German Handball Federation.
The two sides have also met in the main round of last year's Women's 19 EHF EURO 2021, when Sweden took a 30:25 win, in the same arena, Zlatorog, in Celje. Back then, Sweden's back Tyra Axnér scored nine times, as she will be once again the focal point of the Scandinavian side's attack, after topping the scoring charts for them with 28 goals at Slovenia 2022.
Norway will be heavily favoured against Switzerland, who have just made their comeback in the competition for the first time since 1997 and dropped a huge surprise when they beat Croatia, 22:21, in the preliminary round. Since that moment, six players have been out with Covid-19 symptoms, as their side had to make do in a 32:28 win against Egypt on Tuesday.
The Scandinavian side is one of the three last unbeaten sides still standing in the competition and their collective play has been superb, with 76 of their goals being scored after a teammate's assist. Eyeing their second consecutive final at the IHF Women's Junior World Championship, Norway have won four games and drawn another one, 34:34 against France, on their way to the knock-out phase.
The most balanced quarter-final on paper is the one pitting together the reigning champions, Hungary, and Denmark, a perennial contender for the gold medal. Denmark are on a two-game run without a win, after losing against Norway and drawing against France, but went through from the second place in Group II, the most balanced one in the main round of the entire competition. However, Hungary top the chart both for the number of goals scored – 184 – and for the lowest amount of goals conceded – 81 – after the first five games at Slovenia 2022. Riding a 13-game winning streak dating back to Hungary 2018, the reigning champions are a tough nut to crack, winning all games in Celje by at least 12 goals.
Yet Denmark have also seen a remarkable uptick in their defensive capacities, conceding only 19 goals against France and 22 against Montenegro, with goalkeeper Anna Christine Bossen boasting a 40% saving efficiency throughout the tournament. The Scandinavian side also won the last three games between the two sides, in 2008, 2012 and 2016, holding the advantage in the head-to-head record.
Placement Matches 9/12
Japan vs Czech Republic (14:00 CEST, Zlatorog Arena, Celje)
Montenegro vs Croatia (16:00 CEST, Zlatorog Arena, Celje)
Despite winning both their games in the main round, against Germany and Slovenia, the Czech Republic failed to qualify to the quarter-finals, due to the 11-goal loss against Angola. A pleasant surprise in this tournament, they can still secure their best-ever finish at the IHF Women's World Championship with a win against Japan, who come here after losing two matches.
Montenegro have frustrated France in one of the biggest surprises of the tournament but will have their work cut out against Croatia, who missed the knockout phase due to the loss against Switzerland in the preliminary round. A fiery clash is expected between two sides who always like to give everything on the court.
Placement Matches 13/16
France vs Egypt (14:00 CEST, Golovec Arena, Celje)
Tunisia vs Slovenia (16:00 CEST, Golovec Arena, Celje)
After their strong start, France faltered and are now on a three-game winless streak at Slovenia 2022. The draws against Norway and Denmark really impacted their tournament, but they still have plenty of talent to secure the 13th place, being the favourites both against Egypt and in the last match of this Placement round.
Hosts Slovenia also failed to secure a win in their last three matches, losing against Germany, Angola and the Czech Republic. A win against Tunisia, who themselves lost the last three games, would set up a match against either France or Egypt in the 13/14 Placement match.
Placement Matches 17-20
Slovakia vs Romania (12:00 CEST, Zlatorog Arena, Celje)
Republic of Korea vs Poland (12:30 CEST, Tri Lilije Hall, Lasko)
Romania have won four of five their matches at the tournament so far, but as they failed to reach the main round, they only can find consolation by winning the President's Cup. However, they will have to beat two competitive rivals in order to finish 17th. The first opponents will be Slovakia, who had no problems winning the President's Cup Group I and hope to continue their three-game winning run.
The only non-European team in the 17th place bracket is Korea, and the bronze medalists of the previous edition of the competition are determined to finish on a high. However, so is Poland, who surprisingly lost to Egypt and did not reach the main round, but went on to defeat Austria and Kazakhstan in the President's Cup to finish top of Group IV.
Placement Matches 21-24
Guinea vs Lithuania (14:30 CEST, Tri Lilije Hall, Lasko)
Brazil vs Austria 10:0 (withdrawal)
On Thursday, only one match will be played in the 21st place bracket semi-finals. As Austria withdrew from the tournament following several positive COVID-19 cases in their squad, their game with Brazil was assessed as 10:0 in favour of the South Americans.
So in the 21st place match, Brazil will face either Guinea or Lithuania. The European team looked more confident in the President's Cup, beating Chile by 18 goals and Mexico by 16. In turn, Guinea climbed to the second place in their group after a hard-fought win against India on Tuesday, 40:37. However, it was their first-ever win at this level – and it may boost the Africans' confidence ahead of the next encounter. In any case, the loser of the match Guinea vs Lithuania will take the 23rd place, as their match with Austria will also be assessed as 10:0.
Placement Matches 25-28
India vs Chile (16:30 CEST, Tri Lilije Hall, Lasko)
Argentina vs Kazakhstan (18:30 CEST, Tri Lilije Hall, Lasko)
India have also earned their maiden win at this level – 31:30 against the Islamic Republic of Iran on Sunday. Two days later, even a draw against Guinea would have been enough for the Asian debutants to reach Placement Matches 21-24, but the Indians lost and will now fight for the 25th position. Their next rivals will be Chile, who finished in the 22nd and 20th places in two previous editions of the tournament, but now will take a lower position.
Argentina also hoped to do better, but in the President's Cup, they were defeated by Brazil and the Republic of Korea. Now the South Americans are determined to redeem themselves against Kazakhstan, who ended their four-match losing run on Tuesday by beating the USA.
Placement Matches 29-32
Islamic Republic of Iran vs Mexico (10:00 CEST, Golovec Arena, Celje)
Italy vs United States of America (12:00 CEST, Golovec Arena, Celje)
The Islamic Republic of Iran is the only team in the 29th place bracket to have earned a point in the current competition. In the group phase, they shared spoils with other debutants from Guinea. However, in the President's Cup Group I, they went on to lose against India and Slovakia and now will face Mexico, who have lost five straight matches in the competition.
Italy and the USA, who returned at this level after 39 and 41 years of absence respectively, have also been defeated in all their games at Slovenia 2022 so far. Both rivals had a chance to end these negative runs on Tuesday but lost by two goals against Brazil and Kazakhstan respectively. However, either Italy or the United States team will definitely take their first win today.