Uzbekistan close to double gold in Ulaanbaatar, Mongolia
08 May. 2019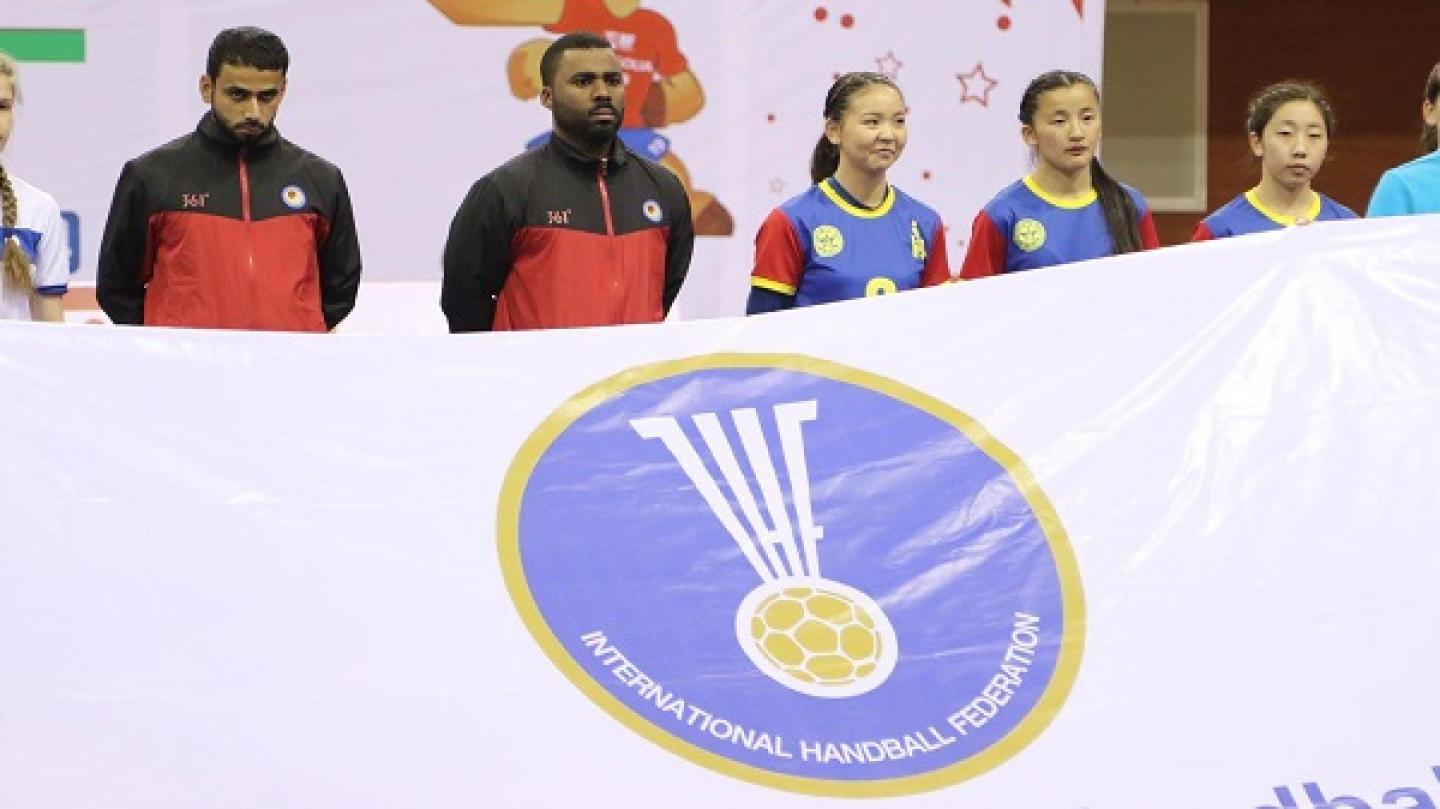 The Asia Zone III (Central Asia) IHF Women's Trophy is exactly at the midway stage after two-and-a-half days' worth of competition in the competition which is scheduled to finish on Friday (10 May).
Mongolia's capital city Ulaanbaatar is hosting the competition for both youth (Under 17, born in 2002 and younger) and junior (U19, born in 2000 and younger) players.
Kyrgyzstan (KGZ), Tajikistan (TJK), Turkmenistan (TKM), Uzbekistan (UZB) and the hosts, Mongolia (MGL) are fielding teams in both age groups of the developmental tournament, with many of the players and teams experiencing their first taste of international handball.
Both competitions are being played in a round-robin league format, with all teams playing each other once and the winner of each respective league crowned champions.
Following an opening ceremony which included traditional Mongolian dancing, musicians and a parade of flags and athletes, the competition got underway in the Buyant-Ukhaa Sports Palace in the Khan-Uul district of Ulaanbaatar with the Uzbekistan youth team dispatching the hosts 40:21, helped by nine strikes from their centre back Ozodakhon Khudoyberdieva.
The next game saw the Uzbekistan junior team defeat Kyrgyzstan, followed by easy wins for Turkmenistan's youth and junior sides against Tajikistan – 45:5 and 62:9 respectively.
The Mongolian youth team managed to overcome their opening day disappointment, defeating Kyrgyzstan 42:11 in the opening match of day two, while the Uzbek youth handed Tajikistan their second defeat in as many games, winning 58:4.
In the junior competition, Mongolia's junior team made their bow, but, just like their youth side, were also handed a heavy defeat, losing 48:21 to Uzbekistan. Kyrgyzstan lost 67:4 to Turkmenistan.
The early matches on day three (Wednesday 8 May) saw Kyrgyzstan get off the mark, defeating Tajikistan 29:6 in the youth tournament, while Turkmenistan were given a fight by the hosts in their junior clash, but eventually walked away with a 39:28 victory.
The winners of their respective competitions in Ulaanbaatar will qualify through to the continental phase of the IHF Women's Trophy 2019-20, and then the winners of that will qualify through to the IHF Women's Trophy - Intercontinental Phase.
And for junior teams only, the intercontinental phase has been upgraded to a qualification event for the 2020 IHF Women's Junior World Championship, set to take place in Romania. For more information, click HERE.
For up-to-date news, videos and photos, visit the Mongolian Handball Federation official website at: http://www.handball.mn.
RESULTS
Monday 6 May
MGL vs UZB (Youth) 21:40 (8:13)
UZB vs KGZ (Junior) 93:0 (42:0)
TJK vs TKM (Youth) 5:45
TKM vs TJK (Junior) 62:9
Tuesday 7 May
KGZ vs MGL (Youth) 11:42 (4:23)
MGL vs UZB (Junior) 21:48 (11:19)
UZB vs TJK (Youth) 58:4
KGZ vs TKM (Junior) 4:67 (1:30)
Wednesday 8 May
TJK vs KGZ (Youth) 6:29 (2:14)
TKM vs MGL (Junior) 39:28 (17:11)
Match Schedule
All times local
Wednesday 8 May
14:00    TKM vs UZB (Youth)
16:00    TJK vs KGZ (Junior)
Thursday 9 May
10:00    KGZ vs TKM (Youth)
12:00    MGL vs TJK (Junior)
14:00    MGL vs TJK (Youth)
16:00    UZB vs TKM (Junior)
Friday 10 May
09:00    TKM vs MGL (Youth)
11:00    TJK vs UZB (Junior)
13:00    UZB vs KGZ (Youth)
15:00    KGZ vs MGL (Junior)
17:00    Closing Ceremony
Photo: Mongolian Handball Federation