Handball flying high in Jordan
25 Nov. 2019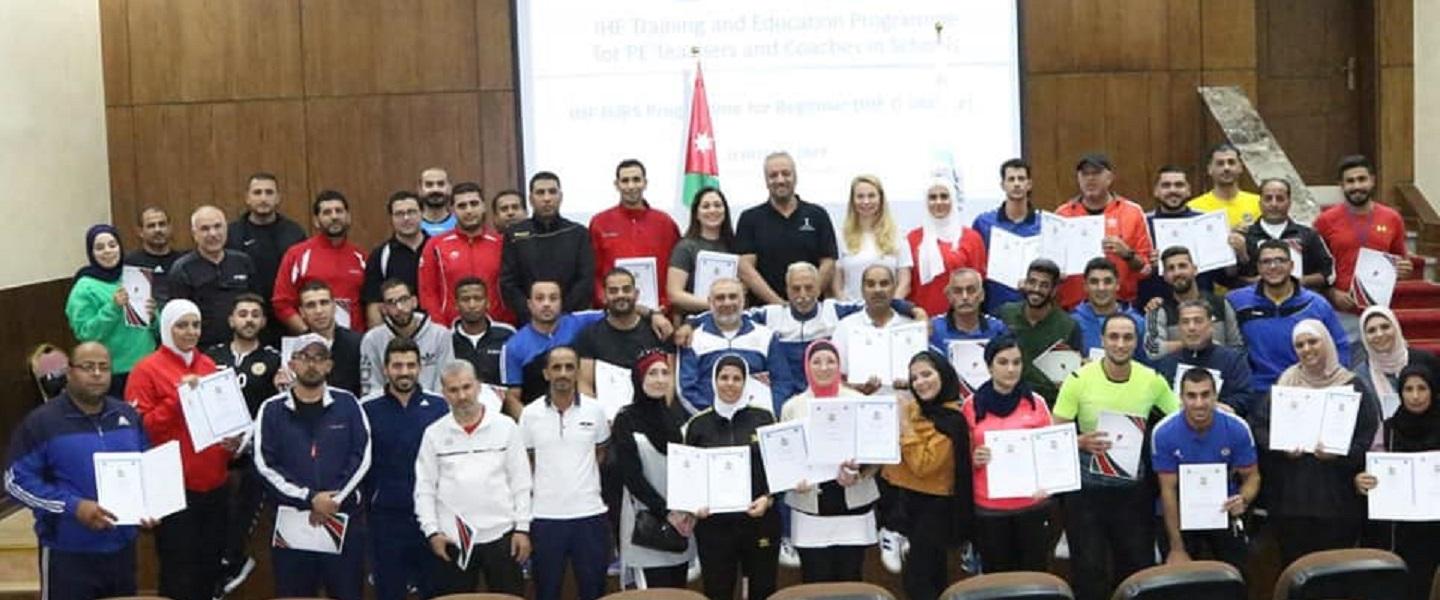 From the 9 to 17 November the Jordan Handball Federation (JHF), in co-operation with the IHF, held a Handball at School ([email protected]) course in three cities across Jordan led by [email protected] Working Group Chairwoman, Dr Ilona Hapkova.
Amman, Irbid and Karak hosted the courses and were attended by 159 participants made up of sports students, coaches, players and former players as well as PE teachers from primary schools, secondary schools and universities.
Amman had 53 people in attendance at the Princess Sumaya Sport Hall, with 45 participants attending the Hassan Sport City in Irbid. In Karak, which was strongly supported by the Dean of Faculty, Dr Amjad, the Mutah University venue had the most attendance with 61.
[email protected] is an IHF programme designed to help coaches teach handball to children using a variety of methods including non-contact forms of the basic game, how to solve problems within games, how to enjoy learning handball, applying good technics in real game situations and progress through to small-sided games.
"They were very successful courses," said JHF President and IHF Commission of Coaching and Methods (CCM) Lecturer, Dr Tayisir Mansi. "Not only were they delivered at exactly the right time as part of our concept and plans for the continued development of Jordanian handball, but they now allow our coaches to participate in the IHF coach licensing system, contributing towards the continued creation of our large base of coaches who are now able to work in schools and with mini handball."
According to President Mansi, the JHF had 670 registered handball players two years ago, but, now in 2019, the number has risen to more than 1,800 thanks to the hard and structured work undertaken by the governing body.
"I hope we can tell you several success stories about Jordanian handball in the future," said President Mansi to IHF.info. "We have focused our development on our under 13 teams upwards, but after these [email protected] courses we would like to widen the age range, starting at under 11s, by co-operating with schools, universities, clubs and federations.
"I would also like to express my thanks and gratitude to Dr. Hapkova for all the work she has done for handball in Jordan," he added. "The whole Jordanian handball community are immensely satisfied with the successful delivery and outcome of these courses."
In total, 145 participants received their IHF 'D' Coaching Licences and Dr Hapkova was also full of praise for a successful nine days.
"Everyone worked hard throughout our time in Jordan but at the same we had a lot of fun," said Dr. Hapkova to IHF.info. "The participants had a wide mix of knowledge and understanding of handball but one common theme amongst them all was a genuine interest in learning how to start teaching and coaching young people handball, how to avoid contact and give the young people a good basic understanding of the game.
"But it was not a one-way learning environment of course," she continued. "We had a lot of nice discussions and shared information during tasks in working groups. Everyone enjoyed and appreciated the new approach of [email protected] and even though they were sweating and tired during practical sessions they wanted to keep playing and continuing to learn so they could maximise their knowledge to transfer it to young people and show them what an attractive sport handball is.
"I have observed a lot of progress in the past two years in Jordanian handball, especially with the systematic work the JHF have conducted with talent identification groups, different levels of competitions and the education of referees and coaches," concluded Dr Hapkova.
Last year, IHF.info reported on the JHF long-term plans to develop handball in the country.