Sweden emerge as dark horse at Tokyo 2020
28 Jul. 2021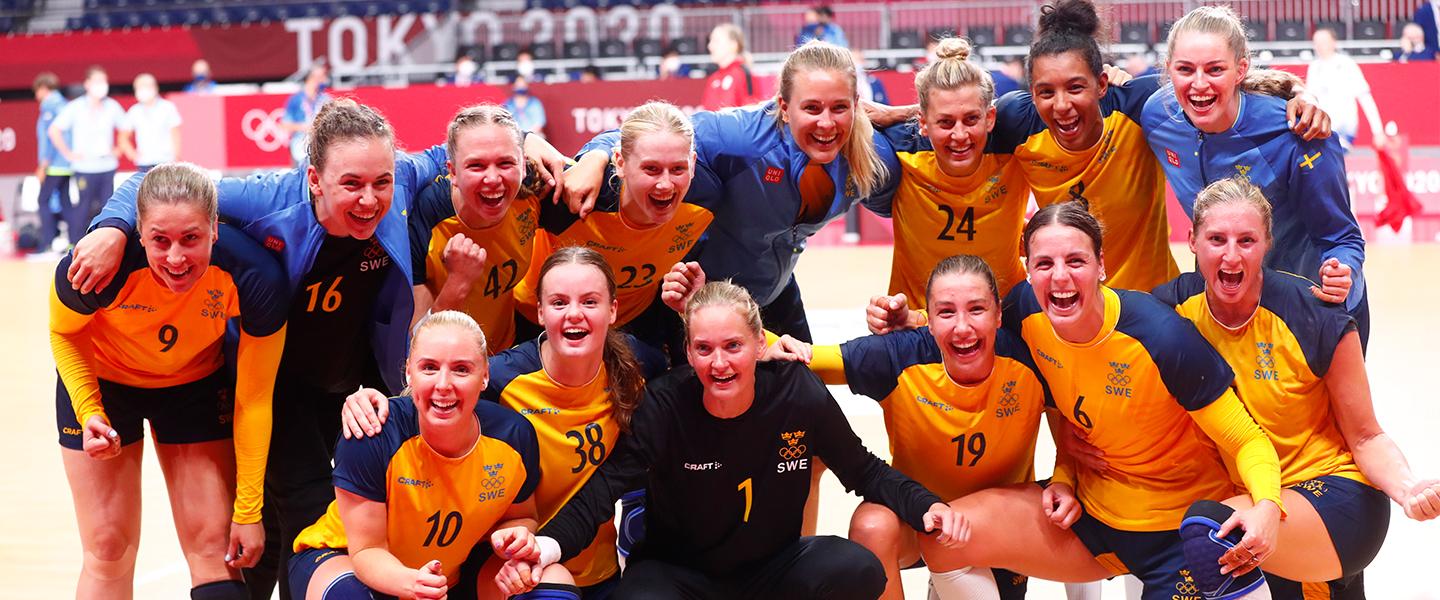 Having finished seventh at the 2019 World Championship and 11th out of 16 teams at the Women's EHF EURO 2020, Sweden did not enter the Tokyo 2020 handball competition as a firm favourite to contend for the medals – but in two matches, they have shown that they are one of the teams to beat at the Olympic Games. 
In their opening games, Sweden took two wins that see them enter round 3 on the maximum points and as leaders of Group B. But it is not the unbeaten record that makes Sweden a standout in the competition – it is who they have defeated; who they have defeated decisively. 
In their opener at Tokyo 2020, Sweden beat 2019 World Championship silver medallists Spain 31:24. In their second, the Scandinavian side won 36:24 against defending Olympic champions and 2019 World Championship bronze medallists ROC. Both Spain and ROC had stronger recent records than Sweden and took the court for their clashes as favourites, but Sweden left their opponents no chance and have rightfully garnered attention for their performances early on. 
Now the question is whether they will maintain it. Captain Carin Strömberg is positive but cautious about her team's campaign:
"I think it's hard to see something right now. It's a lot of good games left and we are in a group that is really, really tough and everyone is winning against everyone. So, we will just take one game at a time and today we are going to be happy about this win. Tomorrow we are just going to prepare for the next," said Strömberg following the win over ROC.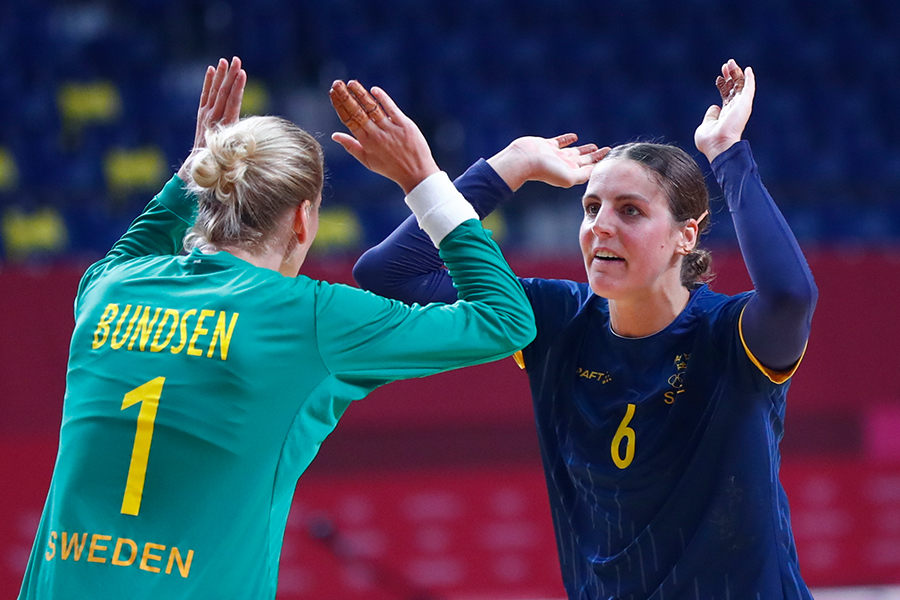 For centre back Strömberg, the match against ROC saw a career high number of goals for Sweden – eight – as well as a big outing leading the attack, with six assists. It is particularly interesting to see how Strömberg herself has become such a key for the side that was previously led by superstar Isabelle Gullden as playmaker. 
Gullden's retirement from the Sweden national team was announced midway through their final match at the EHF EURO 2020. There was certainly a question as to how the team would fare without the player who has scored the fourth-highest number of goals in the history of the national team and is one of just four players in history to pass 200 goals at the European championship. But Strömberg, along with the likes of back Jamina Roberts and line player Linn Blohm, has shown she is more than capable of stepping into Gullden's rather figuratively large shoes. 
Strömberg, Roberts, Blohm, Nathalie Hagman and Johanna Bundsen are the only players in Sweden's squad to have competed in the Olympic Games before, with the last participation at Rio 2016. The team includes a total of nine Olympic debutants, and three who have only played a handful of matches for Sweden. Still, the team have matched up phenomenally against the far more experienced sides of Spain and ROC. 
Significant credit for the level of performance and the game play must go to coach Tomas Axner, who took the helm early in 2020. "Sweden have performed at an even and high level for a long time and are always among the top eight in the world. We want to tip over so that there will be more semi-final places, that we are fighting for the medals more often and will find the small details that allow us to be top four in the world instead of top eight," said Axner before the European championship in 2020.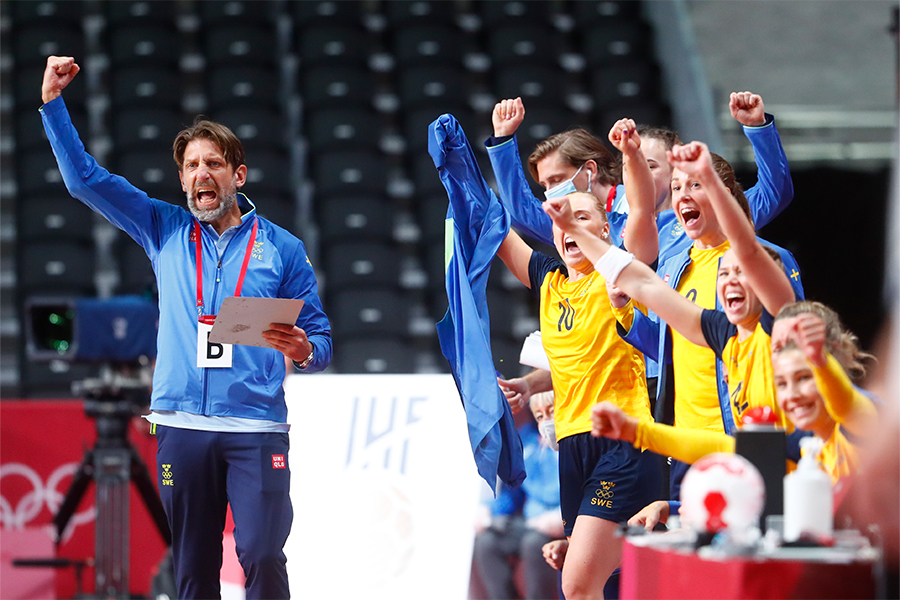 So have Sweden perfected those details? It would certainly seem they have taken a big step in the right direction. And Strömberg agrees there has been clear growth since the EHF EURO 2020 held in Denmark in December. 
"We were parts of a new team at the last championship and now we have a lot of weeks together. I think we took steps every time we were together and now I think we can see that on the court," said Strömberg.  
"We've been talking a lot about handball, how we want to play and also doing what we want to do – strong defence and a really strong fast break."
The conversations among the team are no small thing, surely adding to the cohesiveness and collective goal that makes performing as a unit on court that much easier. Next, Sweden will face another big test as they meet EHF EURO 2020 and Rio 2016 silver medallists France, who will be particularly determined for a win following a loss to Spain in the previous round. 
The teams have met several times in recent years but the last win for Sweden was some time ago, at the EHF EURO 2014. 
Four teams aim to continue unbeaten
When the women's Tokyo 2020 handball competition continues on Thursday, the Netherlands, Norway and Brazil will be fighting to extend their unbeaten records, alongside Sweden. In Group A, the Netherlands have only met non-European opponents so far and will take on another in round 3: African champions Angola, who have yet to take any points at Tokyo 2020. 
Also in Group A, Norway will play Montenegro, who were beaten by Japan in round 2 following an opening win over Angola. Norway have earned two victories so far, versus Angola and Republic of Korea. The last game in Group A will see an all-Asian battle between Japan and Republic of Korea. Hosts Japan are fresh from their first Olympic win since 1976, while Republic of Korea have not clinched any points at Tokyo 2020. 
In Group B, round 3 will begin with Spain, who have won one game, versus France, meeting Brazil. Brazil opened the competition with a draw against ROC then beat Hungary in round 2, now counting three points in their account. ROC, with one point from their round 1 draw, will be determined for a win when they meet Hungary, who in turn have recorded only losses so far. The battle between Sweden and France will close the day for Group B. 
Full schedule Thursday 29 July
All times local 
9:00 Netherlands vs Angola – Group A
11:00 Spain vs Brazil – Group B
14:15 Japan vs Republic of Korea – Group A
16:15 Montenegro vs Norway – Group A
19:30 Hungary vs ROC – Group B
21:30 Sweden vs France – Group B