Iran and IHF join forces for women's coaching
26 Feb. 2020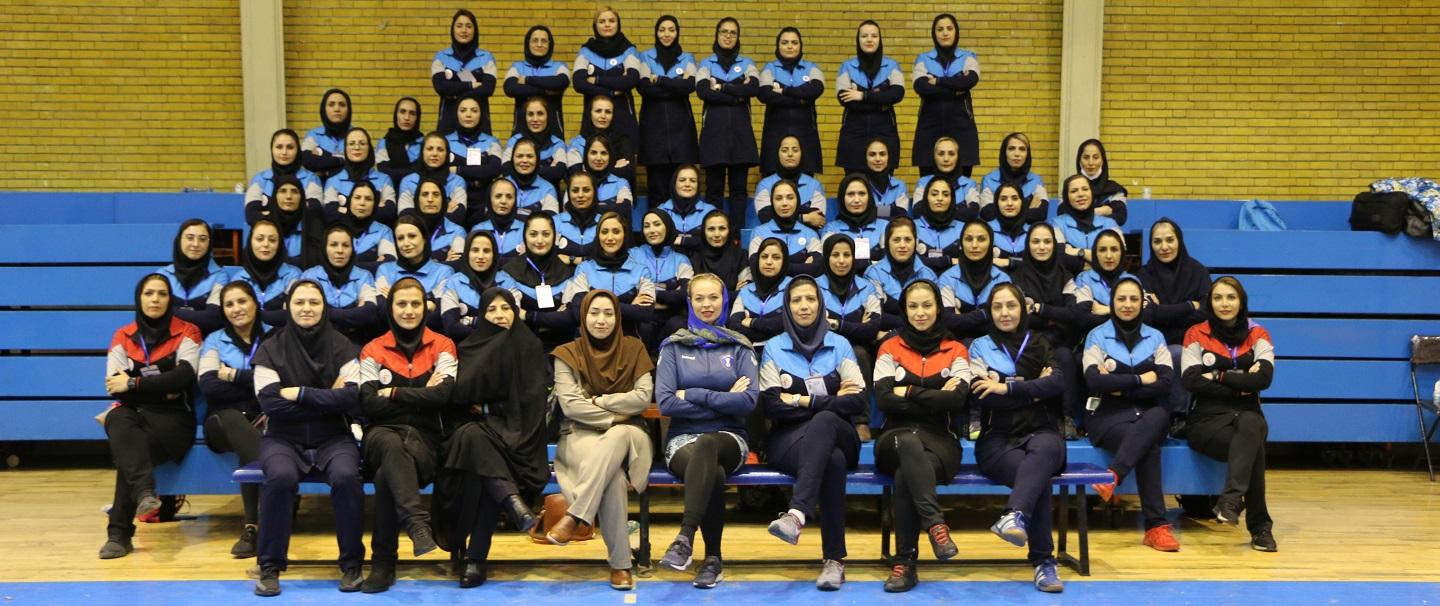 From the 15-22 February, the IHF and the I.R. Iran Handball Federation (IRHF) together delivered a coaches course for women in the Asian nation's capital, Tehran.
Led by IHF Commission of Coaching and Methods (CCM) Lecturer and Handball at School ([email protected]) Working Group Chairperson, Dr Ilona Hapkova, alongside local experts, 62 female coaches from across the country were specially-selected by the IRHF to attend the course which saw an intensive week featuring a mixture of theoretical, classroom-based sessions, practical sessions and workshops.
Coaches were chosen from 30 regions, with the IRHF basing their selection on those responsible for coaching in those regions, as well as those at the highest level of coaching working in the federation, with national teams or high-level clubs.
The course was planned and managed by Vice-President of the IRHF Elham Soluki, who is also the Chairperson for Women's Handball in Iran, and it was designed to start on Iran Mother's Day, which in 2020, was 15 February.
A short opening ceremony started the week of learning with IRHF Vice-President Soluki, Akbar Riahi (IRHF Coaching Committee Chairperson), Mohammadreza Rajabi (IRHF Secretary General), Dr. Mohammad Pourkiani (University Sport Chairperson) and Fazlollah Bagherzadeh (Member of Iran's Olympic Committee) in attendance. IRHF President Alireza Pakdel also attended the course later on in the week.
After basic topics like the rules, overview of different types of handball, such as 'mini handball', the focus switched to coaching principles, technical and tactical abilities, new trends in handball, game performance and new technologies, conditional training – with an emphasis on speed and power – coaching youth players and a lot more.
As well as those workshop sessions, in the practical setting it moved from a mini handball demonstration to catching and throwing, shooting, movement without ball, man-on-man defence, 1vs1, fast-breaks, conditioning in gameplay, goalkeeping, line play, co-operation in small groups amongst other things. U14, U16, U18 and U20 women's teams were used to help with the demonstrations.
The course ended with a small ceremony where 60 participants received their qualification in front of a number of VIPs who attended earlier, alongside the IRHF Beach Handball Chairman, IRHF Men's Handball, coach of the men's national teams and IHF CCM Lecturer Alireza Habibi.
"The course was really special and really successful," said Dr Hapkova to IHF.info after she had returned from Iran. "From the very beginning, Ms. Soluki oversaw every detail, with participants receiving uniforms, handball strategy boards and notebooks on the first day, alongside flowers.
"All participants had a good theoretical knowledge, with many still active players and all were highly-motivated" continued Hapkova. "In the practical sessions, their lack of experience meant they missed more, but on my first day I assisted in the top league of Iranian women's handball and it helped me understand what ideas I should to focus on growing handball in Iran – especially on the women's training and competition side.
"These coaches have huge potential if they continue to work hard with an open mind and focus on their future development – they were not afraid to clarify topics and were eager to know about their current and past knowledge with regards to the future evolution of our sport.
"Ms Soluki told me that there is a huge support for women's handball in Iran and a huge motivation too," added Hapkova. "It was clear from the very beginning that there is a strategy to grow this sport., and in the future she told me that she would like us to work with school teachers and coaches as well as their youth and junior teams in preparation for the IHF Trophy events."
The IRHF promoted and reported on the course through their official channels and there was a large interest from local media too.
For further information about the Handball Federation of Iran, visit www.irhf.ir.